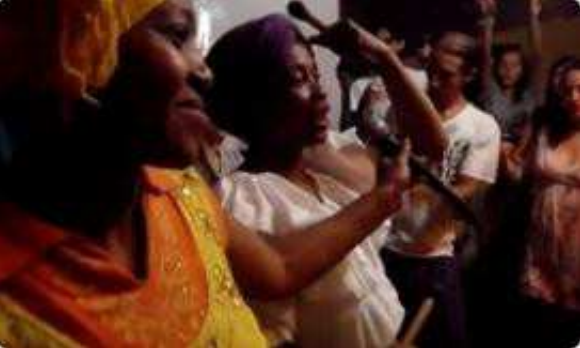 Daira Elsa Quiñones is a beautiful Afro-Columbian woman who has experienced great bereavement in her life. She is a great singer, a dreamer, and a wave of hope. Margarita O. Zethelius, from CASA, shares her story.
In the 5th gathering of Call of the Mountain (the ecovillages gathering of Colombia), Daira came to tell us the story of a dream and a project, and surprised all with her great charisma. She is an ambassador of Afro-Colombian culture, of hope and strength. She brings to the CASA Colombia network a consciousness of a very painful part of our history (actual in several places of the country), bringing attention to segregation, to injustice and, at the same time, sharing her life with us as an example of hard work and the connection between art, healing and sustainability.
Originally from Tumaco, a big town in the Pacific coast of Colombia, she suffered great losses in the middle of an intense period of violence. After some years she was displaced and, as many people from the rural areas, got to the capital, Bogotá. The first years were very difficult. She found herself in a big city with lack of opportunities, especially for people without resources. Nevertheless she continued with an incredible strength, having in her mind and her heart the certainty that, with perseverance and in community, they could have a life with dignity while, at the same time, supporting the people in the place of her birth – Tumaco. 13 years ago she founded FUNDARTE (Fundation Art and Cultura of the Pacific), and then AMDAE (Association for development and entrepreneurship of afro-communities).
She also created a process of artistic training and founded a group of traditional music: Raices del Manglar (Roots of the Mangrove). Then, looking at possibilities of adding value to the products from Tumaco, she created the enterprises of instruments and art crafts made with fish skin: "Emapez" and "Ecopez".
As a medicine woman she supported Kilombo Razana, the project for Afro-Colombian traditional medicine, that now has been supported by the local government of Bogota (health secretary). In addition, they have begun implementing two small community banks that aim to strengthen relationships with other communities.
In 2013, all of their efforts were recognised when she received the "civic award for a better city" for her work in social entrepreneurship in Bogotá. Daira participated in the first EDE in Colombia. There she met Ever de la Rosa, the leader of the afro-colombian community of Islas del Rosario, that is also part of CASA. They both made a great contribution to the course, bringing the context and reality of the afro-colombian communities.
The same has happened in many other of the events that CASA has been organising, such as the first Gathering of the Permaculture Network of Colombia, and the ecovillages gatherings. From this connection, a friendship has grown and Daira travelled to the Atlantic coast to help the Islas del Rosario communities in a process of revitalization of traditional music within a project for communitarian ecotourism.
Part of her dreams and project is to develop a urban ecovillage in Bogotá for displaced families. Connected with the process in Tumaco, the project "Razana" is now looking for support. Razana will generate a safe place especially for women that have been displaced from different regions of Colombia.
A message from Daira:
In this moment we need:
Strengthening of our cultural platform "Diaspora" as a global strategy that unifies different approaches of farmers and innovative global social entrepreneurs in defense of the lives of the peoples of Colombia, Latin America, and the planet.
A strong communication strategy for ensuring the production of healthy and abundant food for the hungry populations in several places, many of them in Colombia where we have people who have died hungry, but our hope remains.
Finally AMDAE women are saying, "We are hopeful that things for the world may have to change, even if it seems impossible".