As global temperature rise above 1.1°C above pre-industrial levels, and previous climate commitments fell far short of what is needed to meet the goals of the Paris Agreement, leaving the world on track for a global temperature rise of at least 2.7°C this century, 25,000 delegates from 200 countries nations gathered in Glasgow, Scotland, for the UN Climate Change Conference COP26. The Global Ecovillage Network (GEN) joined efforts with civil society at COP26 as a part of its ongoing work to catalyze communities for a regenerative future.
Anna Kovasna, Lead Link of GEN International's Coordination Circle said: "Local communities are demanding real change. The Global Ecovillage Network is an expression of this real change. More than 6,000 communities and ecovillages around the world – united – demanding that their voices are heard! We the people, on the ground, taking power over the future that we want to see and dedicating our lives to making that vision come true!"
This year, GEN hosted a small – but representative – delegation with 7 community leaders from all of its 5 regions, including representatives from Brazil, Mozambique, Sweden, The Philippines, United States, Spain and the United Kingdom.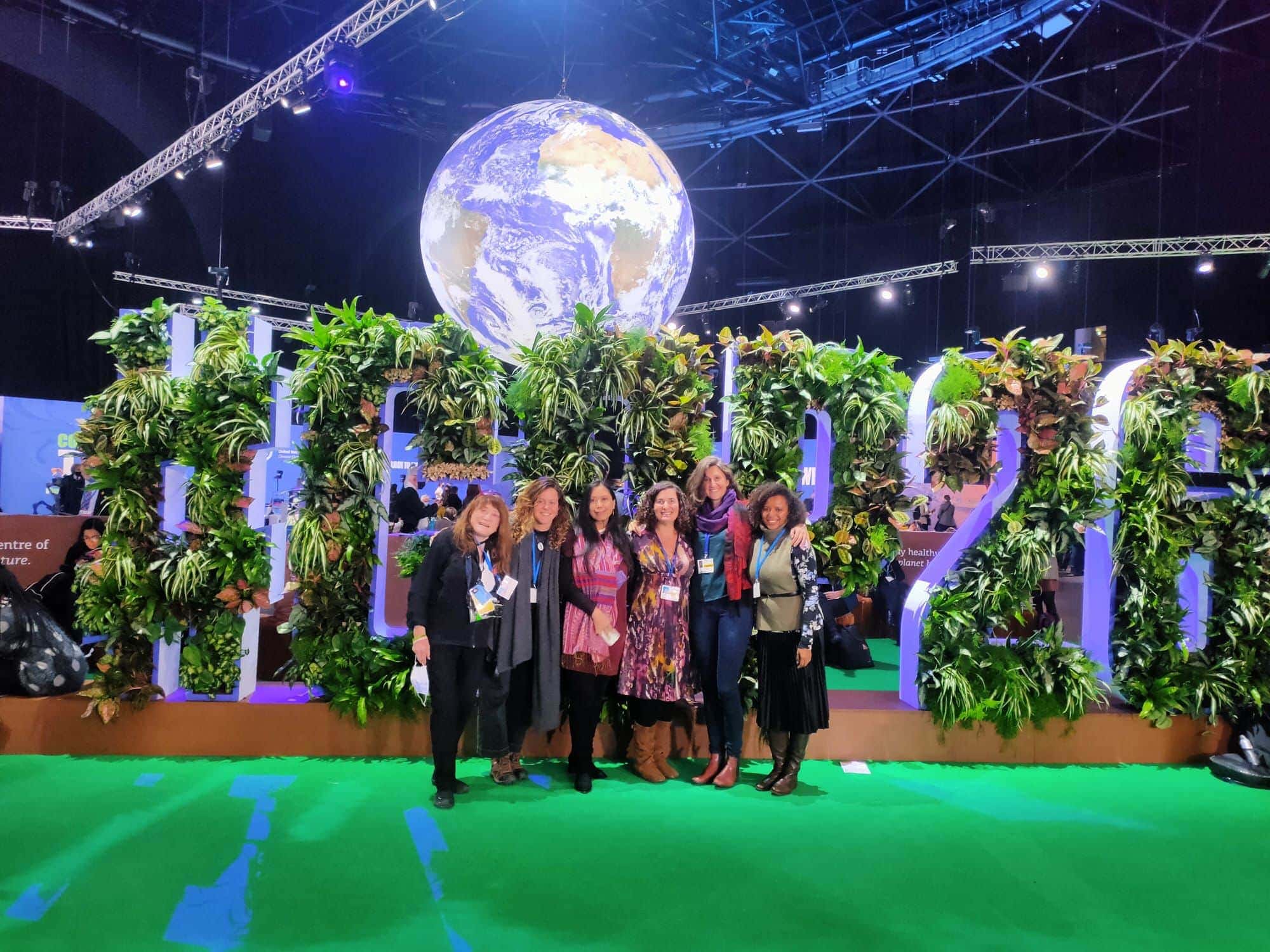 GEN's main objectives at COP26 were to lift the voice of community-led initiatives and showcase ecovillage solutions for climate adaptation and mitigation, with examples of these are featured on GEN's website at ecovillage.org/climate-solutions, as well as to reach out to governments, business representatives, and partners in order to scale up the work and impact of the ecovillages in the world. See Ecovillage's Impact Assessment at ecovillage.org/impact.
"Today, GEN reaches out to over 6000 ecovillages and local communities in 114 countries, in Africa, Asia, Latin America, Europe and North America. We're really really diverse, from indigenous communities and traditional networks of villages in India and Senegal to intentional communities in the Global North," Ms. Kovasna said. "And what connects us is a community-led systemic perspective. We're really really passionate about weaving together social, ecological, economic and cultural aspects of regeneration and understanding how they can strengthen each other and link as we redesign systems. We are present at the COP Conferences in order to influence decision-makers to increase support to community-led systemic responses to the Climate Emergency!"
Global Ecovillage Network's Events at COP26
Since 2000 GEN has had consultative status at the UN-Economic and Social Council (ECOSOC) commission, and is represented at regular briefing sessions at the UN Headquarters in New York. The Special Consultative Status with ECOSOC gives GEN the chance to join in the work of various committees relevant to its concerns to promote sustainable communities and practices worldwide. GEN has been participating at COP since its 15th edition in 2009 in Copenhagen, Denmark, and has sent delegations to every edition since COP21 in Paris, France.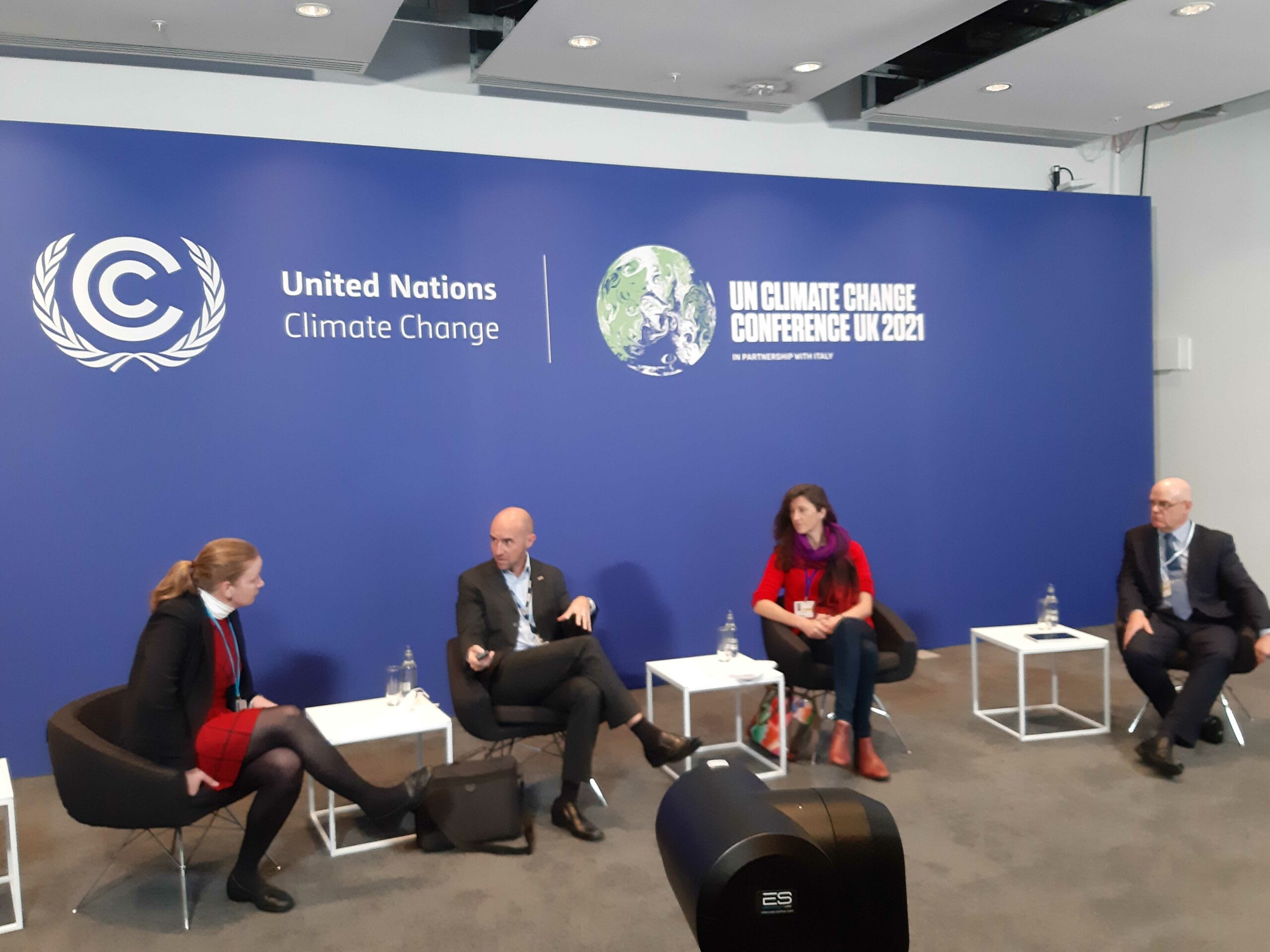 On Wednesday, November 3rd the Global Ecovillage Network was joined by Nordic Folkecenter, ICHEM, IDA and BBC Action Media in the Blue Zone Panel "Climate Action, Resiliency, Ecosystem Restoration and Future Climate Engineering Solutions" at Skomer (Multimedia Studio 2). The Climate change fight requires different actors. We combined new engineering solutions with experiences achieved through ecovillage development and with the work done in the Global South. Furthermore, we discussed the role of media & of national energy planning to achieve the climate goals.
"One profession cannot do it alone" – Daniele Pagani, Nordic Folkecenter
Speakers included Anna Kovasna, Research and Education Director of the Global Ecovillage Network; Colin Spurway, Country Director at BBC Media Action; Alana Collis, Learned Society and Policy Manager at Institution of Chemical Engineers (IChemE); Daniele Pagani, Capacity Building Coordinator, Nordic Folkecenter for Renewable Energy; and Stefaan Simons, Director at Watt Tariff.
Watch the recording:
On Friday, November 5th from 16:00 to 17:00 (UK Time /UTC), GEN co-hosted with ABT Associates the interactive live event "Using Participatory Approaches to Design Robust, Community-Led Climate Action" at the Capacity Building Hub Pavilion – Blue Zone, room 9, zone D. This interactive session helped communities identify just, equitable, and actionable climate response, and utilized data driven tools to better understand, prioritize, and make the case for climate actions.
Facilitators built participants' capacity to identify climate adaptation actions using an interactive participatory design process developed by GEN that enabled attendees to holistically integrate ecological, economic, social, and cultural dimensions of sustainability. ABT then walked participants through the use of multi-criteria and cost-benefit analyses for evaluating options, using global case studies to contextualize local approaches.
The session helped participants understand how the results of these analyses can increase access to climate finance from government agencies, development organizations, and philanthropies by demonstrating why their resources are needed and explaining why the proposed project is a smart investment.
Facilitators included Anna Kovasna, Sarah Queblatin and Taisa Mattos from the Global Ecovillage Network, and Sarah Dunn, Kait Siegel and Santiago Enriquez from ABT Associates.
Watch the recording:
On Saturday, November 6th, the Global Ecovillage Network delegation hosted a Donor-only Online Meeting with GEN's delegation at COP26. If you want to be a part of our next meetings with donors, please support our delegation.
On Tuesday, November 9th at the Green Zone, the Global Ecovillage Network partnered with Gaia Education at the COP26 Gender Day for the exhibit "Women, Power and Entrepreneurship in the Climate Change Age". The day-long exhibition aimed to amplify the voices, celebrate the agency and showcase the produce of women facing a convergence of climate impacts manifested through recurrent droughts, salinated soil, erratic monsoons, ecosystem degeneration, global pandemic and loss of livelihood. The exhibition was curated by four innovative organizations – Gaia Education, Artists Project Earth (APE-UK), Global Ecovillage Network and LUSH UK – in partnership with women from the Federation of Tribal Women of Orissa, THREAD, Bangladesh Association for Sustainable Development, L'Arcolaio Cooperative, Satere Mawe Craftswomen Association and many other communities. The exhibit was hosted at COP26 Green Zone on the 9th of November at Clydesdale Suite, stall C9.
You can see a sample of the "Women, Power and Entrepreneurship in the Climate Change Age" exhibit here: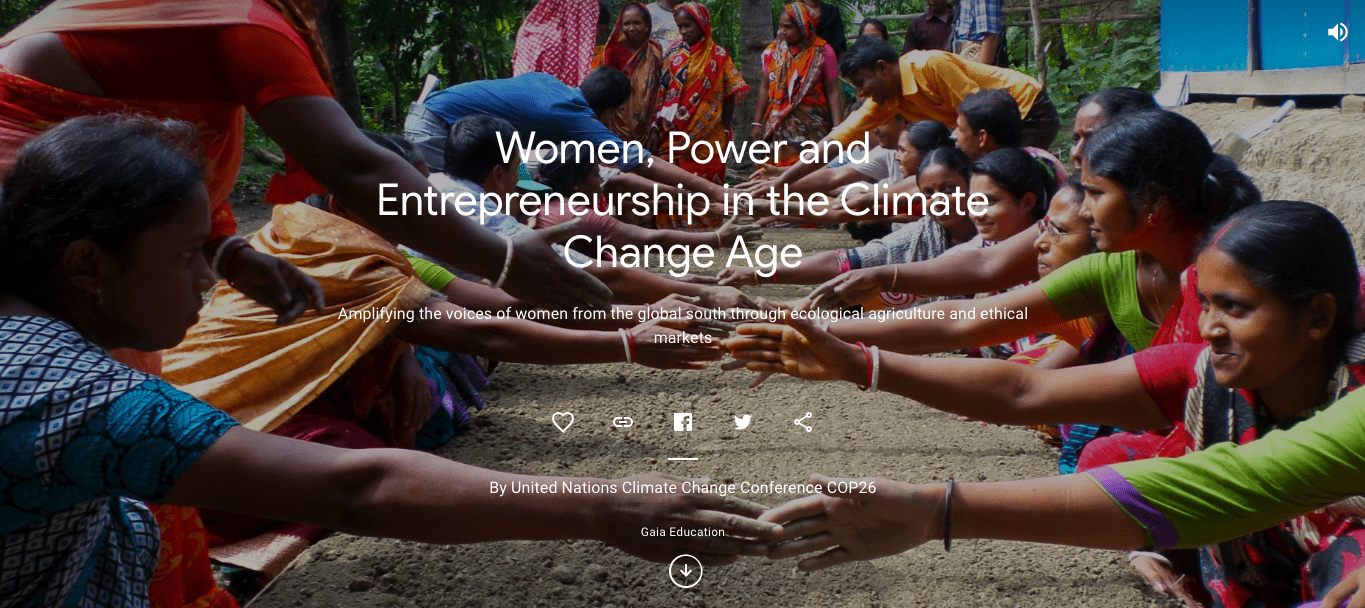 Support the Global Ecovillage Network Delegation at COP26

One of the great injustices of the climate crisis is that the people and countries who are worst affected are those who have contributed least to its causes. That includes women and girls, with girls more likely to be taken out of school, and women less able to find alternative forms of work as a result of climate impacts.
A new gender report by UNFCCC shows that 74% of speaking time in plenary at COP26 in Glasgow was taken by men. The collective goal of reducing emissions to limit temperature rise to 1.5 degrees Celsius can only be achieved if women are part of the response. The Global Ecovillage Network took a female-led delegation composed by 6 women and only one man, making sure these important voices are heard and taken into consideration.
GEN at COP26: our team's perspective on the conference
Do you want to know more about GEN's delegation at COP26? Here you can read personal accounts from the Global Ecovillage Network delegation:
GEN at COP26: the time for climate action is now! – by GEN Lead Link Anna Kovasana
GEN at COP26: Collective solution to the climate change emergency – a youth perspective from GEN Volunteer Irene Canalís
GEN wants to hear your voice!
We want to hear from you! What message would you like the GEN team to deliver at COP26? How is your ecovillage or your project creating the better world we know we can build together? Please share with us by leaving a comment here.
About COP
The Conference of the Parties (COP) is the annual meeting of the nations signed up to the UN Framework Convention on Climate Change (UNFCCC). Its purpose is to advance global action to tackle climate change.
At COP21 in 2015, 195 countries signed up to the Paris Agreement, which committed them to keep global temperatures "well below" 2 degrees Celsius above pre-industrial times and "endeavor to limit" them even more, to 1.5 degrees Celsius. In addition, industrialized countries agreed to pay US$100 billion a year by 2020 to help developing countries to decarbonize their economies.
The 2021 UN Climate Change Conference, COP26, took place from 31 October to November 12, in Glasgow, Scotland.
About the Global Ecovillage Network
The Global Ecovillage Network (GEN) catalyzes communities for a regenerative world. GEN is a growing network of regenerative communities and initiatives that bridge cultures, countries, and continents.
GEN (ecovillage.org) builds bridges between policy-makers, governments, NGOs, academics, entrepreneurs, activists, community networks and ecologically-minded individuals across the globe in order to develop strategies for a global transition to resilient communities and cultures.
About Ecovillages
Ecovillages exist in rural and urban environments, and include indigenous and traditional as well as intentional communities – new villages and neighbourhoods where people have come together to create a different way of life. There is no one way to be an ecovillage, and there is no end destination. It is an ongoing process of participatory inquiry and design, transforming places as well as people along the way.
At the heart of the ecovillage movement lies a Map of Regeneration with 32 Ecovillage Principles in four areas – culture, economy, ecology and social – linked through participatory whole systems design. This pattern can be recognised in ecovillages everywhere. It illustrates and distills years of experimentation and learning within the global network, as well as current research on resilience, sustainability and participatory design, and reflects GEN's unique approach and commitment to catalysing community-led transformation around the world.
Each ecovillage works with the Map of Regeneration in their own unique way, and are actively engaged in key practices for drawdown, ecosystem restoration and social and cultural transformation, such as:
carbon sequestration, regenerative agriculture, bioregional food systems, water management, river and aquifer restoration, and reforestation
implementing clean and renewable household or community-scale energy systems and developing locally appropriate technologies, moving towards zero waste and transitions to circular economies
practicing self-governance and supporting emotional resilience and personal development in human scale societies with high social capital and community-based safety-nets
recognising the value of local cultural traditions, knowledge and worldviews in socioecological transformation as well as living a fulfilling human life
Learn more about ecovillages at ecovillage.org/climatesolutions or by subscribing to our Newsletter. Know more about the impact of ecovillages at ecovillage.org/impact. You can find our database with ecovillages at ecovillage.org/projects For upcoming training opportunities in using ecovillage models, visit learn.ecovillage.org
For media enquiries, please contact
Gabriel Siqueira
Global Ecovillage Network's Communication Director
(mobile) +5573998008460; E-mail: gabriel.siqueira(at)ecovillage.org
See also
If you are not in Glasgow, see our live coverage on Facebook, Instagram, Twitter, LinkedIn and YouTube.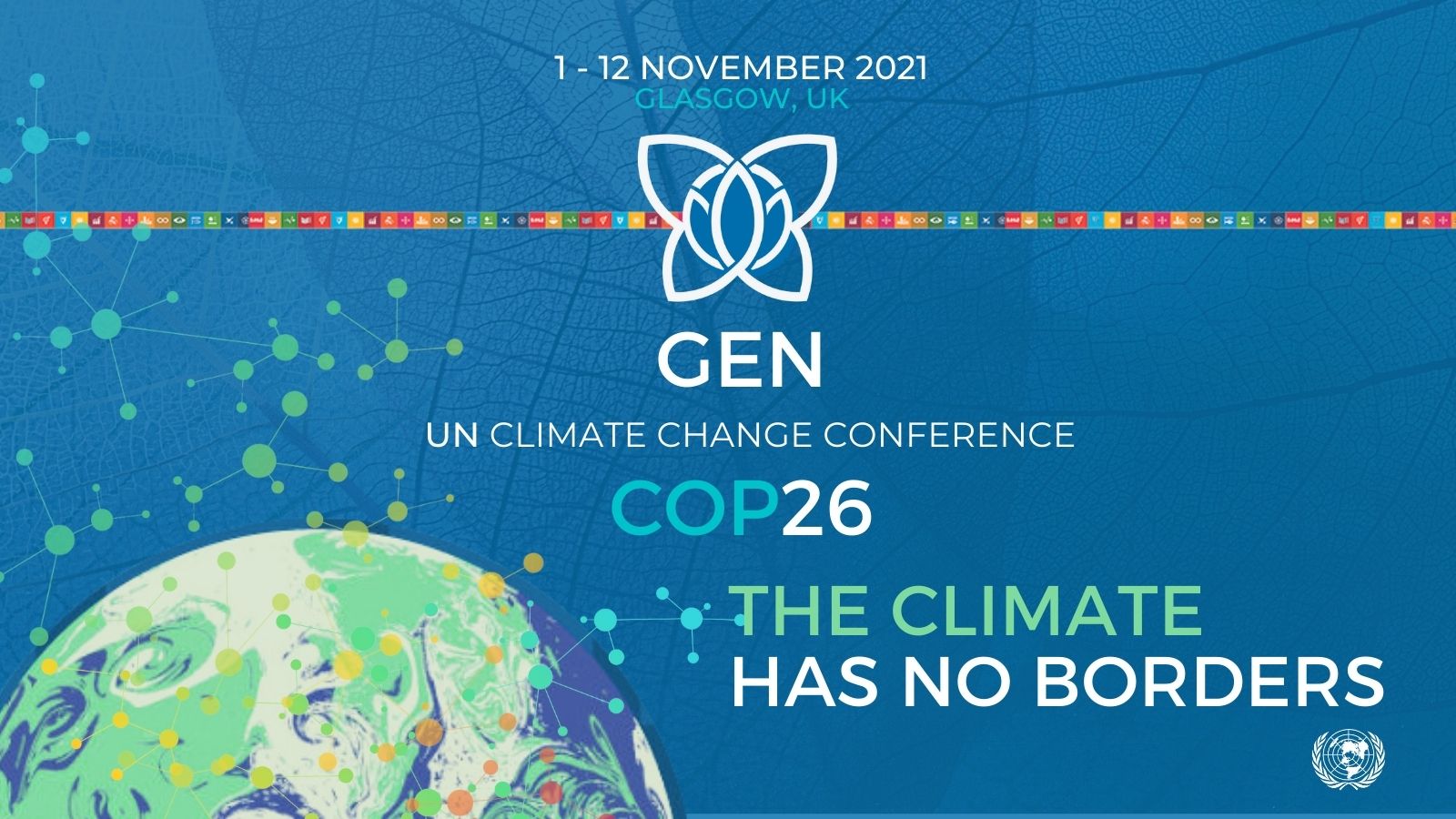 Examples of GEN in action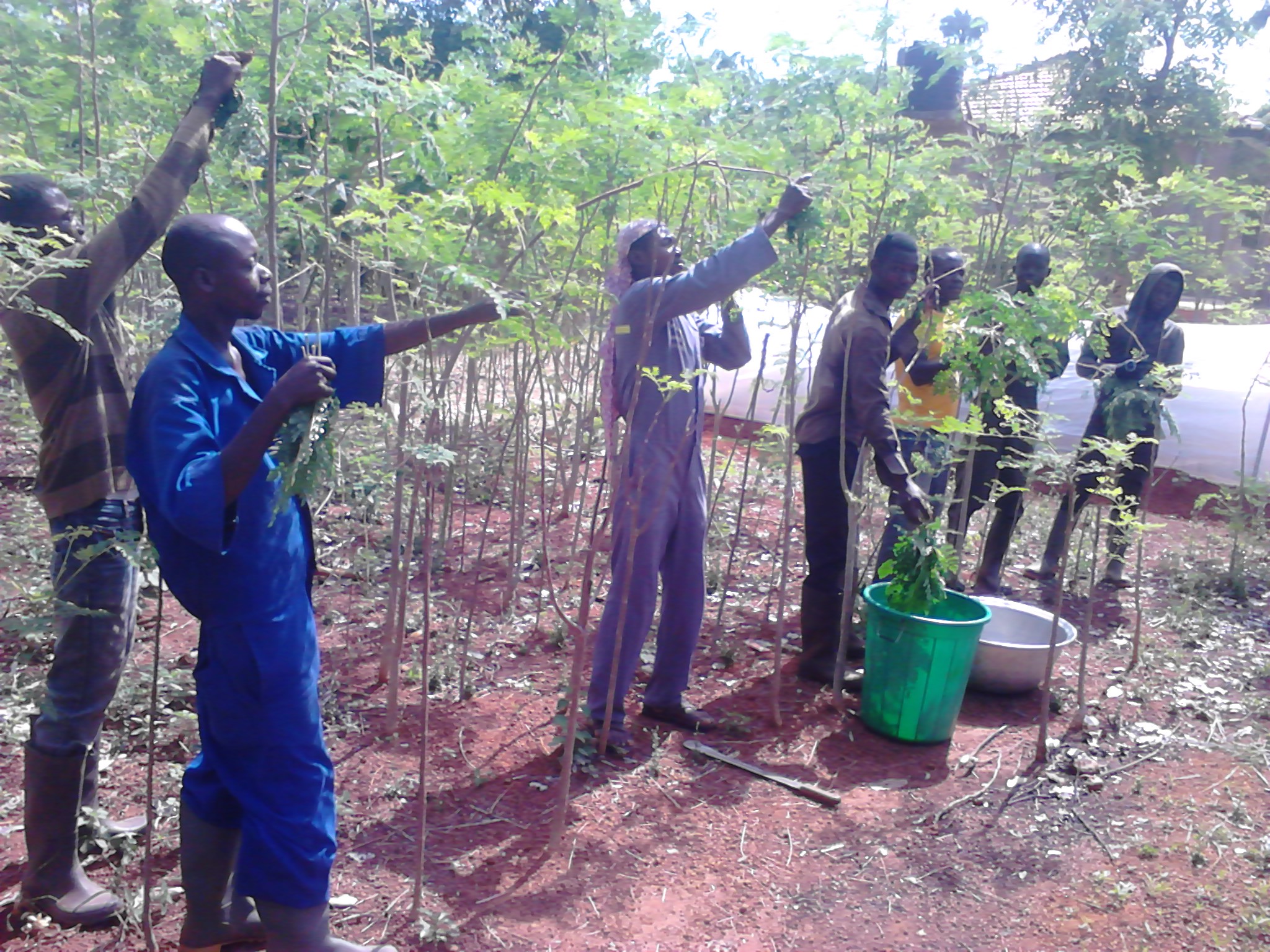 Ghana Permaculture Institute has implemented sustainable projects that mitigate carbon buildup in the atmosphere on a large network scale. GPI currently has about 8000 farmers in Ghana who use permaculture and organic farming practices. Through education and training, these farmers gain knowledge and are able to implement farming practices such as tree planting, mulching, mix cropping, mix farming and crop rotation. In addition, they are taught how to recycle their organic matter into compost as a fertilizer and also recycle sawdust into edible mushrooms.
Tamera Ecovillage in Portugal has brought a dry inhospitable region back to life using water retention landscaping, keyline contouring and water retention ponds. This has been achieved despite the community being in a drylands region where the streams would normally go dry within weeks after it rains. As a result, the land has now been transformed biodiversity restored. Now the streams run year round in this verdant ecotopia, with fruit orchards, a vineyard, and an abundance of plants and animal life.
Irish Showcase Ecovillage, Cloughjordan measures its climate impact in four dimensions of sustainability and finds it has a significantly lower climate impact than the national average. Cloughjordan's low-carbon lifestyle is supported by its Ecological Charter which specifies the ecological standards for building in the ecovillage, ensuring that the homes are low-energy and ecological in the materials used. Its district heating system supplies the water that heats all its homes in a carbon-neutral way, using only renewable energy. In addition, the Community Supported Agriculture farm, composed of members from the ecovillage and the surrounding community, grows food using organic and biodynamic methods, and systematically regenerates the soil.