My first impression of COP26 is that the energy here in Glasgow is very intense. I've bounced between feeling small and then, suddenly, very empowered, embracing my opportunities to be an individual who is part of the collective solution to the climate change emergency.
My name is Irene, I'm now volunteering for GEN International's Communications Team from the Findhorn Ecovillage office in Scotland, the place I've been calling home for the last two months. I grew up in Mallorca and last year I was studying Political Ecology and Degrowth in Barcelona.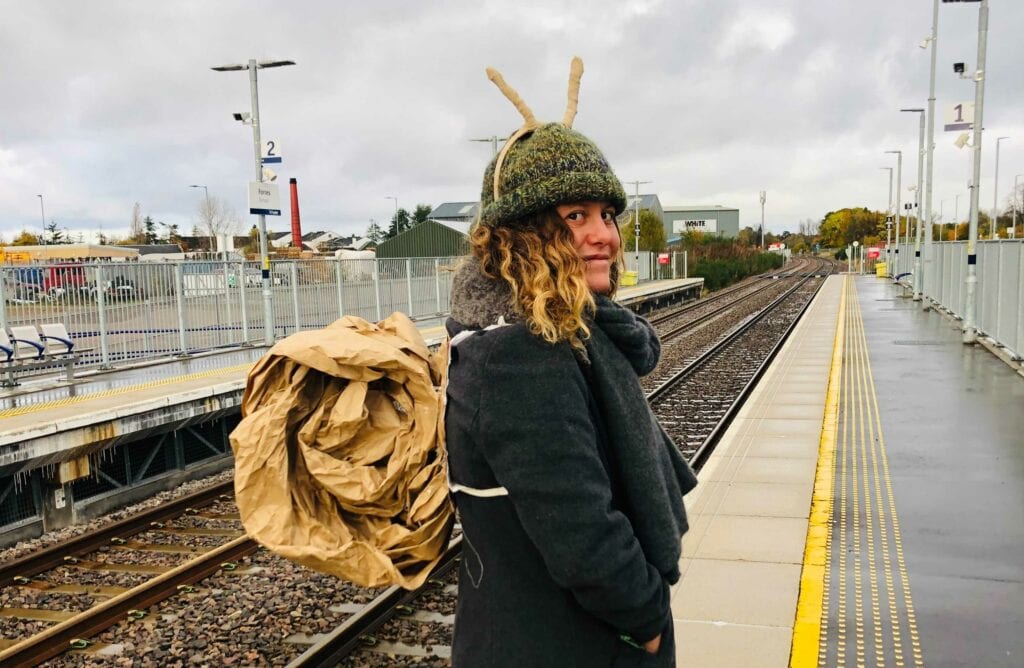 This is me waiting to catch a train from Forres to Glasgow last Wednesday. At that moment I was hoping for some positive action and my plans were to support GEN with Comms while also reuniting with some Degrowth companions I really love.
If you look closely at my backpack, the snail is the Degrowth symbol and my friend Marit lent me her Samhain costume so that I could parade it around Glasgow's streets.
The organisation that was going to host me for the week seemed really exciting as it was combining boatbuilding with grassroots action, among other things. While the train trip felt long for me, I especially appreciated the people traveling to Glasgow from all over the world, some of them showing their commitment by avoiding flying with the big effort it implies. Once I arrived at the final destination I felt quite shocked. Walking out of the train station and stepping onto the hard pavement was definitely a contrast in comparison with the soft green bubble I had been living in during the last few months in Findhorn. Cars, buses, traffic lights, noise, people everywhere and trash all over the floor. Many light panels were giving us a different message: "Welcome to Glasgow" or "Welcome to COP26".
The next day we arrived at the Galgael Trust, a name which means 'foreign natives' in Gaelic, and instantly felt the positive atmosphere. We had just entered the Govan Free State, where a passport can be acquired at the generous cost of 0 pounds with a very low-tech system.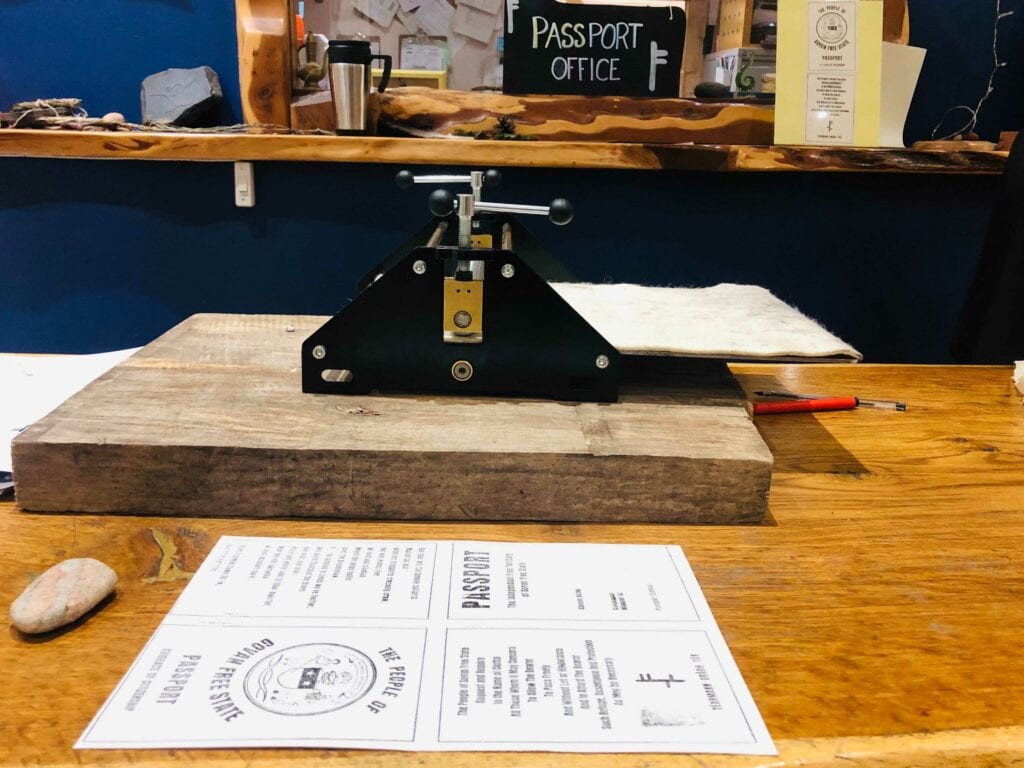 People here can declare themselves welcome and so we did. Their Declaration of Independence, Interdependence and Radical Dependence was published just before COP26 started.
I find it an inspiring and creative way to create community. Our day there was beautiful and an opportunity to reflect on colonisation, reparation and grief.
Next, I went straight to the Blue Zone, the COP26 negotiation building. This time I needed my real passport, a security check, and other essential documents to enter.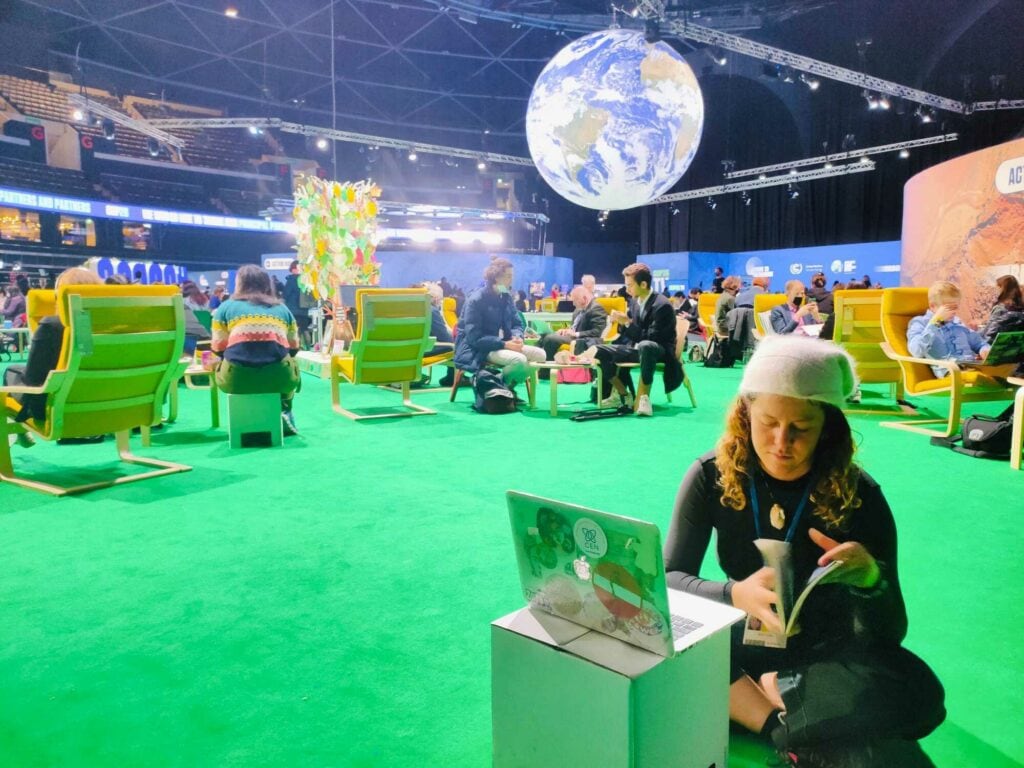 And again, I felt overwhelmed. The place looked to me like a massive airport, with crowds of people conversing, queuing for coffees and snacks, and running between events: an installation full of lights, security, and noise, which in that moment felt like a labyrinth to me.
As I landed a bit more, I helped the awesome GEN team of women set the space for our workshop at the Capacity Building Hub Pavilion, "Using Participatory Approaches to Design Robust, Community-Led Climate Action" Taisa, Anna and Sarah did an amazing job at sharing ecovillage solutions and that's something that could be felt when observing the engagement of the participants.
It also became an awesome occasion to connect with a participant who came all the way from Togo, Richard, who shared with us everything about the project he is involved with in the pan African Ecovillage Development Programme, which is also connected with GEN. Seeing him chatting with the panelists after the workshop was definitely one of the moments where I felt the deeper value behind all the effort for this event.
At times, I found myself questioning if "something" would come out of this Conference. It's also one of the questions a Spanish journalist from RNE asked me at the Global Day of Action, the mass march on 6th November to inaugurate the People's Summit for Climate Justice.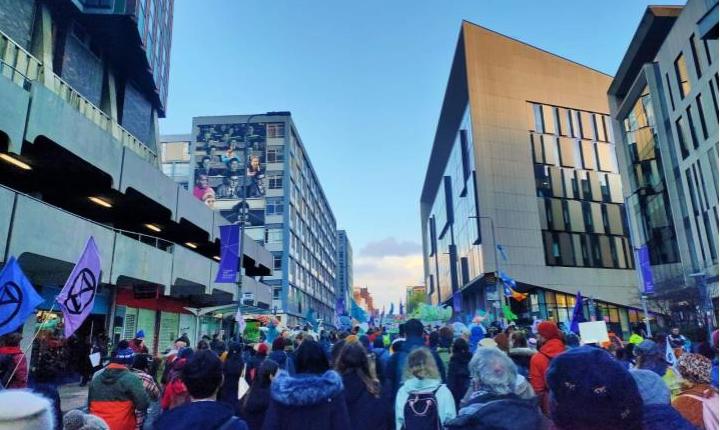 We connected at the moment I was taking part of a group that were using their bodies as a security perimeter to protect the famous activist Greta Thunberg from being overwhelmed by the press. An interesting and demanding experience so far.
I guess "something" will come out of the negotiations, yes. It couldn't happen any other way. Whether that "something" is what the planet and its people need is a different issue. I'm sad to confess that I don't think so. The reasons why, which have been mentioned daily in several spaces I've had the pleasure to join, are not few and far between:
Primarily there is a severe lack of representation of the frontline communities who are disproportionately affected by the climate crisis at the COP26 negotiations. With the indigenous communities protecting more than 80% of our global biodiversity, it seems severely unjust that they are being directly excluded from the decision making processes that deal with land demarcation and environmental conservation. Indirectly, many of them face several challenges to travel here, especially nowadays due COVID-19 restrictions and the monopolised vaccine.
Moreover, the COP26 has been built on past failures and broken promises. Despite the COP21 in Paris having been hailed a great success, the agreements made to keep global temperatures from rising beyond 1.5C are way off track, even six years later. A severe lack of ambition is also at play, as even if all the Paris climate agreements would have been met, the end result would still be a global temperature rise of 2.7C. The same can be said for COP26: the heavy focus of net-zero by 2050 targets supported by technological fixes and carbon offsetting schemes are just a renewed attempt to continue the business as usual act. And even if all the committed countries achieve net-zero by 2050, it still falls short of what is actually required to avoid crossing irreversible ecological tipping points. The infamous 2021 IPCC Report highlights this yet again.
Lost in different oceans of words and speeches that can be heard inside and outside of the COP26 venues, I also observe that exposing the data without paying attention to the existent frustration with the lack of action does not make sense. While our collective future needs a fast transition away from coal and oil and toward more renewable sources of energy production, the conference itself has been greatly influenced by the major fossil fuels corporations. Our world leadership has been and will continue to greenwash their way forward. Even after all the major historical climate summits, annual carbon emissions continued to rise and are still increasing today. And that is sad.
Last but not least, the past failures at properly dealing with the crisis have only highlighted the fact that our problem is systemic. The climate crisis in and of itself is just a symptom of an unfit system. At the core of it all, we need to address capitalism, colonialism, extractivism, and our fractured relationship with nature.
I lost my snail shell backpack on the train ride to Glasgow, which seems like an apt metaphor for the loss of hope I found myself experiencing at some moments during my observation of the event's global significance. But while this loss of hope, echoed through my fear of leaders past inability to come to a climate resolution, was felt over these days, my participation in many of the surrounding activist bottom-up led actions and conferences, rekindled my hope for the future.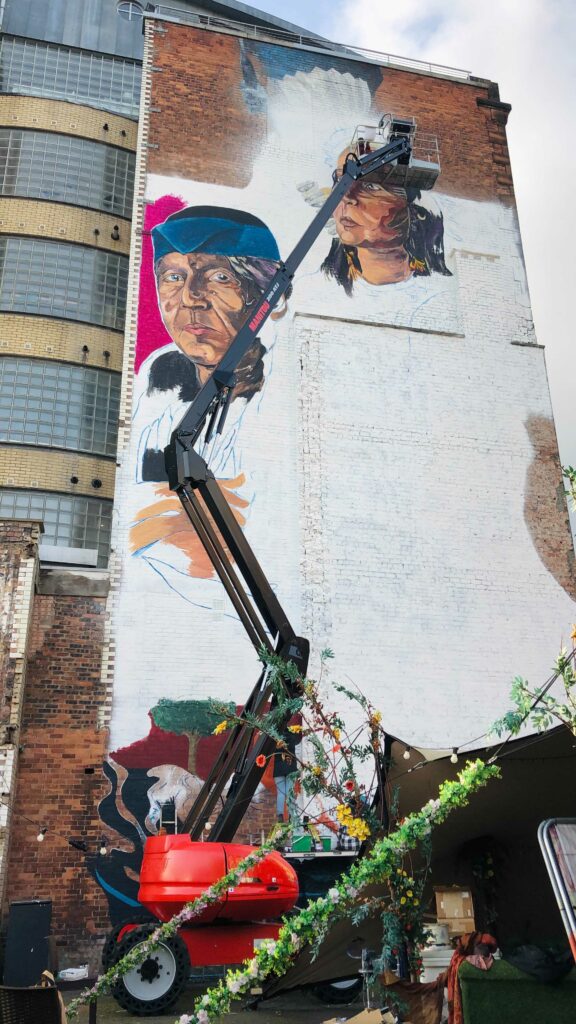 Through the coming together of cultures and peoples from all across the globe, and through our shared experience as a global community who are standing on the frontline of the fight for real sustainable change, bit by bit, the fabric of my snail shell was knitted back together.
Not through material. But through the substance of compassion, our common struggle, and our shared experience, which will stay with us in memory and change who we all will become over the coming years. It feels worth it.
Thinking about how ecovillages have been part of the solution that world negotiations are incapable to address also brings me the certainty that this is a powerful movement which I'm proud to participate in.
Do you want to know more about COP26? You can see our GEN at COP26 page with the most up-to-date content. Please also consider supporting our female-led delegation at COP26.