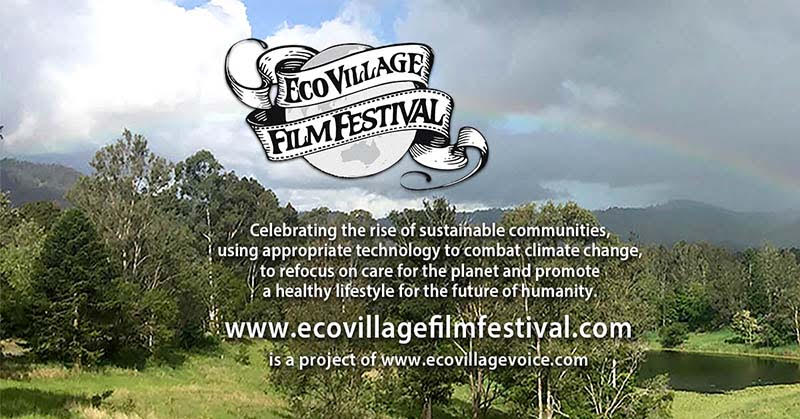 Announcing the inaugural Eco Village Film Festival – celebrating the rise of sustainable communities around the world. Please share.
Eco Village Film Festival
Sunday 3 Nov 2019 – 10am to 9pm
at The Verandah Room, Maleny Community Centre
23 Maple Street, Maleny, Queensland, QLD 4552
Enquiries: [email protected]
Website has full program of speakers and films… https://ecovillagefilmfestival.com
ALL DAY pass and single sessions available now: https://www.trybooking.com/552933
MC: Claire Ogden – Ecovillages Australia
Speakers:
Robin Clayfield – Earthcare Education & Dynamic Groups
Andrew McLean – Ecovillages Australia
Trudy Juriansz – Networking Director – Global Ecovillage Network
Jimmy Hirst – Polkadot Tiny House Events 
Michael Ney – Filmmaker, Crystal Waters 30 Years On
The Eco Village Film Festival in Maleny Queensland celebrates the rise of sustainable communities, using appropriate technology to combat the effects of climate change, to refocus on care for the planet and promote a healthy lifestyle for the future of humanity. Selected documentaries and interviews on ecovillages around the world – and guest speakers will give short presentations relating to eco villages between videos. Info stalls will be on the verandah all day, and light food (some gourmet organic) will be available for lunch and dinner.
Proud to announce adding Jimmy Hirst to speak at the Eco Village Film Festival – http://www.ecovillagefilmfestival.com – and he's not only talking about TINY HOUSES & ECOVILLAGES but also promoting sociocracy, permaculture and syntropic agriculture, veganism, renewable energy and recycling. Read more: http://opennoosa.org/mobile-eco-parks/
The Film Festival is a project of the new Eco Village Voice – https://www.ecovillagevoice.com – a monthly publication, an independent social media platform and video channel for ecovillage folks. Networking, inspiration and news – local and global. It is being launched at the Crystal Waters markets on Saturday 2 Nov… as well as at the Film Festival. Invite your friends to come on Sunday at 1pm whether they are coming to the films or not. Lunch available.
You may ask "What is an ecovillage?" The Global Ecovillage Network was founded in 1995, and one of Crystal Waters' designers, Max Lindegger, was an early member and Australian representative of GEN. Global Ecovillage Network proposes this definition are human-scale settlements, rural or urban, that strive to create models for sustainable living. They emerge according to the characteristics of their own bio-regions and typically embrace four dimensions: the social, the ecological, the cultural and the spiritual combined into a systemic, holistic approach that encourages community and personal development. More info: http://www.ecovillage.org
The new feature documentary 'Crystal Waters – 30 Years On' – introduced by Robin Clayfield and filmmaker Michael Ney – explores life at Crystal Waters and why ecovillages are so important today. Claire Ogden says, "This documentary is full of genuine people and reflects the diverse things we can all offer in community life. I enjoyed seeing the range of ages and people from all different countries who are brought together through their passion for Crystal Waters. This film is thoughtfully balanced and provides a window into a unique community." Preview at: https://bit.ly/cwdoco01
Eco Village Film Festival – Prebook entire day $35 – early bird price ends Sunday 27 October. Thereafter pre-booking ALL DAY SESSION is $50 AUD. Single Session = $8.50.
NOTE: Ticket price at door = $9 for single session & $55 for all day. On sale now – https://www.trybooking.com/552933