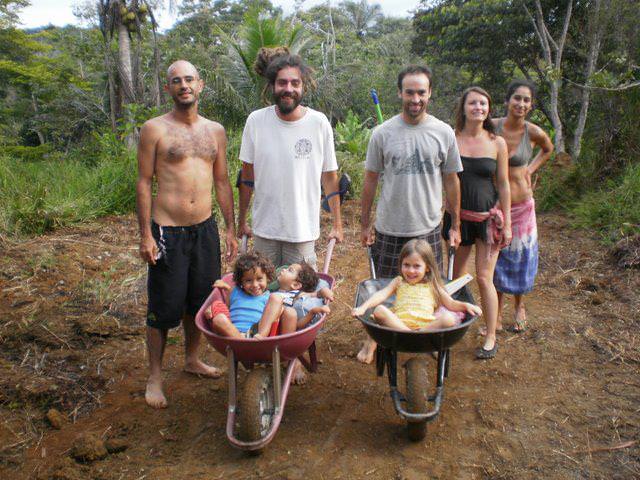 Vamos sonhar e construir um novo mundo juntos? Imagine um pedaço de terra na beira do Rio de Contas, na Costa do Cacau, na Bahia. Tente imaginar a exuberância da Mata Atlântica nessa região que ainda segue preservada. Cachoeiras, trilhas, cacauzeiros, banho de rio. Agora pense num grupo de pessoas buscando construir, nesse local, uma realidade que os permita estar em comunhão com a natureza e compartilhar o dia-a-dia em comunidade. Essa é a Comunidade Aldeia. Atualmente, somos quatro famílias residentes e uma média de 20 voluntários trabalhando e aprendendo no local. E estamos procurando outras famílias que queiram compartilhar a construção desse sonho conosco. Buscamos famílias interessadas em desenvolver soluções criativas para uma vida inspirada e integrada à natureza; Pessoas flexíveis e capazes de se adaptar para viver em um ambiente natural, menos previsível que os centros urbanos; Indivíduos com iniciativa, que tentem resolver problemas proativamente e com independência; Pessoas que tenham habilidades para construir uma vida no mato ou vontade e disponibilidade de aprendê-las; E mães e pais interessados em desenhar uma educação diferente para os pequenos ao seu redor, compartilhando os cuidados das crianças com outras famílias e colaborando para uma experiência de Educação Livre. Se sentiu chamado pela abundância de possibilidades que esse sonho oferece e quer construí-lo aqui conosco? Envie-nos uma mensagem.
Membership & Visitors
Current members: 12
Open to new members
Open to visitors
Workshop-visitors welcome, Work Exchange welcome, Volunteers welcome.