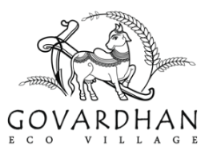 Govardhan Ecovillage established in 2003 spreads in 100+ acres of land in Palghar, India. It is home to 350+ diverse residents as families, students, volunteers & monks. With foundational principle 'Simple living and high thinking'; community strives to live in harmony with divine, self, nature, community members & neighboring communities.

GEV has modeled Symbiotic Sustainable Development. SSDM models circularity propounded by UNEP. Inspired by Natural systems interconnections, GEV is Sustainable Zero waste community.

GEV houses biodiversity spiritual park replicating holy place Vrindavan from India to promote cultural heritage. The park has water bodies & plants with hundreds of birds & butterflies. GEV is home to 8000 trees & plants belonging to 130+ species.

GEV has platinum rated green buildings built with 400,000 locally made compressed stabilized earth blocks (CSEB). GEV receives 15000+ guests every year in 120 well-furnished eco-friendly guest rooms awarding convenient stay. GEV hosts corporate retreats, school visits and study abroad programs for students.

Immersive activities blend philosophy, music, tours, yoga, ayurveda, sustainability, permaculture, animal care, mindful leadership, philanthropy leaving hearts transformed. Thus, catalyzing social transformation of rural India.

GEV drives 7 categories of rural development programmes in 78 tribal villages impacting over 1.5 million lives. They include eye care for 100,000+ cataract patients and primary health center for all, innovative education for 9000+ students, organic farming techniques for 1300+ farmer, Water resource support for 7000+ communities, entrepreneurial initiatives for 300+ women SHG's, skills development for 70+ students and forest land cultivation for 50+ landless families.

GEV's is honored with 34 national & international awards including UNWTO award in 2017 for "Eco Tourism as a catalyst for rural development." GEV is accredited to ECOSOC and UNEP. GEV contributes to 13 UN SDG's.
Membership & Visitors
Current members: 350
Open to new members
Open to visitors
Email at [email protected] with a brief profile and area of interest