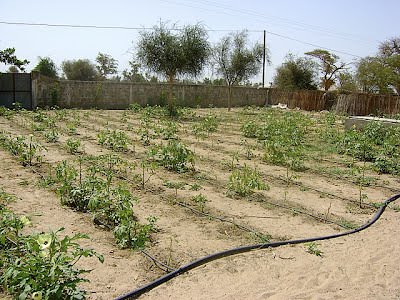 Ndem is a community in the 'Bassin Arachidier' of Senegal, the Peanut Growing basin of the Sahel region. The area suffered rapid desertification and soil loss due to the climatic changes combined with the extensive monoculture of peanut that was once introduced by the French for export to its other territories. The rapid exodus reached its peak with the drought conditions in the 1980s that hit most of West Africa.
For 30 years Ndem has been led by the spiritual Sufi leader Serigne Babacar Mbow and his disciples to attract people to return to the land. Centred on the Baaye Fall path of Sufism, with love for all lives, work dedication and peace, an unrivalled example of sustainability has ben created. After 30 years of dedication and hard work, soil has been regenerated using organic compost, there is now an organic farm, a sustainable water catchment and network, 100% solar energy, biofuel from peanut waste, a whole recycling industry for metals and Fairtrade textiles. Ndem excels in the production on indigo and Bogolan as well as other textile products from their local grown cotton and are constantly looking for alternatives to substitute conventional dies with natural ones.
Ndem does not only concentrate on their village, they currently work with 15 surrounding villages, creating employment opportunities and local economy. They are currently working on creating a local market area for local goods.
Ndem is also engaged in rehabilitating endangered and locally extinct animals by creating a small in-situ conservation area beside the Marechage (Permaculture garden), they also will integrate this project with their already existing educational system – that was recently approved by the government – and their tourism work. For that they created a number of new establishment to host small groups. Ndem also created a small residence in Ngor where they can host visitors in Dakar and two Fair Trade outlets in Dakar and Saint Louis.
Membership & Visitors
Current members: 30
Open to new members
Open to visitors