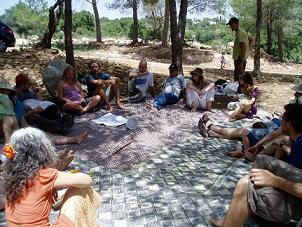 Yarok Ba-ir, which means "green in the city" is a community of 17 households that will be living in the same future building in the city Harish. The community started to form in 2012 and is meeting on a regular basis since.
The building which started out as a normal city building design of 5 stories went through a redesign in order to incorporate ecological and communal components including 3 community-owned spaces: roof, garden, and indoor. Green building components were also added improving sunlight, ventilation, insulation, and more.
The building is now (May 2020) starting to be built and will be inhabited in the summer of 2020.
Community members have started working to sprout initiatives in the area of sustainability, ecology, community, and education in the city as a whole.
Membership & Visitors
Current members: 25
Open to new members
Open to visitors