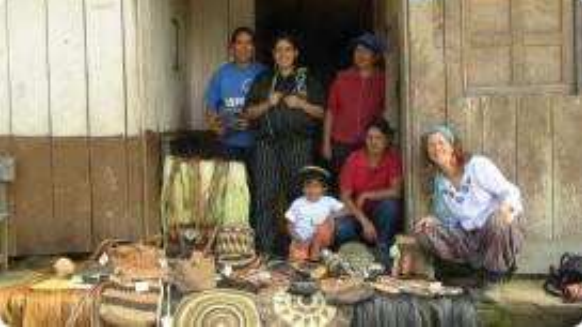 Asociación Mujer y Medio Ambiente, or the Women and the Environment Association, is a group of women who produce 'cabuya' handicrafts as a way of generating income and sustainable tourism in Plaza Gutierrez, a mountain village in the Intag region of Ecuador. Letícia Regatti and Ryan Luckey visited them on one of their EcoCaravan Journeys.
The Association began in 1995 when a foreigner in town brought together a group of women to learn and practice weaving and embroidery. The meetings attracted many women, who quickly received both the challenge and opportunity of how to create sustainable economic alternatives for the women of the area. From there the idea was born to rescue the old practice of weaving the Cabuya fiber, produced from a cactus native to the region.
With this intention, the group went about studying ways to work the fiber, exploring the use of natural dyes from local plants, and different weaving patterns and stitches. Besides learning these new techniques, the women began organizing themselves to create fair working conditions for group participants and a democratic structure to ensure the practice developed sustainably.
Currently the Woman and Environment Group has the participation of more than 30 women from the communities of Plaza Gutiérrez and neighboring towns. The association has created the possibility for the women to work part-time, generating a source of much-needed extra income for their families. Often the women's husbands are also involved in the harvesting and fiber extraction, and the embroidery practice is passed from mother to daughter, rescuing an ancient practice that had been lost to the region.
The Association mainly sells its products to tourists and through special orders from Quito or other countries. The cabuyas are planted and cultivated organically in the region, and dyed with local plants that grow wild and abundantly in the area. The process brings tourists to visit and learn about the cabuya, and creates space for volunteer programs that generate community services.
The work, on top of being a source of income, has empowered the local women, and generated a deeper relationship between participants, who are constantly discussing the practice while producing the handicrafts.
Video: http://youtu.be/jw3aEoZxN3w