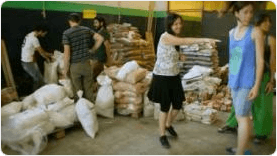 The Agro-ecological farm, El Peregrino (The Pilgrim), is a project whose economic base is food production for residents consumption as well as for sale to the public.The farm was founded 18 years ago in Vista Flores, Mendoza, Argentina, by Ignacio Pereyra and Ana Pérez. With their children, María Jesús, Rodrigo, and Azucena, the family began to unlearn the forms and structures that degenerate life, so as to be able to learn from nature and the life rhythms that foster well being in the World. A report by Vainilla con Canela, a volunteer at El Peregrino and founder of Canal Permacultural.
Through daily work, the family has rooted itself in this new set of values and principles and grown together with their abundant gardens and orchards; learning to grow and process healthy foods – including 100% natural fruit juices that are produced every year – alongside massive vegetable production, vinegars, dried fruits, vegetables, and other preserved foods.
In an area that is primarily vineyards at an industrial scale and other food agro-industries, the family (now 3 generations), has become almost self-sufficient in their food production and consumption. They estimate that 90 percent of their vegetarian diet comes from the farm. This, of course, implies deep changes in lifestyle and health; learning to eat seasonally, while preserving a lot of food for the harsh winter months. They have also had to work hard to open new networks and markets for organic producers, and build community, in order to support their own, and other, initiatives in the region.
El Peregrino was the primary founder member of Mendoza's only organic market, that, for 7 years, brought local producers to the city to sell their goods or to trade with each other. The Bioferia has helped to build and maintain relationships with other producers in the region, and has created a space that is now thriving as a cultural, as well as an agricultural, center of the city.
The 'pilgrims' have also connected with the Organic Consumer's Network in Cordoba (La Compra Comunitaria). The network, founded 4 years ago, is one of organic producers and consumers, that accounts for about 500 families and 30 producers. The network's organizers visit the producers, get to personally know the people behind the products, and bring in new members.
The network works through two large market days a year. A list of available products goes out to local coordinators in each province, who, at a local scale, get together with the families involved to organize the products to buy. Everything is paid for ahead of time, and the 'market day' is actually only a day of organizing the merchandise, according to the notes, that show what goes where.
Many transactions turn out to be trade, as production and consumption can even out, partially or wholly, in the case of the producers themselves. It's quite a large amount of food that is sorted out in a huge warehouse, in which each regional coordinator is present to make sure they are getting what they need. Everything is then shipped by trucks to the local communities, where parties are held to celebrate and to divide up the goods.
This movement proposes something more subtle than just buying and selling. It is something that is generated between everyone: the smiles, the dance, the relationships, knowing whom everyone is, and what is the real origin of each product.
When the network's founders went to visit El Peregrino, they shared their daily life, drinking, and working together. Ever since, the family has participated very actively in the network, sending their products and receiving the (few) items that they don't produce on the farm. "This year I've only gone twice to the supermarket, and that was probably to buy something for our volunteers. Between our production, local trading and the organic consumer's network, we have food sovereignty here on the farm," says María Jesús Pereyra.
El Peregrino is showing that, through their own production and working in community with others, it's possible to achieve full food independence and sovereignty; through a way to live on the planet that is truly sustainable, without producing waste, while building relationships of cooperation to lift up the community. In short, they are showing how it's possible to be the change and live abundantly and happily.
By Vainilla con Canela, volunteer at El Peregrino and founder of Canal Permacultural (www.canalpermacultural.com.ar)
Edited and translated by Leticia Rigatti and Ryan Luckey