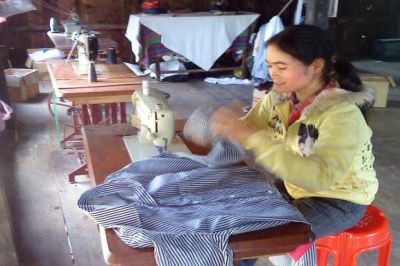 The original Ecovillages, indigenous communities living in balance with the land and in harmony with their forests, are still alive in many corners of the world. Cambodia's mountainous north-eastern region of Ratanakiri is one such place, in which local tribes still maintain sustainable land-based livelihoods. Indigenous communities throughout the world are struggling to maintain their traditions amidst the intensifying impacts of globalization. In Ratanakiri, the organization "Ockenden Cambodia" is employing Ecovillage Design as a tool for assisting the hill tribes to conserve their traditions and the forests that sustain their lives. Samantha Dowd, volunteer and GEN ambassador, reports.
Photo: Achievements: 336 trainees trained, received a grant of $50 to start their private business as their main or a supplementary income to complement other family activities. After graduated from sewing course in 2010, she carries out dress making at home. Incomes from making clothes are used for buying more sewing machines and some food supplies for the family. –Treas village, Banteay Meanchey province.
"Ockenden Cambodia" works to empower the two most marginalized groups in this rapidly changing country. It provides permaculture trainings to farmers in the lowland rice paddies: refugees resettling in the degraded landscapes and former fighting zones of the northwest; and two pilot Indigenous Ecovillage projects with indigenous hill tribes in the mountainous northeast, where forest cover is diminishing daily.
Tuek Poh Permaculture Training Centre.

The years of conflict and widespread displacement of the Khmer Rouge regime and civil war left so many struggling to rebuild their lives, and Ockenden works to improve livelihood opportunities for displaced and newly resettled communities. In Cambodia's north-western provinces near the Thai border, families displaced by the fighting typically resettle in areas with severely depleted soils and inadequate water access. Ockenden provides sustainable water resources, typically large reservoirs, for these remote communities and is active in demonstrating Permaculture practices to empower farmers with skills to resourcefully rebuild their livelihoods under these difficult circumstances.
At the Tuek Poh Permaculture Education Centre, established in 2012 in Battambang Province, farmers from throughout Cambodia come for hands-on trainings in integrated organic farming techniques. The centre has evolved quickly thanks to a collaboration of permaculture designers, international volunteers, the local family tending the site, and the dedicated staff of Ockenden Cambodia. The farm features a community cow breeding project, biogas digester, extensive composting, new ponds, gardens, and a growing food forest.
Indigenous Ecovillage: Fusion of Indigenous & Innovative Strategies
On the other side of Cambodia, indigenous villages in mountainous Ratanakiri have a natural pattern of land use that roughly aligns with ecovillage 'zones', as Ockenden Cambodia director and his staff noted when they attended an Ecovillage Design Course at Crystal Waters in Australia in 2008.
Ockenden staff recognized the potential of employing ecovillage design principles as an integral tool for cultural and ecological preservation for the hill tribes in Ratanakiri, where their team had recently begun guiding indigenous groups through the process of obtaining legally protected status for their Community Forestries.
In 2009, shortly after the ecovillage course, the Ockenden team began assisting two villages of Tampuen and Chray tribal groups in the northeastern province of Ratanakiri through the process of transitioning their settlements into Indigenous Ecovillages with guidance from Max Lindegger.
To effectively conserve traditional patterns of land use, slightly modified zones from ecovillage design were used to designate and protect spaces for traditional uses radiating out from the households: home gardens, agricultural lands, timber harvest areas, community forestry, burial grounds, ceremonial sites, and pockets of sacred, untouched forest.
The tradition of keeping sacred spaces is often the first casualty of diminishing forests, forcing the community to utilize more of its available lands for harvesting and cultivation. The Indigenous Ecovillage protects these sacred places, that are integral to maintaining balance between the human and natural community.
Women & Water
The ecovillage and permaculture strategies introduced by Ockenden have particularly benefited women and children in the Tien and Takok Chray hill tribe villages. Women and girls bear the daily responsibility of gathering water and firewood, often taking them far from the village, returning by foot carrying heavy rattan backpacks with gourds full of water.
As part of providing ecovillage infrastructure, Ockenden has installed community water systems feeding mountain spring water directly into the village and installed rainwater collection systems and abundant greywater gardens, freeing many local women to spend their time caring for children, tending gardens, handcrafts, and other daily tasks aside from carrying water.
Protecting Biodiversity & Community Forests
Indigenous communities naturally steward their collective forest resources and sacred lands, but the accelerating encroachment of outside forces is resulting in deforestation on a massive scale. This is the case in Cambodia and throughout the world. Viewed by newcomers as merely extractable commodities, the forests of Ratanakiri are threatened by continuously expanding road access, bringing entities into the region from other parts of Cambodia and abroad who seek quick profits.
Between 2007 and 2011, Ockenden worked with fifty-five communities to establish Community Forests recognized by the government of Cambodia, effectively securing legal protections for these forests. Ockenden provides resources for the community to implement forest patrols and sustainable forestry programs to the best of its abilities, but more is needed at this critical moment to ensure protection of the precarious newly-sanctioned Community Forests.
Cash crop monocultures, including rubber trees and cassava, threaten to overtake even the last remaining islands of biodiversity unless this new Community Forestry movement is supported by a strong network of international advocates, empowering the indigenous groups to have a voice. We invite collaboration in strengthening current forest protection activities in the region.
Sacred Seeds Sanctuary: Cultural & Botanical Preservation
To expand the scope of this effort and in the hopes of building a stronger network of support for Ratanakiri's unique cultural and natural heritage, we are currently establishing a Sacred Seeds Sanctuary in the Takok Chray community, one of the Indigenous Ecovillages. A global network of ethnobotanical preservation gardens, Sacred Seeds connects communities worldwide to facilitate conservation and knowledge exchange.
The new Sacred Seeds Sanctuary & Community Forestry Centre will conserve culturally important plant species from the rapidly shrinking forests, and serve to mobilize support to ensure the survival of these pockets of rich biodiversity. It will be a centre for keeping traditional knowledge and practices alive, and for gathering a support network to empower the local Community Forestries in their struggle to steward the remaining native forests of Ratanakiri.
The Sacred Seeds Sanctuary will create opportunities for youth to connect with the roots of their culture and for tribal groups to learn permaculture and ecovillage practices as strategies to cope with a shrinking resource base. As road access throughout Cambodia continues to improve, an emerging ecotourism sector presents new livelihood opportunities for remote tribal communities. This sanctuary will serve as a place for the world to come and experience the unique culture of Ratanakiri's hill tribes and to connect with the perennial wisdom stewarded by indigenous communities living in organic balance with their landscape.
Collaboration Possibilities & Vision for the Future
We value collaboration and much of our work is made possible by the generosity of sponsors and volunteers. Please contact us if you wish to support our efforts in any way.
Our main challenge at the moment for many of our sites is to implement a sustainable method for pumping water (ie. bicycle or wind-power pump) to where it is needed when gravity feeding is not possible. We are seeking a mechanical engineer specialist in sustainable methods to help us design and implement water pumping systems.
We are in the initial phases of developing an Agro-Biodiversity Network & Seed Library for Cambodia. We are seeking support from a botanist or someone with experience in genetic resources documentation to assist us in establishing the seed bank.
Financial contributions to Ockenden's grassroots projects can be accepted in various ways. Please contact Samantha for details on the options, some of which are US tax-deductible.
Contact:
Ockenden Cambodia
Nhov Nharn, Director: [email protected]
Samantha Dowd: [email protected]
Links:
Sacred Seeds Sanctuary network:
www.sacredseedssanctuary.org/gardens/ratanakiri-living-library-seeds-and-culture
Permaculture Education Center: www.evolutioninmotion.org
Ockenden Cambodia: Promoting Self-reliance for Vulnerable Populations: www.ockendencambodia.org
Sacred Seeds Sanctuaries: Global Network for Ethnobotanical Preservation:
www.sacredseedssanctuary.org