Date: 26 April – 9 May 2015
Location: Coín, Málaga, Undefined
Language:
Region:
Areas:
Context:
Category: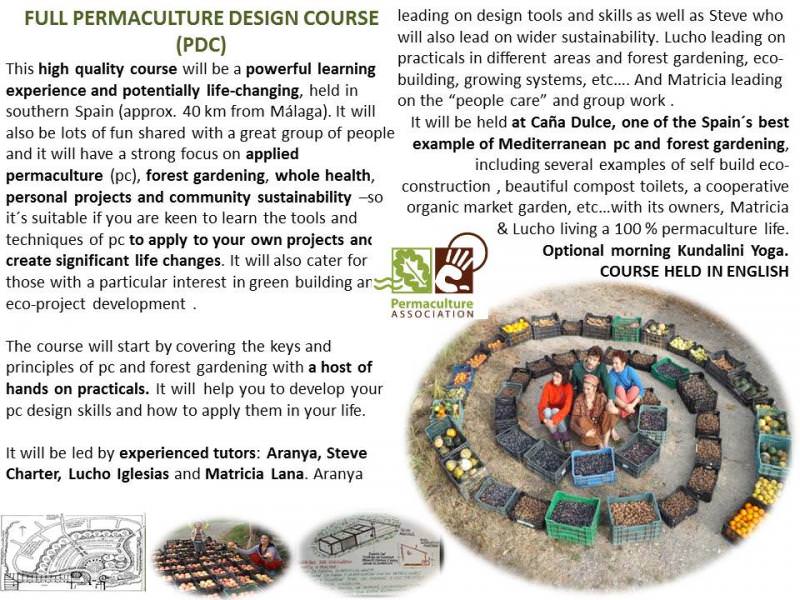 26th APRIL – 9th MAY
At Caña Dulce, one of Spain's best example of Mediterranean permaculture and forest gardening – with an abundant organic market garden and high quality self-build eco-construction, a small community and venue for permaculture, Kundalini Yoga and healthy living courses and retreats.
This high quality course is certified by the English Permaculture Association and it has a strong focus on applied permaculture, forest gardening and whole health, personal projects and community sustainability – so it´s suitable if you are keen to learn the pc design tools and techniques of pc to apply to your own projects and create significant life changes or to apply more widely to green building and eco-project development.
With Aranya, Steve Charter, Lucho Iglesias and Matricia Lana.
The course will start by covering the key ethics and principles of pc and forest gardening with a host of hands on practicals.
More info: www.permaculturacanadulce.org
Tel: 607 63 29 37
For more information, please visit the event website.