GEN is currently looking for:
GEN US Tour Internship
Work Location: Ideally US based on either West or East Coast
Reports to: Education Director & Executive Director
Time investment:
Preparation phase: 1 December – 9 March: around 1 day/week
Delivery Phase: around 10 March – 29 March (approximately): full time
Follow-up Phase: 30 March to 31 April: around 1 day/week
Compensation: This is an unpaid internship. However, travel, food and accommodation costs will be
covered for the intern during tour events in the US and they will benefit from free participation in all
training events.
Starting Date: 1 December 2019 – all candidates are kindly requested to apply as soon as possible.
Description
GEN is offering an exciting opportunity to be a part of, and learn about our global work. We are looking for a passionate and detail orientated person to take on this crucial internship role.
The Global Ecovillage Network (GEN) is a dynamic charity, based in Findhorn, Scotland. GEN catalyzes communities for a regenerative world and is a growing network of regenerative communities and initiatives that bridge cultures, countries, and continents. As part of the GEN's work to inspire and connect to communities GEN is planning to deliver a US based tour in the spring of 2020.
If selected for this role, you will be working alongside GEN's Executive Director, Kosha Joubert and
Education Director, Anna Kovasna to design a unique programme of events for Kosha to deliver as part of this tour. This will be a great opportunity to learn more about the Global Ecovillage Network both through the planning of the tour and through the specific opportunity to attend all the GEN events (training, presentations and workshops) included in the final programme.
Through the planning stages you will be able to connect and network with communities and partner
organisations within the US as well as gaining valuable experience in event organisation, communications, budget management, logistics, training delivery and partnership building. We are looking for someone who enjoys a mix of creative and sometimes challenging tasks to bring together a special programme to support GEN in raising its profile and funds from the events.
Role summary
This role will lead the planning, preparation and delivery of GEN's US Tour in spring 2020 in collaboration with GEN's Executive Director, Education Director and GENNA.
Essential Duties and Responsibilities:
● Lead and ensure the effective delivery of the trip including its contents, audience and financial objectives (staying on budget and bringing in the desired income for GEN);
● Bring creative thinking to deliver maximum impact of the trip for GEN bringing new potential
partners and donors into the schedule;
● Support the design of the itinerary and contents in close collaboration with GEN Executive Director, Kosha Joubert and GEN Education & Consultancy Director, Anna Kovasna;
● Liaise with and maintain good relationships with US based GENNA Alliance members, communities,
ambassadors, GEN wider contacts, partners, donors and other organisations to arrange the schedule, venues, and needed logistics;
● Ensure smooth communication and contracting with all needed parties to enable the trip to run
successfully, maintaining good relationships with all partners and venues;
● Plan and arrange all logistics for the trip including working closely with the office and finance teams
to ensure advanced planning, merchandise sales, assistance during trainings, accurate financial reporting, efficient bookings etc.;
● Work closely with the communications team to ensure high quality and timely advertising is delivered for all events meaning good attendance;
● Work closely with the communications team to ensure positive social media coverage throughout
the tour; and;
● Deliver and support Kosha and Anna to deliver all needed reports and follow up reports/materials
and proposals as agreed with the various partners to continue the tour's impact.
Core Competencies:
● Strong knowledge and understanding of GEN, the global network and its vision and mission;
● A good understanding of ecovillages and, ideally, experience of living in community;
● Specifically good knowledge of the ecovillage/intentional community/co-housing community in the
US and relevant contacts, as well as wider knowledge of potential other contacts/cross-sector
opportunities and contacts;
● Experience of planning events/trainings;
● Excellent attention to detail and happy to work on planning and logistics tasks independently and
remotely; ● Strong writing and financial skills to manage budgets and reporting;
● Excellent software proficiency (Google Drive, Gmail, MS Office, Skype, Trello, Zoom conferencing.)
● Advertising and social media experience including excellent verbal and written English
communication skills;
● Ability, motivation, and temperament to solve problems;
● Ability to work in an environment of emergence and complexity;
● Good people and team skills to work with a wide range of stakeholders and the GEN team remotely;
and;
● Ability to work under pressure and to set and meet deadlines, while maintaining a positive attitude.
HOW TO APPLY:
To apply for the position of GEN US Tour Internship, please submit your CV/resume (no more than two
pages) and a covering letter detailing why you are interested in the role and how you meet the core
competencies (no more than one page).
Please read the above role description in detail and visit GEN's website (https://ecovillage.org/) before
making your application. Please send your application to [email protected], addressed to the Education Director and please give your email the subject line "Your Name – GEN US Tour Internship". Applications will be reviewed on a rolling basis as we are looking for someone to start on 1 December 2019. Therefore please apply immediately if you are interested as we will be looking to hold interviews before the end of November.
Unfortunately, due to the high number of applicants, only shortlisted candidates will be contacted. If you have not heard from us by 16 December 2019 please assume you have not been successful on this
occasion.
Other ways of getting involved with the Global Ecovillage Network
The good intentions and creativity of global citizens and our willingness to make a difference are some of the most underutilized resources. GEN helps unleash this potential.
Get involved to support the work of the Global Ecovillage Network!
Join our Newsletter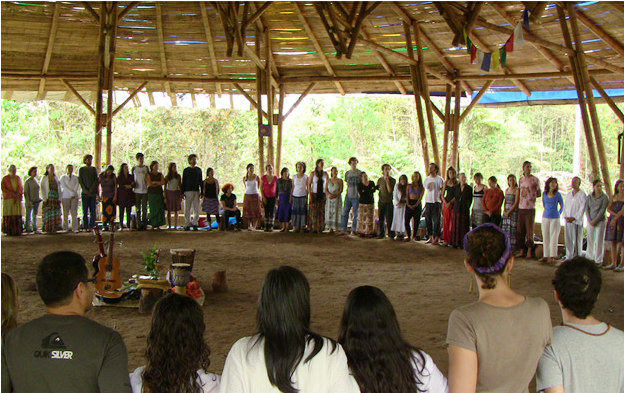 Join Friends of GEN to support the Global Ecovillage Network
As a Friend of GEN, you become a sustaining contributor to the work of the Global Ecovillage Network. Together we can continue to implement sustainable solutions and help catalyze the power of community for a regenerative future.