Language: English
Location: Schumacher College, Dartington Totnes TQ96EA, Undefined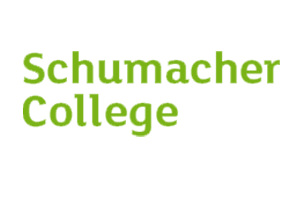 This postgraduate programme in Ecological Design Thinking will help to create a global network of design educators and practitioners able to respond to pressing economic, social and ecological challenges. It will enable students to play an active and transformative role in communities as we meet the challenge of transitioning to low carbon, high well-being and resilient places and systems. Never has there been a more important time for a new approach to design.
students on an ecological design courseThe programme is rooted in an exploration of ecosystem dynamics, trends and behaviour, and socio-cultural systems and dynamics. It will focus on the design of the built environment and the connected ecological and social systems and services, but students will also be encouraged to apply lessons from nature to the design of all of our systems – political, economic, educational and sociocultural. Together, we will explore how transdiscplinary, collaborative teams can solve complex problems, and how using approaches from nature to shape all of our relationships might help us to create healthy, durable, resilient, just, and prosperous communities.
Students will experiment with new ways of working first in studio where they will apply the principles of Ecological Design, and then through a series of short placements with partner organisations. They will be introduced to facilitation and participation techniques, and will be involved in the co-production of both the design, and the full lifecycle of projects.
There will be a particular focus in the studio sessions on the design of settlements and the connected ecological and social systems and services. Taught elements will include input from leaders in the fields of ecological design, ecology, climate change, new economics and social change from around the world.
This programme is the fourth postgraduate programme to be developed at Schumacher College and will contribute to and enhance the ongoing collaborative inquiry into sustainable living with faculty and students within the learning community.
Who is this course for?
We are delighted to receive your application whether you are coming directly from an undergraduate degree, taking time-out to study mid-career or wanting an opportunity to develop your understanding of a practice that is of huge importance to all of our futures. You do not necessarily need a first degree in design to apply for this course, we also encourage applications from community practitioners and activists as well as planners, architects and those working in policy. We will ask for a portfolio in support of your application which can be a design portfolio, or a portfolio of project work.
We are looking for enthusiastic agents of change who are ready to co-design new approaches to the way we live that are socially just and ecologically sustainable. We are looking for those prepared to take risks and stand on the cutting-edge of new practice in this area.
Schumacher College welcomes students from all over the world in its diverse mix of cultural experience and age that allows for rich peer to peer learning.
What will you learn?
You will explore the relationship between ecological design thinking and the related disciplines of economics and ecology and their application to design;
The foundation of an ecological world view (ecology, deep ecology, systems thinking, complexity science, Gaia theory) and the application of living systems principles to the design of systems, objects and places;
How to critique the neoclassical economic model from alternative schools of thought and its application to the design of systems, objects and places;
How to evaluate the relationship between the environment and built form, behaviour, well-being and resource consumption using both research evidence and case studies;
You will develop personal and group enquiry practices to raise awareness of the interdependent relationship between the individual, society and nature and between theory, experience and practice;
You will develop and enhance design, communication, facilitation and charrette skills in support of communities of place and interest
You will make use of a range of tools, methods and facilitation practices including co-production as a lifetime approach to project delivery;
You will co-create participatory practices, and theoretical principles for new approaches to the ecological design process that include a range of stakeholders in the full lifecycle of projects and apply these both in studio, and in short placements on live projects;
You will also carry out an independent design or research project.
Special Features
A design programme rooted in deep ecological understanding and practice and informed by cutting edge thinking in new economic approaches and social dynamics.
Access to some of the world' leading thinkers and practitioner in Design, Gaia Theory, complexity theory, climate science, systems thinking, new economics and social change.
Short practical placements with a range of partner organisations including the Transition Town Network, the Atmos project, and the REconomy project.
An immersive, holistic and truly transformational teaching and learning approach within a living and working community on the edge of the Dartington Estate in Devon.
Where you will go?
This programme aims to create a new generation of designers, entrepreneurs, policy-makers, researchers, consultants and activists. Graduates will have the skills and knowledge to work for sustainable change in the public and private sectors as well as in civil society, or to set up their own projects or organisations that will contribute to the transformation of society.
For more information, please visit the event website.