Date: 29 June – 6 July 2016
Location: Anaconda del Sur, Mocoa, Putumayo, Colombia, Colombia
Language:
Run by:
Region:
Area:
Context:
Categories: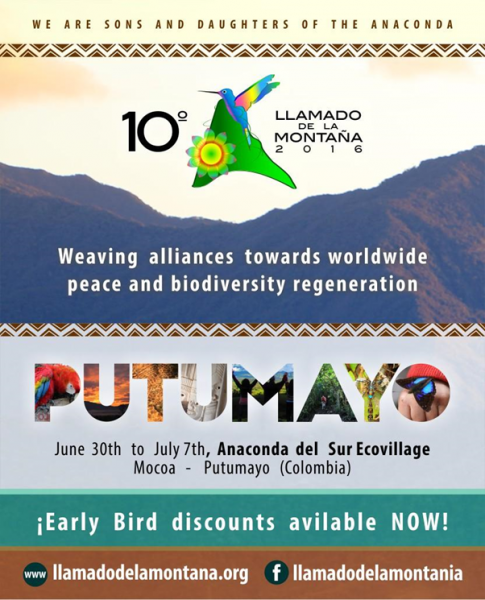 Building Partnerships for Peace People, Good Living and Biodiversity Conservation
Ecoaldea Anaconda del Sur, Mocoa, Putumayo
The Call of the Mountain is a meeting which was convened for the first time in 2006 by the Colombian Ecovillage Network (RENACE) and today is organized by CASA Colombia (Council of Sustainable Settlements of the Americas). The Call of the Mountain brings together hundreds of people – ecovillagers, professionals, representatives and members of social movements, rural communities and indigenous groups, as well as scientists, philosophers, educators, social innovators, entrepreneurs and experts on global vision.
The Call of the Mountain invites participants to explore and experience different forms of alternative culture, decision making, community and ways of meeting basic human needs (food, health, fun, housing).
We invite you to experience our living laboratory
sustainable technologies and community housing
and social technologies such as Vision Council,
Participative leadership, Solidarity Economy and Work Network.