Date: 1 February – 31 July 2020
Location: Wongsanit Ashram, Klong 15, Ongkharak, Nakhon Nayok, 26120, Thailand
Language:
Run by:
Areas:
Context:
Category:
SEM College's MA in Awakening Leadership is a participative, contemplative, reflective, analytic and creative programme developed as a collaborative venture of SEM (Spirit in Education Movement), INEB (International Network of Engaged Buddhists), Ecovillage Transition Asia and Bodhisastra University in Florida, USA.
The program is designed to accommodate applicants with interests in a variety of areas of leadership:
Education/ Facilitation for Social Change (Education for Empowerment)
Mindfulness Education/ Coaching (Personal and Spiritual Growth)
Holistic Sustainability for Social Change (Community Empowerment)
ABOUT THE PROGRAMME
The MA programme in Awakening Leadership provides a unique combination of coursework and project work, individually tailored to participant's needs and requirements.
Our educational approach is as important as the contents of the course working to bring about the levels of empowerment and awakening. These include:
Co-creation of knowledge and Self-empowerment
Critical Thinking, Paradigm Shift, Un-learning and Re-learning
Mindfulness and Meditation
The program takes the students through two different process of learning:
1) Coursework, and
2) Individual research project.
The programme coursework is taught in English and follows  5 areas of learning (Worldview; Interpersonal Dynamics;  Eco-political Economy; Ecosystem; and Means for Social Transformation) to bring about a new way of being, doing and having in the contemporary world based on a new, more holistic paradigm. Read more about the areas of learning …
Integrated learning from the coursework as well as any other previous experiences is applied through individual research project work. Project work takes place both in the form of  mini projects – developing knowledge gained through coursework – as well the final project.
Students who have attended at least 75% of each learning area of the BLT (Buddhist Leadership Training) or ALT (Awakening Leadership Training) programme are already eligible to move on to their final projects.
See overall schedule of Awakening Leadership Training 2019
LEARNING OUTCOMES
We expect our students/participants to become life-long learners in all aspects of life with more skills to sustain themselves spiritually, ecologically, economically and – no matter what situation they are in – become more healthy and wholesome workers for social transformation in a variety of different areas. The expected results are the cultivation of heart, head and hands.

Learning outcomes assessment is comprised of:
• Student's own self-assessment (based on the cultivation of 
heart, head and hands
)
• Objective assessment of student's final project by a jury of 3 independent examiners and a group of peers.
As Gandhi said, we must "learn as if we'll live forever".
The learning itself is what matters as well as the capacity to apply it to changing life and society. We expect our students/ participants to become life-long learners in all aspects of life.
SEM College presents an alternative to mainstream degrees, standing for quality of education where the essence of learning is what is important, not the final degree itself. Overall, the degree is perceived as an award that recognizes both the inner and outer work of our participants.
At the same time, our collaboration with Bodhisastra University enables us to offer degree learning for those who need it for recognition in some societies, or situations where it is too challenging to work for social change without a proper title.
IMPORTANT: Be advised that while the SEM College degree is accredited by Bodhisastra University (registered and recognized in the USA), it may or may not be recognized in other countries.
FINAL ACCREDITATION
The MA in Awakening Leadership is a not solely a knowledge-based but competent- based degree that requires a combination of coursework and project-based learning – focusing on both inner and outer work for change.
Past participants who have attended at least 75% of each learning area of the extended EDE (e.g. BLT/ ALT) have already completed the Foundational Learning Coursework, however, they still need to submit the final research project in order to receive the MA.
Independent practice has a central place. Each student defines his/her own Final Research Project – focusing both on inner work (e.g. self-learning and cultivation, drawing lessons learned meaningful to others) and outer work (e.g. theoretical Social Research or a reflective Social Action work).
The project can be formulated and developed using one or more of the subject areas covered during the Coursework, possibly in combination with any other relevant past experiences. The MA is inter-disciplinary by nature. Nevertheless, topic chosen for the final project must not only indulge student's own individual curiosities but must demonstrate usefulness to society as a whole. It can fit in within one or more of the following areas:
Social justice, including issues of gender, race, socio-economic status, etc.
Human personal growth
Community Empowerment
Environmental sustainability
Re-defining progress
Eco-social enterprise
The students may carry out the thesis work as they see fit for his or her interest. The projects can be developed in their own time through individual studies, experimentation and discussion with facilitators, mentors and fellow students.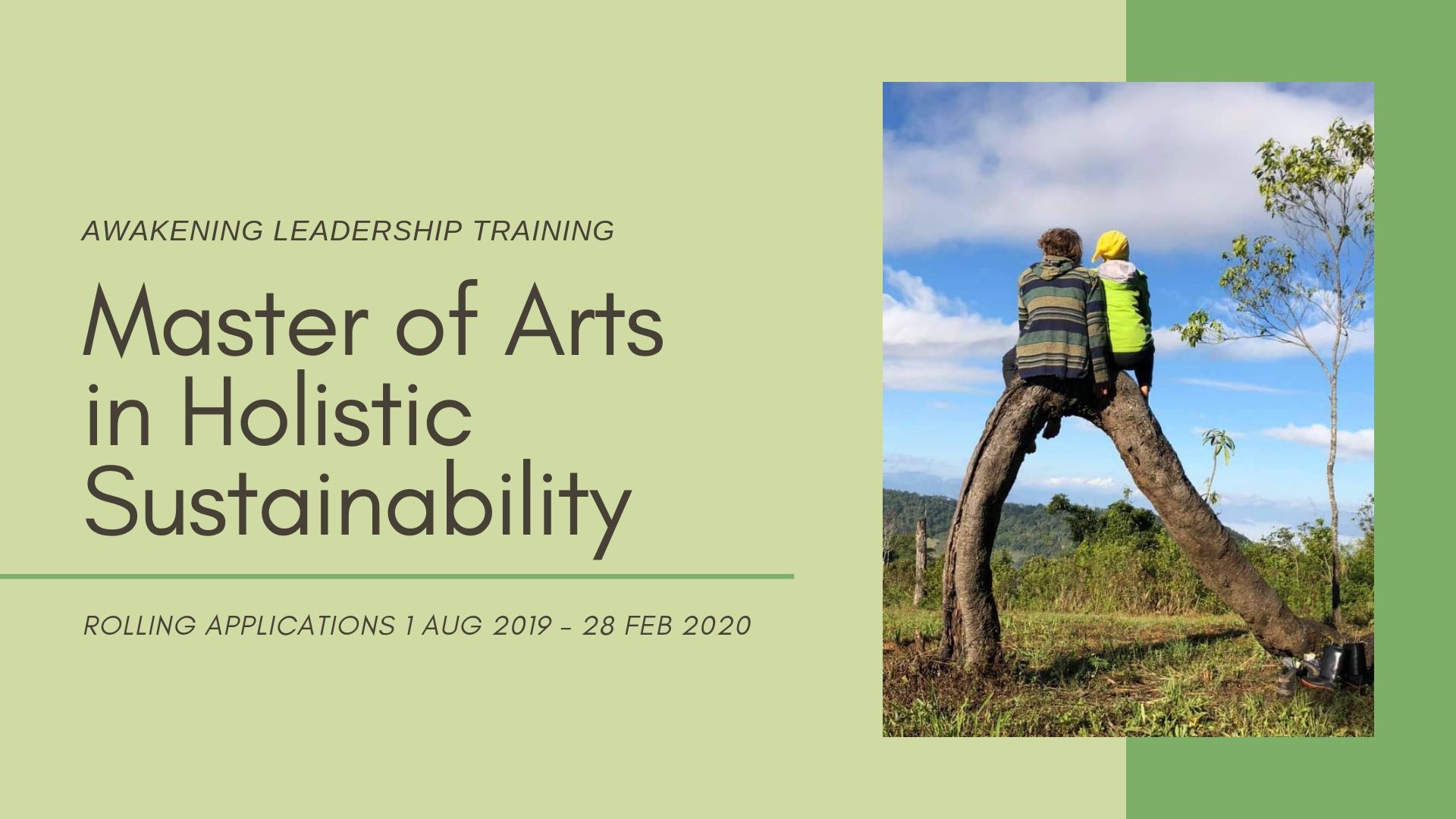 For more information, please visit the event website.
Location and Time Frame
Location: SEM College's headquarters are based in Bangkok, Thailand. Most courses offered by SEM College take place in Thailand. However, students who have already obtained their coursework credits and are working on their research projects are not limited in their location. Time Frame: Participants can take as much time as they need to finish their studies, as it's intended to enhance the work of change workers, not to be a burden on top of busy schedules. The minimum time for the completion of the final project is 6 months.
Eligibility
SEM College students and staff come from all around the world with diverse backgrounds and interests, which significantly enhances the learning environment.We look for highly motivated individuals who are committed to personal and social change. There is no one formula for being admitted to our programme. However, all MA applicants must meet the following admission criteria: 1) Successful completion of an academic degree of higher education (BA, Specialist Diploma) or equivalent, including extensive work experience, in a related academic field. 2) Demonstrating competence in the English language, with an ability to converse and write fluently in English, equivalent to an IELTS score of 6.5 for reading, writing and listening components. 3) Completion of at least 75% of the coursework in each of the 5 thematic learning areas under the ALT (awakening Leadership Training)/ BLT (Buddhist Leadership Training) programme OR relevant work experience that covers the thematic learning areas.
Application Process and Fees
NEW Application period: 1 1 February - 31 July 2020 Programme start: From 1 September, 2020 In order to apply, the applicant must submit the Application Form, which includes 1) Initial Project Proposal* 2) Letter of Motivation (500 words) 3) Deposit of 50% of tuition fee (after receiving the acceptance notification)** *Please see Research Proposal Guidelines **Refundable if applicant is not selected Following the application deadline, a selection committee will meet in order to assess all the applications received and make a final decision on the candidates. All applicants will be notified of the results via email. Education Fees are kept to a minimum and include mentoring/ consultation and evaluation of the final project by a committee. This amounts to a one-time deposit of $2,000 USD. If the student/ student group would like the mentor to come and visit them in their location, they are also responsible to cover costs of travel and accommodation.
Final Project
SEM College supports humanized education without discrimination based on "academic" ability. In practice this means students are free to choose between different mediums presenting results of their final project: - Written thesis - Video documentary - Drama (written and performed) - Workshop(s) - Art exposition NOTE: Every presentation format of the final project must also include a short written account of the research process.