Date: 22 December 2016 – 15 January 2017
Location: Toubab Dialaw, Senegal, Undefined
Languages:
Run by:
Region:
Areas:
Context:
Category: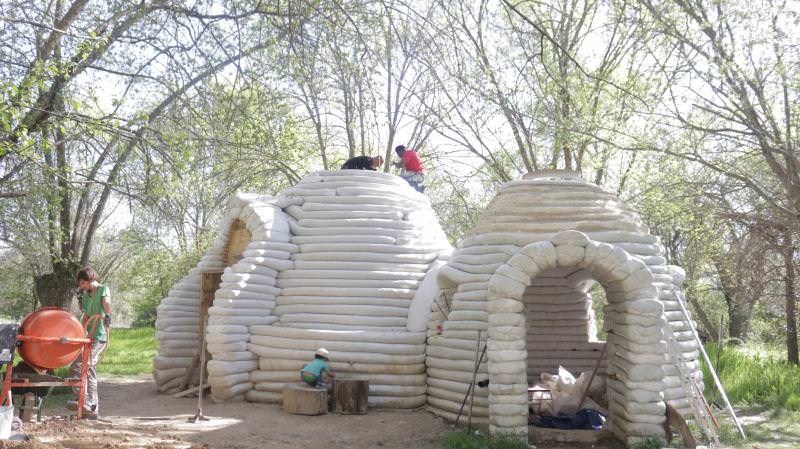 (info en Castellano más abajo)
ENGLISH
INTENSIVE TRAINING IN BIO-CONSTRUCTION. SUSTAINABLE ARCHITECTURE. EARTH-BAG
Ecole des Sables, SENEGAL 22 December 2016-15 January 2017
Become an agent of change: another world is possible! Get your degree to build your own green home and spent three weeks with us in touch with nature. Constructions adapted to all types of climate.
No prerequisite to participate.
African Angara holding its next training in green building / Earth-bag together with DOMOTERRA and with the support of the Ecole des Sables in Toubab Diallaw, Senegal, in order to provide technical training in architecture Superadobe / Earth -bag, with the opportunity for professional development in the field of bio-construction.
This training can also be a great opportunity to know a new country, a new culture.
The dates are December 22, 2016 to January 15, 2017, the last week of January 8 to 15 is optional but recommended.
FOR WHO? :
Our training is for anyone, professional or not, wishing to acquire the technical Superadobe to build his own house with the floor of his land, making big savings on the price of construction.
For example: families who want to build their own home, people interested in the building trades, the NGOs working in the field of housing and infrastructure in Africa, professional green building techniques, energy efficient housing, the vernacular architecture, etc., students of architecture, civil engineering and graduates or people interested in self-built, period.
OBJECTIVES:
The student group will build a dome shaped structure approximately 7,07m2 after Superadobe technique, led by 3 instructors experts.
Following the training, students will be able to conduct and manage the construction of buildings of similar size independently: knowledge of art, design principles, etc.
It is a real practical experience of building a house by a group of people cooperating with each other to strengthen its resources and expertise of the team.
DURATION: 25 days
The training program is 25 days (8 hours / day) to build a dome of 7.07 m2, with a theoretical part (10% h) and extensive practical training (90% h). All phases of the construction process will be considered the first 2 weeks, but the last phase, which will be studied during the third week.
December 22 to January 7: stakeout, drainage, foundations, site preparation, construction of the structure, opening no holes, waterproofing.
From 8 to 15 January: finishes and screeds
NUMBER OF PARTICIPANTS: maximum student group: 30 people. Registrations in order of arrival.
ACCOMMODATION: The Ecole des Sables, International Centre of Traditional Dance and Contemporary African, is located on the heights of the fishing village of Toubab Dialaw 55km south of Dakar, facing the ocean, lagoon and savannah and extends over 4 hectares and a half.
The center has 24 bungalows, of which 9 with private bathrooms; designed from an original architecture for the reception of participants
Meals are served in the restaurant of the center. The lectures will be held in the conference room. Ecole des Sables has an administrative area with wifi.
COST:
The overall cost is 900 euros including training, qualification, accommodation on full board for 3 weeks, and transportation from the airport to Toubab Diallaw (this price does not include airfare to travel to Senegal and mineral water).
PAYMENT AND DISCOUNTS
To reserve your place, we ask for a reservation in the amount of 350 euros. The rest of the payment will be made on the first day of training.
– If you pay your reservation before October 30, the overall cost will be 820 euros
– If you do not want to do the third week the overall cost will amount to 700 euros or 620 euros if you book before 30 October.
– You will get the diploma with time you did.
– Groups of friends: If you want to come in groups of minimum 4 people, a reduction of 15% will apply to each group member
– Couple: 20% reduction will be attributed to your partner. If your partner does not want to take the training but to travel with you, full board alone will amount to 380 euros.
– Children: Email us if you come with your children so that we can organize your welcome. For children under 6 years full board is offered.
– If you are a citizen and resident in Africa, write us to study different forms of payment.
USEFUL INFORMATION:
Arrival scheduled for 21 December 2016. We will pick you at the airport in Dakar and we will take you directly to ToubabDiallaw.
The vaccine against yellow fever is not mandatory but recommended.
Email us if you have any issues [email protected]
.—————
Entrenamiento intensivo en BIO-CONSTRUCCIÓN. Arquitectura sostenible. SUPERADOBE EARTH-BAG
Ecole des Sables, SENEGAL 22 diciembre 2016 al 15 enero del 2017
Conviértete en un agente del cambio: otro mundo es posible! Obten tu diploma para construir su propia casa ecológica y vente a pasar tres semanas con nosotros en contacto con la naturaleza. Construcciones adaptadas a todo tipo de clima.
Sin prerrequisito para participar.
African Angara presenta su próximo entrenamiento en Bio Construccion/ Superadobe junto con DOMOTERRA y con el apoyo de la Ecole des Sables en Toubab Diallaw, Senegal, con el fin de proporcionar una formación técnica en la arquitectura superadobe con la oportunidad para el desarrollo profesional en el campo de la bio-construcción.
Esta formación también puede ser una gran oportunidad para conocer un nuevo país, una nueva cultura.
Las fechas son del 22 de diciembre del 2016 al 15 de enero del2017, la última semana del 8 al 15 de enero es opcional pero se recomienda.
¿PARA QUIEN? :
Nuestro entrenamiento es para cualquier persona, profesional o no, que deseen adquirir la técnica del superadobe para construir su propia casa con el suelo de su tierra, haciendo un gran ahorro en el precio de la construcción.
Por ejemplo: las familias que quieren construir su propia casa, las personas interesadas en los oficios de la construcción, las ONG que trabajan en el campo de la vivienda y la infraestructura en África, técnicas de construcción ecológica profesionales, la vivienda eficiente de la energía, la arquitectura vernácula, etc., estudiantes de arquitectura, ingeniería civil y licenciados o personas interesadas en construcción propia, y punto.
OBJETIVOS:
El grupo de estudiantes va a construir una estructura en forma de cúpula, aproximadamente después de 7,07m2 técnica de superadobe, dirigido por 3 expertos instructores.
Después de la capacitación, los estudiantes serán capaces de llevar a cabo y gestionar la construcción de edificios de tamaño similar de forma independiente: el conocimiento del arte, los principios de diseño, etc.
Es una verdadera experiencia práctica de la construcción de una casa por un grupo de personas que cooperan entre sí para fortalecer sus recursos y experiencia del equipo.
Duración: 25 días
El programa de formación es de 25 días (8 horas / día) durante una cúpula de 7,07 m2, con una parte teórica (10% h) y una amplia formación práctica (90% h). Todas las fases del proceso de construcción se tendrán en cuenta las primeras 2 semanas, pero la última fase, que será estudiada durante la tercera semana.
Del 22 de diciembre a la 7 de enero: replanteo, drenaje, fundaciones, la preparación del sitio, la construcción de la estructura, la apertura de agujeros, impermeabilización.
Del 8 al 15 de Enero: acabados y soleras
Número de participantes: máximo grupo de alumnos: 30 personas.
Por orden de llegada.
ALOJAMIENTO: El Ecole des Sables, Centro Internacional de Danza Tradicional y Contemporáneo Africano, está situado en las alturas del pueblo pesquero de Toubab Dialaw a 55 kilometros al sur de Dakar, frente al mar, la laguna y la sabana y se extiende a lo largo de 4 hectáreas y media.
El centro cuenta con 24 bungalows, de los cuales 9 con baño privado; Diseñado de una arquitectura original para la recepción de los participantes
Las comidas se sirven en el restaurante del centro. Las clases teóricas tendrán lugar en la sala de conferencias del centro.
Además el Ecole des Sables tiene un área administrativa con wifi.
COSTE:
El coste total es de 900 euros, incluida la formación, cualificación, alojamiento en régimen de pensión completa durante 3 semanas, y el transporte desde el aeropuerto hasta Toubab Diallaw (este precio no incluye pasajes de avión para viajar a Senegal y el agua mineral).
PAGO Y DESCUENTOS
Para reservar su plaza, solicitamos una reserva con la cantidad de 350 euros. El resto del pago se hará en el primer día del curso.
– Si paga su reserva antes del 30 de octubre, el costo total será de 820 euros
– Si no quiere hacer la tercera semana el costo total ascenderá a 700 euros o 620 euros si reservas antes del 30 de octubre.
– Recibirás un diploma correspondiente al tiempo que has realizado (2 o 3 semanas)
– Grupos de amigos: Si quieres venir en grupos de mínimo 4 personas, una reducción del 15% se aplicarán a cada miembro del grupo
– Pareja: reducción del 20% se atribuye a su pareja. Si tu pareja no quiere hacer la formación, pero viajar contigo, tendrá que pagar la pensión completa de 380 euros.
– Niños: Escríbenos si deseas venir con tus hijos para que podamos organizar su bienvenida y ayudarte en lo que necesites. Para los niños menores de 6 años se ofrece pensión completa y alojamiento gratis para ellos.
– Si eres un ciudadano y residente en África, escríbanos a estudiar diferentes formas de pago.
INFORMACIONES PRÁCTICAS:
Llegada prevista el 21 de diciembre de 2016. Te recogeremos en el aeropuerto de Dakar y se te llevará directamente a Toubab Dialaw.
La vacuna contra la fiebre amarilla no es obligatoria, pero se recomienda.
Correo electrónico si usted tiene algún problema [email protected]
For more information, please visit the event website.