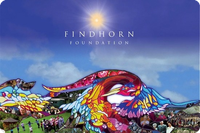 On November 17, 2012 the Findhorn Foundation Community celebrated its 50th birthday! A year of reflection, dialogues, the renewing of the founding impulse and the planting of new seeds for the future, culminated in a week-long festival of celebration and commemoration. By Robin Alfred
Over 250 people from all over the globe, many of them former community members from every decade of the community's existence, came together with the existing community to sing, talk, meditate, dance, prepare and share meals together, and work side by side in the Living Education and Service departments. A wonderful meeting of old and new – and all affirmed that the magic of Findhorn was alive and well.
Jonathan Caddy, son of Peter and Eileen who, along with Dorothy Maclean, co-founded the community in 1962, was reunited with his two brothers, David and Christopher, for the first time since their father died in 1994. Together they cut an enormous community birthday cake in a wonderful celebration dinner on the Saturday night. Dorothy, the community's sole surviving founder, who now lives at The Park, was also present in the birthday week, radiating her joyful inspiration.
There were so many highlights during the week … for me, a sensational Monday night community sharing combining wit, poignancy, hi and low tech was one. Touching too, the reflections from former community members on how their time at Findhorn has influenced and informed the rest of their lives; a whole day Game of Transformation focussed on honouring the past, celebrating the present and co- creating the future, and a profound meditation led by Judy McAliister on the birthday morning itself, followed by a silent walk through The Park, blessing and being blessed by the land. The nature spirits felt present and abundant.
All in all a wonderful week – a time of reflection, renewal and gratitude. May the Findhorn community continue to serve the world with love, joy and dedication for the coming 50 years, embracing new forms, new programmes, new buildings, and new people but all the time remaining true to its roots: listen within, listen to nature and then take inspired action that will enable both personal and planetary transformation.
In love, service and community,
Robin Alfred (Chair of Trustees)
Read more:
http://www.findhorn.org/2012/11/fires-of-transformation/
and
http://www.findhorn.org/50thbirthday/