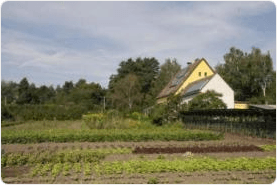 The German community ZEGG wants to establish a circular economy, which they consider to be a sustainable model for the future. In this regard, they use renewable resources, turn waste into usable materials, and encourage decentralised cooperation for food production. Cordula Andrä reports.
ZEGG sources its food in several different ways. During the summer months, our fruit and vegetables come from our own garden. In addition to this, we are increasingly prioritising cooperation with farmers in our region, e.g. currently we source our bread and eggs this way.
For our further needs, we look for producers who share our key values regarding food production: organic and fairtrade. In autumn, a significant proportion of our own harvest is preserved by freezing or bottling.
The ZEGG garden supplies the community, and its seminar guests, with fruit and vegetables. Our gardeners use composting techniques and green fertilisers; for some time now they have been experimenting with adding Terra Preta to the soil. The soil in the Fläming region is generally very sandy, but in ZEGG it is now rich and fertile. Yields have grown over the years, with many different varieties of vegetable and fruit being harvested daily, processed quickly and served directly.
In this way we ensure that our catering for seminar guests and community members is fresh, tasty and, in summer, seasonal. Green and kitchen wastes are made usable for the garden. Experiencing this closed loop helps us to feel our connection to the land and realise firsthand, how dependent humans are on nature. This raises the awareness of these interconnections in ZEGG residents and guests alike – in itself this is a contribution to environmental education that we value highly.
We made a conscious decision not to turn the garden into a commercial venture: its focus is on the practical benefits and its role as a demonstration garden. Every guest therefore has the opportunity to feel what it means to be at home on this planet.
Healthy soil
There is a very special economic connection between our town Bad Belzig and ZEGG: from the first years we have been receiving all the leaves that the town sweeps up from its parks. We use this leaf mould to improve our soils. At the same time, the town council saves the cost of green waste disposal. So, the cooperation makes sense both ecologically and economically.
Mulching with leaf mould and adding clay to the soil on the ZEGG site has created a rich humus layer. This is now the natural base for a growing wealth of plants, rare insect species, and animals. There are fresh fruits all over the site to be plucked and picked by guests and community members in the summer, including some exotic species such as kiwi fruit, mulberries and figs. The bushes and trees together form an "edible landscape", with a lush diversity now present on a site that was once characterised by barren monocultures.