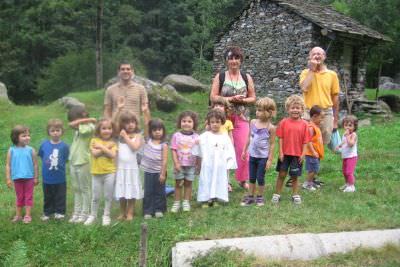 Kadri Allikmäe, from the Estonian ecovillage network, shares thoughts after her visits and research of 3 European ecovillage kindergardens, two Estonian kindergardens and one community, as a space for our future children.
In the springtime of 2010, I visited Sieben Linden on a course focusing on the social aspects of community building. In our free time we were looking around the village and discovered this beautiful forest kindergarten. I had just returned to university to study pre-school pedagogics, so this experience was very pertinent to me.
At the 2010 GEN Conference that took place in Damanhur, we made an excursion to the school and kindergarden of Damanhur. Their way of teaching and learning is so inspiring that I could not stop thinking about coming back to Damanhur to learn more about how their education system works. So I returned in winter and thereafter felt such a strong urge to reside there, that I started to learn Italian and in the summer I was awarded an Erasmus internship scholarship for 3 months, which covered all my expenses (I'd recommend this for all students). Then I became an intern in the kindergarten of Damanhur for 3 months in the summer of 2011.
My last target outside Estonia was Tamera, in Portugal, where I spent nine days in the spring of 2012 getting to know the community and the Children's Place where teachers, parents and children live together in one area.
In order to get extra information from Estonian local settings, I visited ecovillage Lilleoru and talked with parents who do conscious work with the kids there. I also visited the oldest waldorf school in Rosma, South Estonia, located in a wooden house over 100 years old. Finally, I also visited a local, normal, municipal kindergarten in Tallinn, the capital of Estonia, where teachers were doing a lot of co-operation with parents and developing many ecological projects.
What did I find out and discover?
I guess a lot of people have come to, or started, ecovillages just because of their children. At the time of my research, I was still single and childless. My main focus was to find out how children learn sustainability in ecovillages. Meanwhile I have become a mother myself, and I can very well understand why all parents want the best surroundings for their children.
As a basis of my research I used the 4-section 'wheel' from Gaia Education that was originally designed to teach people how to build a community. However, it is also a very good model to analyze different communities and see how different aspects of the wheel are represented in a specific ecovillage. For me, it was also interesting to see how children learn the different aspects from a specific community.
My main findings were:
Firstly: I learned in ecovillages that the most important way that children learn about sustainability is through the environment they are immersed in. The possibility to touch, smell, climb, play, investigate and do things with ones own hands is the most important way of finding out how things work in the world. It is also similar in the way that children learn about a sustainable life-style. Children absorb everything from around them, so when they are being surrounded with a nature-friendly atmosphere, and people, and they can touch it as well, they take it as "this is how it should be and is". They take it as a "default" way of living, so to say. When we think about children in a very polluted area, for example, and their parents are neither very nature friendly or in the way of healthy living and eating, their kids are less likely to understand about what would be a sustainable way of living. So it is very important to choose or create right surroundings for one's child, because they learn through the environment.
When children are also very sensitive about their environment, living in the old way will simply become impossible for parents (this goes also for me, because I still haven´t been able to find a way to get out of the city, because of my job and university, but now with a child, it seems such an awful place for living, in every way). To tell a child "people should live in a more sustainable way" just doesn´t make sense in this environment.
Secondly: The second biggest teacher for children about sustainability is the example of grown-ups. In order to learn about sustainability, collective wisdom, consideration for others, cross-religious and cross-cultural tolerance, it is not enough when kids hear it from a teacher. They really need to see how grown-ups practice it and how to overcome different conflicts that arise from trying to find "unity in diversity".
The same goes for learning different skills and crafts. It is not enough to just tell children how different people do something and show pictures (in a normal kindergarten children don't usually learn like this, and also don´t go to people of all professions and talk to them as they do in ecovillages). I understood that in order to learn, children need to see and touch those people who do their job, and to ask straight questions. In this way they can also choose their own path for the future and they learn through life, not through just studying pointless facts.
I want to quote Tlakaelel, then an 80-year old Tolteque (Native South American) wise man who visited Estonia and Lilleoru community on midsummers day 2012 (God bless his soul, he has now found a way to the spirit world again). He was talking about how the education of Tolteques worked in the old times.
At first children were just "hanging around" with their parents, following what they were doing. Then, after some time, when children started to be interested also in other things, the wise woman or man of the village took a small group of children and just walked around in the nature with them. And she/he didn't tell them too much at first, but waited for the children's questions.
So the children started with their interest, not the interest of the parents or somebody else, and everyone learned through experience. And after some time the wise man or woman of the village could already say: this boy is more interested in healing people, this girl is more interested in crafts or astrology etc. So the children could thereafter go and learn with somebody who was already very skilled in those areas. The basic idea was learning through example and experience. This kind of learning is also evident in Sieben Linden, Damanhur and Tamera.
My experiences in the different ecovillages
Christiane from Sieben Linden kindergarten wrote me that kids visit different craftsmen who tell them how they are doing their job and demonstrate to the kids also, so they can learn through experience and example.
In Sieben Linden I was most fascinated about the ecohouses, that people cooperate with horses, that in the forest kindergarten children spend a whole day outside, even in the snow, exploring the forest in many different places and activity centres in the forest (where they can test different elements: trees, water, sand, observe animals etc). It is also constantly changing. Here in Estonia staying outside all day would be a totally new kind of thinking. With our nearly 6-months of snowy winter in the latest years, that would be a courageous step. But it is possible. They say there is no bad weather, but just bad outfit!
The concept of a forest kindergarten started from Nordic countries, I learned. And the benefits of outside learning and exploring are many: the more children stay outside, the healthier they get. There were a lot of kids in Sieben Linden and it looked like this village has probably started from the parents idea to offer their kids a more sustainable future. And they have so many interesting grown-ups from whom to learn.
In Damanhur I liked very much the concept of co-parenting. Inhabitants live in smaller sub-communities, called "nucleo". In every nucleo there are about 20 people of all ages living, including children. In the Damanhurian view all grown-ups take responsibility for children. So in many ways parents are being supported in their work, sometimes some other grown-ups take children, play with them, show their work for them, work in the garden, play, pick children up from the kindergarten etc. Also all community members (regardless of being a parent or not), pay 10% of their monthly income for the school and kindergarten.
From the point of view of the school and the kindergarten, they use a fantastic experiential technique for learning. It's called "learning by travelling". Even kindergarten aged kids go five times a year for a 5-day long trips (without parents), to learn about nature, history, culture, their surroundings (in school and also other countries), and also independent life (together with teachers though).
When I was visiting, we went for a 5-day long trip to Valle d´Aosta, which is a very nice valley close to the French border of Italy. Kids were from 5-6 years old and it was great to see how two kindergarten teachers, Narvalo and Caribu (both men), made the whole trip feel like such an adventure and play. Valle d´Aosta is very rich in castles and they had just had a topic about princes and princesses in the kindergarten for the whole spring, so in this trip they went to see how real princes and princesses used to live.
In Damanhur I also liked that when they learn about the elements, they experience each element deeply. For example, this summer when I was there we did a 6-week session about water. During this time we visited a lake, a river, did experiments with water in the kindergarten, painted pictures about water, told stories about water fairies etc.
In the kindergarten house they had two groups: one for 1,5-3 year olds and the other one for 3-6 year olds. Both groups had 4 different rooms: one for eating, reading and games, other for arts and crafts (there was also a corner there for to play kitchen and a wardrobe with different funny clothes and cloths), and a soft-room for to jump around and sleep. And they combined all pedagogics.
In the Damanhurian school the classroom was like a nucleo-community: children had different roles, an ecologist, captain, book-keeper etc. This example was to show that Damanhurians truly empower their kids. And they constantly learn through experience. Mathematics can be such a boring topic for many, but when you see how it works in building a house, it's a totally different story. They also had a project about eco-housing, where they visited different ecological houses in the community, learned about renewable energy technologies, and even made a theatre play about it.
When the children have world-changing ideas, teachers only encourage them: for example, some years ago kids there heard a lecture by a biologist who said that in Nicaragua there is a place where children don't even have a school. After that kids of Damanhur raised money for to build a school for their fellow students in Nicaragua.
I saw in Damanhur that kids experience that it is possible to do something in order to change the world. This is what I'd like to also give to my child: this courage to make a change!
In Tamera I was most fascinated about the special area for children "The Place of Children" where the children can stay also overnight in their own group yurts – at times they form a children´s community of different ages, which is a big joy for them – at other times they live with their parents. In the children's area there is a gardener, and nearby there is a small self-made adventure-park where they can climb up on a tree and hang, and in the area there were many corners where kids could experiment.
For kindergarten kids there was also a very good learning space called "Piri-piri" with all kinds of Montessori learning tools to learn counting, how different liquids and solid materials work etc. Schoolkids also did Capoeira, which is totally out-of-the-box-gymnastics-lesson with such a cool teacher also, a horse-whisperer guy who's living in the same community.
Children learned also by helping in the herb garden and with the animals. The general atmosphere of the community was very tolerant and multicultural, there was a lot of permaculture, beautiful political and peace work that children can learn from every day. And what was the most inspiring of all, is the usage of forum with children. I think this would solve so many problems in normal schools when they'd start to use it! People, please teach it also to normal schools!
I just loved how children connect with animals: just before I came, they had had pigs in the Place of Children. And Oscar, the headmaster of the school and kindergarten told that children learned how pigs live by giving them food, observing how they live, what they eat and what they do and it was all very alive, because the pigs were just next to the schoolhouse, digging the ground every day. I also saw there was a gardener around and children could follow her every day. Many kids spend a lot of time in the kitchen of Children's place, because in the kitchen there is always so much to learn: to wash dishes, talk to grown-ups and help around.
In Lilleoru, the oldest and so far only eco-community in Estonia (this year they celebrate 20 years of existence), that has grown from a spiritual community to an ecovillage, there is also a special attention on children (though not so much yet, because not so many people with children live on site, most people come to visit at the weekend). Now they have built a special house for children and have a small special area for them. What I liked was that in all public events they have a special programme for children where the artists who live in the community share their talents with kids.
During the week-end spiritual practice, older children babysit the younger ones, so that parents can participate in the spiritual practice of the community. In Lilleoru I could see how families help and support each other so much when co-operating on children. Mothers can share their issues and children can grow together, share their things and babysit each others children when needed. They don't have a school nor a kindergarten there, but there is a very child-friendly and supportive community around. Personally I appreciated very much the support from older women when I was there just last week as a mother of 5 month old. I felt this is the way it should be: a young mother is nurtured by older ones and supported by the community in her new role.
Rosma waldorfschool and kindergarten in South Estonia was actually started by the parents 24 years ago. The kindergarten functions in a 100 year old wooden house. What I liked in Rosma very much is that the cooks make a special effort to organise local ecological food for everyone. In Estonia this is not so well developed yet and in the countryside there are small producers. So it's is quite a job to bring all this together. What is truly admirable in Rosma is that kindergarten teachers make all their toys from the wool of their own sheep, every toy self-made, from wood and/or natural materials. In the parents side there are weekly gatherings and a family school about waldorf pedagogics going on. Parents help to cut wood for heating, help to renovate the house, organize events and fundraise for projects. Every year, parents organise an annual all-family conference for themselves and the open public (it very much looks like a GEN meeting, but on education topics), and of course all other events. They also help to renovate and build the school and the kindergarten, some of them cook for the school, bring their own ecological foodstuffs.
To my great surprise there seems to be a trend for community also in normal kindergartens. The one and only municipal kindergarten "Pallipõnn" that I visited, which from the outside does not look ecological at all (no solar panels on the roof, no ecological food etc), was quite ecological from the social point of view: parents were often visiting the kindergarten to be the teachers and help children learn something of their profession through practical activities. I heard one father (a fireman), even came to the kindergarten with full uniform on, bringing similar small uniforms also for the children to try.
In "Pallipõnn" parents organized common events with all kids at their homes, in art the teachers were using a lot of second hand materials, they had a learning space with sand and water in the classroom, fathers were building things with kids, mothers were making pancakes with the whole group (usually up to 24 children!), and in the autumn children were making apple jam together from local ecological apples (non-certified but from grandma's garden).
Children there baked cookies for Christmas for homeless people and sold valentine cards for kindergarten stuff and parents for to raise money for the shelter of homeless dogs. By recycling old bottles, they raised money for theatre. I heard parents are also helping there sometimes as teachers assistants when the real teachers assistant is sick.
In conclusion: I saw that when we wish a different reality and that our children carry sustainable ideas, it is important to start living a different life, not just talk about it. And it doesn't really matter whether it's an ecovillage or a normal kindergarten. It is possible to make a change anywhere really!
But it is not enough to tell children things should be like this and we should protect the environment. When they don't see what is a healthy reality through the environment they are in and the example of surrounding grown-ups, they can't really understand and follow. So this is a good motivation for all grown-ups to create an environment (preferably together with children) that "walks the talk".
What is the advantage to grow up in an ecovillage – for the children, for the parents, for the ecovillage?
I personally feel that for children it would be a great advantage to grow up in an ecovillage, because the benefits are just so many: the possibility to connect with nature, animals and plants, a constant supportive community, many grown-ups usually also from different cultures from whom to learn different ways of life, and languages. There is usually ecological food and an inspiring mission towards which to work.
For parents that would be just the best place to teach children about a sustainable life-style. Not just ecologically, but also socially, economically and in worldview.
What is the advantage for the ecovillage: I think it is very healthy to have children around for the community, because otherwise people get older and they have a tendency to get stuck in their comfort zone. Children bring always new energies with them and also test are we really making this spiritual progress we think we are making. They help to put our beautiful theory to practice in the most impossible way usually, and they keep testing us by asking all sorts of questions.
But as two of the Estonian kindergartens I investigated (one in the town and the other in the countryside), showed (and I'm sure also other kindergartens in Europe would show), it is possible to organise a community around a normal school or a kindergarten. There are a thousand possibilities of how parents can co-operate and create a community or ecovillage atmosphere anywhere. The Gaia Education 4-aspect wheel can help a lot. It is a good thing to take as a base to think how can we make our, let's say, kindergarten more ecologically, socially and economically sustainable, and what kind of a worldview we would like to pass on to our children.
I feel I have learned so much from ecovillages about how I would like to be as a mother. Thanks to being in contact with the ecovillage movement and learning through experience myself, I got very many ideas how I'd like to raise my own child(ren). For example, from ecovillages I got a feeling, that I'd like to give birth at home, carry my baby as close as possible (in a sling). I'd like my baby to be as diaper free as possible (at the moment we are using 2-3 ecodiapers in a day, potting and using cloth diapers at other times).
And when he grows, I'd like that he could get in contact with very many different children, cultures, religions and also different grown-ups. That he could learn from many people and see different realities. That through his own experience he can get in contact with nature and learn to nurture and love her simple elements: touch the earth and smell it with gratitude, talk to tree spirits and stones, know the value of fire and appreciate simple things: for example, how to grow your own plants and herbs. Especially in ecovillages I´ve seen kids learn through experience. I have seen also know how children imitate grown-ups and as a mother I have been thinking also deep what kind of an example I am as a person to my child.
I'd like to teach my child that peace outside starts from peace within, and solving big cultural, historical, family and personal patterns inside (like Tamera teaches). The intention of our mind is all-mighty. When we'd have the wisdom to stay in contact with our true self and divine part and stand on a dragon-line consciously envisioning our future, we could empower our activities a thousandfold. And if we'd be even more wise, we'd also cooperate with other light beings (like they do at Damanhur). That it is possible to create an ecological heaven on earth and live such a simple, yet such a rich life (this I learned from Sieben Linden).
I learnt that it is so empowering to build childrens education together (Rosma kindergarten and School in South Estonia). That parents can create their childrens education (Pallipõnn kindergarten in Tallinn), and that it's wonderful to be a woman and a mother, when I have so many beautiful mothers and women around and when I open myself to the support that other women give (this I experienced lately in Lilleoru community Estonia). To be in a community is a healthy way to live as a new mother, not alone with child between four walls.
There is one thing though I would recommend also to ecovillage kindergartens and that is that all those kindergartens or schools create a network, even an informal organization let's say under GEN, a group on the internet, a blog to share all this richness (experience, ideas, photos about events) between different ecovillage kindergarten teachers and others, to support each other on legal issues, share great ideas and also make study materials for outside. I feel all ecovillage kindergartens and schools have such a beautiful experiences of how to nurture the future of our planet that this deserves extra special attention and it's so beautiful to share.
And finally: thank you so much to everyone who has supported me on this journey: Christiane from Sieben Linden, Oscar, Gabriele, Sylvie and Leila from Tamera, Anaconda, Kiwi, Gazzella, Artemia, Caribu, Narvalo and all the other teachers from Damanhur kindergarten and school, Kaija, Kadri, Ave and Mari from Lilleoru; Erkki, Mari, Heli and Laivi from Rosma; Kerstin and Gladi from Pallipõnn kindergarten. Thank you all so much! This has been a wonderful learning and a wonderful journey!