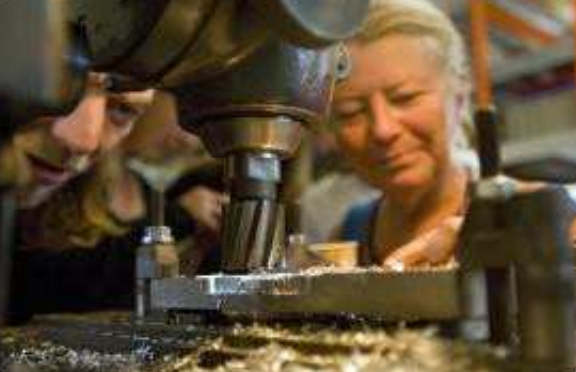 Together with sociologist and feminist Nina Kovoets, we sent out a little questionnaire to the general GEN Europe list to get some data about the situation of women in the ecovillages – at least in Europe. We received 18 replies – which is probably not very representative but gives a taste of what people in the movements feel about women's empowerment and gender roles. Thank you to all who took the time to reply.
The majority of the communities and projects that answered have slightly more women than men, and nearly all of them feel that women are better off in communities than outside of communities: "The theme of being and living in a community on its own is a women-supporting thing. It supports women a lot."
Many mention the way that children are taken care of in a communitarian way: "Children are seen as part of the community and its life", says one, and another mentions the costs: "Food and other costs are paid per adult person, so families are financially supported by all."
This seems to be reality in many groups: "The whole group takes care of several 'mothering' tasks, and the whole community supports the upbringing of the child also economically."
We found a larger variety of answers on the question of whether the women are mainly working in traditional female jobs or not. In many cases women seem to choose traditional female jobs such as working in the kitchens, but it is not regarded as a 'lower' position.
This situation might speak for many ecovillages: "There are more women in the kitchen than men, but also some men. There are women working in the garden and in construction, but less than men. Women do more of the social work in the community."
One writes that the women of her community are "weavers of relations, taking care of events and planning future activities. I don't know if these tasks are traditionally female, but they fit us."
Another says: "We encourage women (and men) to try things that they may not have done before because it falls outside the traditional roles."
Some ecovillages are composed of traditional and intentional communities, which is also reflected in the gender roles, as this person says: "The older members of our Bulgarian community divide into traditional roles. The younger members, less so whenever possible."
"In our project in Palestine we all work in the fields with our children, since the principle of large tribes is active, and the children are just part of the big we."
In communities which unite people under one aim, the gender opposition seems to be less important, as this person says: "We work hand in hand more naturally because of joined vision."
On the question about women in leadership positions, most communities say that it is not only half and half, but even more women are in leading positions: "It's easier for women to get into leadership positions. I'd say 60-70% of leadership positions are done by women."
"As leadership positions are also a kind of ´social work´, for the community, it is done more by women."
Another person wrote: "Women in our community have the leadership but they are not aware of that." And another: "Even in the traditional sectors where it looks like the men are in charge, it is the women who really make the decisions."
Most communities seem to have talks about gender roles, women´s groups and men´s groups. "We women feel quite empowered by our role in the community. We do monthly women circles that help to promote this feeling."
"Our opinions as our roles in the community are very respected but sometimes we, as women, miss enough self-confidence to fully play this role", another woman answers.
Half of the answering communities are "doing something to increase the love and understanding between men and women", for example: "Men and women groups, Forum, days for love and partnership, meetings for these issues… and many other methods."
"We are giving the women the chance to remember the great knowledge that they carry anyhow, by feeling empowered and seen, mainly as they understand more and more the connection between political activism and been part of ecological resistance. Especially in Palestine, this issue is important."
Not in all the tribes do people have time to work on more understanding: "The women in the traditional sector are too busy doing everything they have done for hundreds of years. Taking care of the animals, growing vegetables and preserving fruit and vegetables. Not to mention all the other things women do."
Two final statements show that in spite of the similarities, communities have a diverse image of their capacity for women's empowerment: "The tendency is to replicate the main-stream, sometimes without being aware."
"I believe we are mirroring a growing paradigm where women's roles are changing."