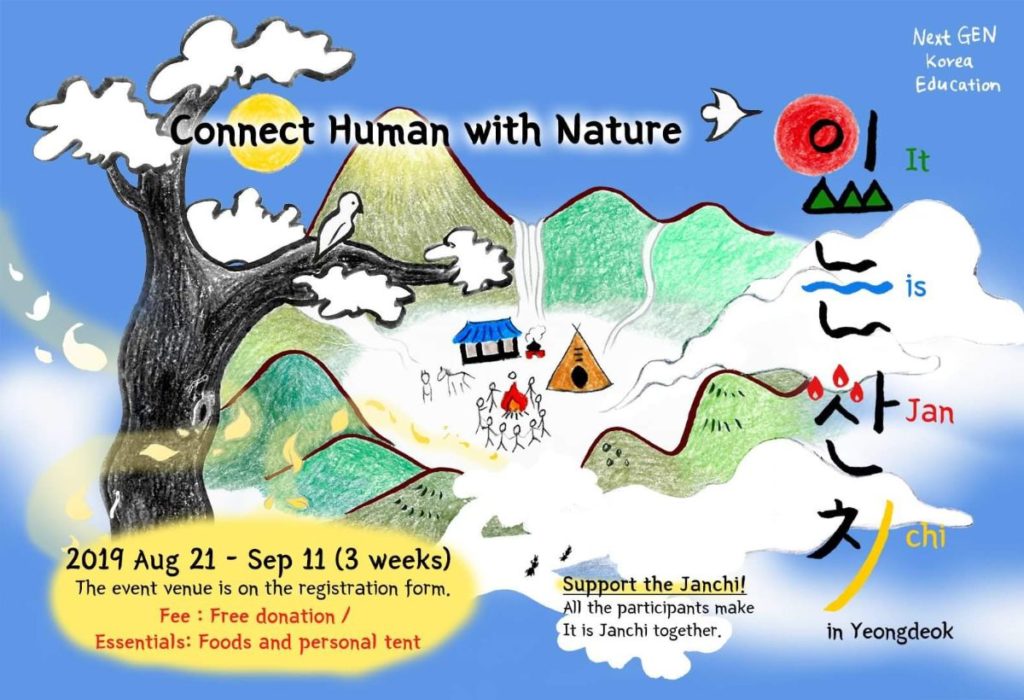 It-neun Janchi (It is Janchi), an annual gathering that is organised by NextGEN Korea, is taking place for the 4th time in Yeong-deok, Gyeon-sang province of Korea. 
The gathering is a space of experimentation where we establish an ecovillage which we envision altogether for a certain period of time in the midst of unique geographical context of Korea and East Asia. 
Through the last few gatherings where we formed a village along with the friends of East Asia such as Japan and Taiwan, there has been active networking activities for peace, ecology and communities within East Asia. 
From Aug 21st to Sep 11th, this year's gathering will span for 3 weeks beginning with creating common living spaces as well as preparing food for all, making decisions necessary for community living, and everyone will play a part from the start to the end altogether. 
If you're interested in the gathering, 3-week experimentation space that will awaken our sense of life, peace and love while being in communion with one another in nature, please contact us at [email protected]. 
*The meaning of It-neun Janchi(It is Janchi) derives from combination of 'It is', which implies the 'presence' of as well as 'the action of connecting' people and nature and 'Janchi', which refers to a festive gathering (differentiated from a festival itself) of joyful communion on the level of community or village.