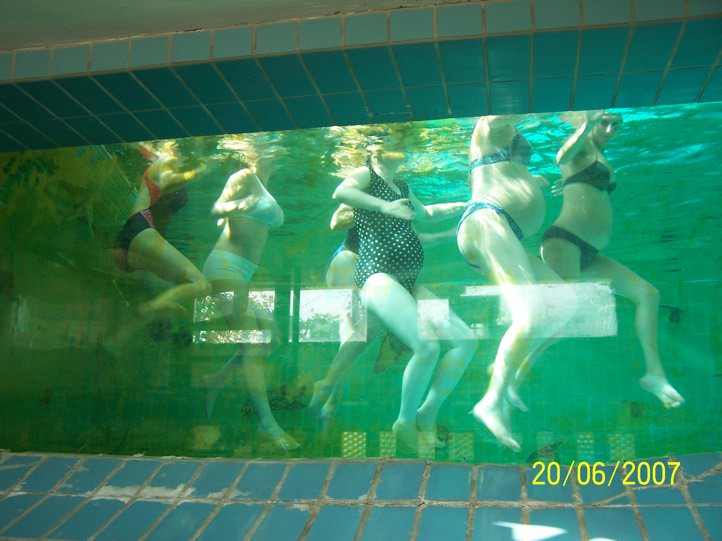 Birthing is a challenging process that can take a woman out of her physical and psychological balance. The capacity to hold her in this condition, and be her 'social-spiritual uterus', is a valuable skill that communities can develop. Damanhur is composed of about 20 so called 'Nucleos', core families of 10-30 people. Capra Carruba gave birth to her first daughter 6 years ago, and now she waits for her second child to be born.
My daughter was born seven years ago in our communal living room. We were six mothers pregnant in the same range of time, a small community of "bellies" within the larger community of Damanhur. In spite of our initial aspiration of home birth within our various core families, every one had a very unique story. Two gave birth in the nearby hospital, one of which with a cesarian, the other four at home. All of us were assisted by our two midwives throughout the entire process, starting before conception, throughout pregnancy, birth, and the first months afterwards.
In the last months, they had been continuously present in our process of transformation, in spiritual and physical terms.
Our midwives are part of the community and also work in the local health system, creating a continuity of sacrality and safety in any setting that may develop.
Our preparation towards conception contains very practical aspects as done by good midwives anywhere, as well as more spiritual activities, amongst which choosing the God parents and the name. There is also an important social dimension: Because our education is a shared endeavor not only in economic terms, but also on a practical day-to-day basis, the decisions around parenthood are 'personal', but immediately afterwards, the community is involved, taking an active role in raising the child and 'holding' the woman during pregnancy.
In the unique journey of pregnancy, our community has created a variety of possibilities to chose from, thanks to the talents of other community members. Some are more artistic, others more physical, therapeutic, or connected with plant intelligence. The process has a common thread of finding well-being, constant re-balancing and identifying the needs and desires around the birth setting.
Some of us preferred a more intimate surrounding in their bedroom. My experience was a rather tribal ritual – exactly as I had hoped for: A group awaiting the new baby in an atmosphere of joy, expectation, celebration. We were dancing and some wild women friends joined me in shouting out during contractions. Drumming accompanied the entire night. While I slowly entered the state of the 'birthing trance', I was aware of the energy field and concentration of my family around me, which carried me through the difficult parts of my journey.
After six hours – and three days of 'false' contractions – my daughter was born in our living room. I was standing, supported by the godfather and father of Zela, who was caught by one of the midwives. The midwives were very present in the last phase, in the beginning they wisely orchestrated the process without intervening personally – only checking every now and then the heartbeat of the baby, and progress of the cervix opening.
I believe that our community midwives are crucial in their sensitivity to allow every woman to find her own setting and then provide the flexibility and lucidness to guarantee safety in every possible turn during the birth process. There is no 'procedure' nor fixed birthing place in our community, but many possible ways to explore for every pregnant woman.
Of the six, my baby was number two after a cesarian. The next girl came five days later, premature and too weak to breastfeed. My daughter was nursed by her mother to get her milk production going, while we, as the first two mothers, shared our milk with the little one.
Existential needs of feeding our babies met our shared sufferings of sore nipples and intimate wounds after giving birth, creating a nude solidarity amongst us mothers. In our children, the consciousness of being 'milk brothers and sisters' has been a bond ever since, a sort of exclusive recognition beyond friendship.
And the fathers?
And the fathers? You are right, I am not mentioning much of the fathers, even though they were important and present – but in my memory the substantial factor of this period was the community of us mothers.
I believe that the story of birth giving in community cannot be separated from the next big chapter of education, when our babies, at the age of 6-7 months, entered our community cradle. Initially for a few hours, soon the entire day, our children entered a little 'community womb' of their own, while we mothers returned to be more present in our social roles.
The midwives mediate in this transition, sharing characteristics and individual needs of every baby with the new care takers in kindergarden. In Damanhur, we have a family school from 6 months to 14 years. Birth in community is taking place in various stages for our children, in social and spiritual terms. Be it the various developing phases in the first years towards independence, or the initiation rite at seven years called 'test of courage'… But this is maybe another story.
As I am writing, I am pregnant again, actually close to delivery. My desires and intuitions around birth giving have changed. I yearn for a sacred space where connection with the divine is present – maybe because this baby is asking for a different experience to enter life. I am exhausted because life in community can be challenging and my sense of limits has always been weak.
One of the Nucleos in the Sacred Wood invited me for a vacation in nature. I am sitting now under one of the mother trees breathing the air of a place beyond time. I am grateful for my community taking care of me, and the willingness to find solutions for my changing needs.
One thought is present in me in this period: My community is pregnant with me as my baby is growing in body. My pregnancy is pushing me out of balance, in physical and mental terms; I am exaggerated, over sensitive, have little self control, I feel vulnerable and needy – not exactly my comfort zone. The capacity to hold a mother in this condition and being her 'social-spiritual uterus', is a condition communities can develop. It is not to be taken for granted and it feels so good when it happens.
I can also see how pregnancy is not only transforming me, but sharing this process is challenging and changing my community. I believe there is something magic in this alchemical interaction in birthing, between women carrying a child and their communities carrying the mother, both becoming malleable to transformation, calling in more feminine and maternal qualities of the community body.
For more information www.damanhur.org