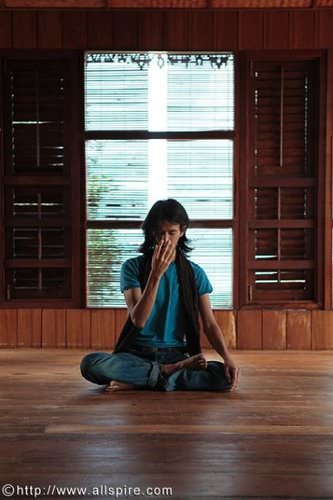 Maia Earth Village, in the Philippines, is giving birth to the Wholeness Center, a whole-systems model in the 'Asia of Transformation Medicine' programs, that have global applications in supporting inner work-oriented healing centers, hospitals and energy processes around the world. Pi Villaraza shares.
Transformation Medicine began as an intuitive journey undertaken by two unlikely partners, a successful integrative doctor from Cebu City, named Dr. Romy Paredes, and myself, Pi Villaraza, as energy healer and founder of Maia Earth Village.
Both a functional and philosophical initiative, Transformation Medicine was first seeded in a series of casual conversations over breakfast, between Dr. Romy's integrative hospital in Cebu, and the Maia Earthvillage, my Ecovillage in Palawan.
In 2013, Pi Villaraza and Romy Paredes co-authored a book published in the Philippines entitled Transformation Medicine. The book is so popular that it has undergone a second printing in Malaysia, due to the insights it brings to Asia in the over-all development of integrative health care systems.
The Wholeness Center approach might answer the essential question, "what would the future evolved hospital look like?" For one, it may be situated in the most natural environments. The food there may have been grown organically and prepared in ways that leave its enzymes and nutrients intact, designed to detoxify and nourish people back to balance. The doctors and healers in it may understand the nature of the body as an intelligent vibratory field of consciousness. Most importantly, the highest medicine in the space comes in the form of knowledge and inner wisdom.
In the last years, various healers, coaches and art therapists in Maia, such as Sarah Queblatin, have journeyed with cancer patients and all kinds of cases, to see what Transformation Medicine might unravel for open-minded medical practitioners interested in the psyche's ability to self-heal.
Using expressive therapy, energy diagnostic tools, intuitive energy processes, and counseling aligned with holistic medical and nutrition approaches, the process can be likened to our ability to open the complex mental structure that affects the physical states that lead to disease patterns, emotional blockages and mental imbalances.
Since Transformation Medicine's inception, many avenues have been explored and revealed in bringing practitioners closer to supporting those patients and doctors who are already on the journey to understand the psychic and energetic interconnections of the multi-dimensional self; many of whom feel they are as much a part of the Transformation Journey as those of us here.
An American woman named Kelly, after experiencing some of the basic energy overlays of Transformation Medicine, had this to share: "I was finally able to grasp the concept of "surrender," and felt myself falling backward into a river. The flow completely overtook me, and I was able to go deeply into my mind. What I saw and felt was incredible, and transformative. I witnessed the source from which all things flow. I was able to see the miracle of my own existence, the purpose of my birth into my family, and the reason for my suffering.
I was also finally able to let go of my ego-self and realize with perfect clarity the satisfaction of a deep craving for release and death. I came to understand intuitively the transience of this exquisite human moment I was living inside."
Testimonials such as this, and Patricia's sharing below, come about often, either in our work in Palawan, or the numerous areas into which Maia's work has spread. Especially where there are emotional openings, one awakens to meaningful self-awareness, an eventual state unraveled by the ability to diagnose oneself in the profound clarity that comes after feeling the waves of physical, emotional and mental release of stored pain, resentments and doubt:
"Even though the workshop lasted for only three days, it has been the most transformative experience I have ever been through, continuing on for weeks and months afterwords. The process mirrored my deepest thoughts that we are our own healers, and the only cause of our daily dissonance is this sense of separation in externalized living. And that the only thing we are all searching for is a way to go inwards. In this flowing state that we are all energy, I am more than willing to go deeper into the world of feeling, to explore all there is that leads to expansion. I am willing to surrender to it, and in so committing, to trust that I might be able to share this gift to the world." – Patricia (France).
Transformation Medicine's goal isn't exactly to eliminate illness per se, despite that it does this too. The aim is to observe imbalances through integrative means, and that even on this first most essential step into genuine change, illness often disappears, along with the powerful release of emotions that lead to intense mental and physical lightness that prepares the person for what experiential observation work might arise.
Self-Diagnosis brings conscious cohesion to medical science, energy healing and personal transformation: three disciplines and directions that do not always coincide. The framework that helps to bridge this is called Cognitive Resonance, a psychological model that inquires into the nature of illness as an effect of fear and pain avoidance.
Transformation Medicine's structures are founded on three guiding principles that similarly steers many of Maia's integrative systems in development:
1) Symmetry – speaks of relationships in which all parties enjoy equal access to information, power, and all forms of resources. In asymmetric relationships, roles play heavily in who holds the power. In a patient-doctor asymmetric scenario, a patient relegates the power of diagnosis and prescription to the doctor. An symmetric medical relationship consciously mirrors – there are no patient or doctor roles. Patients, in becoming fully empowered to self-heal, are their own doctors.
2) Synergy – Synergy in energy healing takes place automatically when the body and mind re-enters its natural states. Endocrine systems, chakra points, neurological pathways, meridian channels, brain functions, digestive tracts come into a natural alignment as a person is given more access to enzymes, serotonin levels, prana in states of trust and support, especially when a group has the capacity to harmonize its activities, guiding principles, and long-term strategies according to a common ethos held by an inclusive core vision.
3.) Cyclical Feedback – speaks of the capacity of a process to harvest insights efficiently in ways that empower people equally. In any process, feedback is always taking place, but for it to be symmetrical and synergistic, information is used productively in lasting and relevant formats. Feedback systems ideally take place in all directions, held in check by a fluid modular structure that relates the many parts to the whole, through insightful mapping that allows internal and inter-personal conversations to contribute to the contextual goals of healing through continuous learning.
The Transformation Medicine process comes to life primarily when it is able to actively listen to the innate wisdom laying in wait in those brave self-healers that choose to come into their vulnerability and their own power.
Celine, A Filipina dancer, who has been undergoing the Cognitive Resonance process for two months now, has this to share:
"It has been months since the first session that changed everything. It continues still, becoming more and more conscious, as I look, receive, commune, live and perceive life without the judgment I was holding for so long. I am having to get used to living without the resistance I once felt, and I find myself just observing everything in states of trust and surrender. There are connections everywhere I look, and beneath it all, if I look hard enough, I see pure light and pure love. There are few ways to share in written/spoken language the emotions and energy I have been experiencing for what seems like such an extended period now, an everyday advance to a heightened self-awareness That I once did not feel I deserved. I am looking into the mirror and the universe is in alignment. Beneath any illusions that internal conflict was even there in the past years, I see only that everything had been peaceful and perfect ever since the beginning of my time here.
I simply had to see, honor and then celebrate what is always there."
For more information on Transformation Medicine and Wholeness Center programs, write to Pi at [email protected] and Sarah at [email protected]