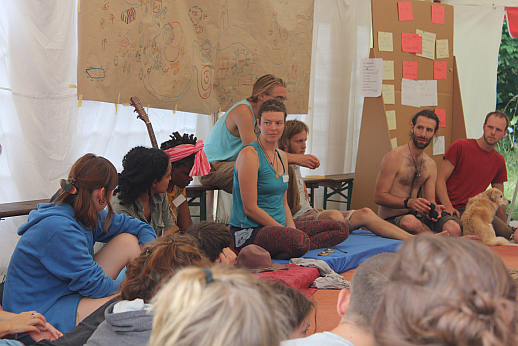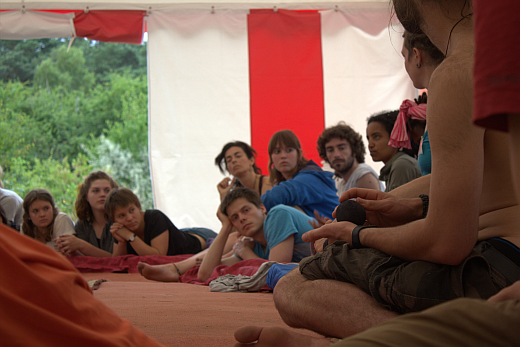 Sessions of Leadership and Appreciative Inquiries with the NextGEN group was held by Ethan and Laura of the NextGEN Core Team. Laura opened the "Leadership-session" by presenting differences of the Hierarchy-organization structure symbolized by the Pyramid, and a Sociocracy-like organizational structure symbolized by the Circle. Ethan filled in with teachings from the Tao of Leadership. The group split in groups of three to discuss the topic, and to present their conclusions to the NextGEN group in the Tent of Four Elements. The atmosphere was vibrating intensely since there was much to share and the issue of leadership is burning. Focus was on Personal Leadership in feeling Responsibility of Manifesting the Vision of a group and fulfilling it´s needs, while maintaining individuals sense of freedom, joy and possibility of Living In Truth.
"Appreciative Inquiries" started afterwards where groups of three joined in a session of storytelling of each individual's life with the question "What experiences of community living brought you to pursue a life in/around community living?", by taking turns in being Listener, Witness and Storyteller. The same groups then presented their shared views to the NextGEN group of "Strategies for creating a Thriving Community" and "The Essence of a Community". The focus in this session fell on deeper connection with the human heart, uniting in needs of living beings, and the joy of existing as a "We".
I (the author) had an intense realization that true leaders are those who carry their Truth through in every moment of being alive – and thus the responsibility follows naturally without effort and not from the heavy mind of fulfilling duties. This is what the patriarchal system surrounding us creates for us in its Hierarchical organization of the living. So to become a true leader of a personal dream one has to change one's definition and understanding of what True Leadership is. I greatly recommend to participate in Clinton Callahan's workshops around Conscious Emotions, which deal with these issues.
~We Are One~
Emanuel of Clan Lonami
8th of July, Day 4 NextGEN Conference, Day 2 Dream2Act Course – Youth in Action