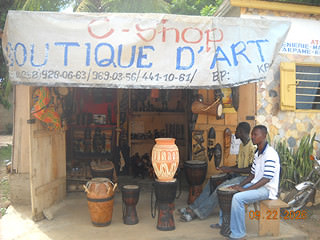 It has been an exciting year for NextGEN, the youth movement within GEN. Inspired youth from around the global have been busy connecting young people with the ecovillage movement and empowering them to build the world of the next generation. One of our latest initiatives towards creating this world is focused on constructing a locally owned ecovillage and education center in Togo, West Africa. Cynthia Tina, NextGENNA Representative, reports.
NextGEN International Representative, Nick Joyce, is the person organizing the project. "Through engaging visitors and residents in cross-cultural creativity and collaboration," Nick says, "the ecovillage in Togo will become a thriving model for sustainable community development throughout the Global South."
As a continent marked by the wounds of colonialism and misguided development aid, Africa – as well as the rest of the world – stands to benefit from this powerful model for change and a better future.
Nick's project is called InTerraTree. The name was derived from the French word "inter-etre," or inter-being, signifying the interconnectedness of all phenomena that InTerraTree seeks to help individuals better understand. Nick describes how the project was originally inspired by the model of his Togolese partner organization, Centre Des Hommes, the group that will operate the completed center in order to ensure that needs of the local community are the priority.
InTerraTree will consist of two main components:
1.An ecovillage, where the members of Centre Des Hommes can live together in a consciously designed community, continuing to maintain local cultural identity while integrating innovative technologies to make their lives more sustainable, as well as teaching and sharing their practices with the larger local community.
2.An ecolodge, where visitors stay in a culturally immersive environment and are able to experience and learn from the vibrancy of local culture while lending a helping hand and sharing their own knowledge and stories.
Nick Joyce has launched an online crowd-funding campaign to raise money to buy the first hectare of land for the project, as well as to plant a garden and set up Internet and phone access for the site.
You can support this important NextGEN project by visiting: valhallamovement.com/InTerraTree
The focus of the July trip will be on cultural immersion, sustainability education, and implementing on-the-ground solutions at InTerraTree.
The InTerraTree fundraising campaign is hosted on GreenSeed, the crowd-funding platform of the Valhalla Movement, an organization igniting a global passion for sustainability and collaborative action through compelling digital media, on-the-ground action, and alternative education.
For further information about this and his other exciting projects you can visit Nick Joyce's personal website at: www.nicholasjoyce.com
Or visit the website for Drums For Development, his non-profit organization seeking to develop self-reliant and globally connected communities through the universal language of drumming: www.drumsfordevelopment.org