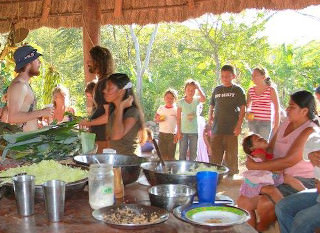 Nicaragua is the second poorest country in the Southern hemisphere. However, it is also rich in cultural heritage and in nature. To honour and utilize this richness in the right way, Paul and Gaia founded the Inanitah community nearly 5 years ago – empowering and supporting friends, neighbours and subsistence farmers in many fields. The community members build bridges across the colonial divide when putting their hands into things together. A report by Tara.
Inanitah is a consciously created, earth-based spiritual community, and transformational living and learning center. The community is located in rural Nicaragua where most of the surrounding neighbors are subsistence farmers. A key element of Inanitah's vision is to integrate with the surrounding community in a way that allows everybody to create together and seek sustainable systems of living that benefit the community as a whole. The Inanitah family is excited to share wisdom, ideas, dreams and culture with the community on the island of Ometepe.
The community founders, Gaia and Paul, and their group have been working in many different programs in the pursuit of empowering and supporting their Nicaraguan friends and neighbors. The Coffee for Kids fund, Intercultural Massage Training, Micro-loan program, Kids Creativity Days, and First Aid and Medical support, are examples of how much is possible to share with the locals.
At Inanitah, we notice that we build bridges across the colonial divide when get our hands into things together: whether by sharing the loving gift of massage, healing one another wounds, or by building, planting, or cooking together. Inanitah was born nearly five years ago and has since created many stories of learning, sharing and growing together with the wider community.
Our friends and co-workers, Felipe and Gonzalo, are good examples. After working with us for four years learning about permaculture and natural building, and inspired by their new knowledge, they chose to build their kitchen out of cob and natural plasters. With this transforming work they were able to build a natural, eco-conscious and affordable kitchen for their large family. The materials they used were given for free by nature, so their primary investment was the labour involved, and together with friends and neighbors, they created a beautiful new addition to their household.
Permaculture and natural building are another part of what we have been doing together. We support locals, who demonstrate the vision and the skills, to use their unique gifts and ideas to create their own economic opportunities. We're excited to be creating symbiotic relationships within the greater community. For example, as Roberto nurtures us with his massages, we nurture the formation of his healing arts business, and as Andrea feeds us with her free range eggs, we feed the growth and stability of her small business. We are grateful to continue supporting collaborative endeavors in locally grown and locally produced goods and services.
Another significant project that we are involved in is La Ciguena cooperative, a group of peasant families who have been working together for over a decade to maintain a gravity fed water system. Many communities on Isla de Ometepe still live without access to clean drinking water. The next step for the La Ciguena water project is to build a ferro cement water storage system, which will bring nearly 100% water security for the entire community.
After all this beautiful work we have being doing together, Inanitah's members take time out twice a year to celebrate by hosting a cultural exchange gathering, where we prepare international food, demonstrate permaculture and natural building techniques, give away plants and seeds, and dance, sing, play and create art together. In these gatherings, we share our multi-cultural heritage and receive the local wisdom of joyful simple living.