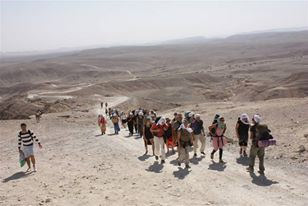 For ten days, 40 pilgrims – including 2 babies – walked along the tracks of the ancient Nabatean tribes: the "Incense Route" as it is known historically. This time, 2,000 years later, we carried not expensive perfume to Europe, but an urgent question to this region: what does a healed picture of the Middle East look and feel like? How do we create community and bring to an end the conflict that has torn people apart for so long in this area? What important questions should we carry for 10 days, and maybe for a life time? How can an area that was abused for so many years for war and violence, serve humanity again for the sake of peace and unity – as promised in the Old Testament? Uri Ayalon, GEN Ambassador for the Middle East, reports.
We are walking in huge Wadis (riverbeds), over high windy plateaux and wide plains, where we can see far out into the desert. Sometimes, to the right and to the left, massive walls rise 20-30 meters. The effects of water are visible everywhere here in the desert, for example in the wood that is stuck in the bushes from the last floods, or in the fossilized shells found wherever we walk. Obviously this huge desert was once an ocean! What a reminder it is not to believe and trust every aspect of the revealed reality that my eyes see around me. What a reminder of the immense power of this Earth, and humans too, to change!
In the last decade, I have been privileged to take my part amongst a group of men and women who have decided to devote their lives to creating a model of a sustainable culture without violence. The name of the project is "Peace Research Village Middle East" (PRV-ME). The task that was taken on is to structure a committed group to carry the space for research and training: a live model based on truth, mutual support and active participation in the community and for the whole of the world.
Two years ago, after studying and living in Tamara Peace Center in Portugal, the group returned to Israel-Palestine, and have been living in the Jerusalem area. During the Pilgrimage we received the news that by the 1st of January we have to move out of our house. At the same time, we also got the news that land in the area of our Pilgrimage is waiting for us – to take care of and to start our model on. What amazing confirmation this was, and also a reminder not to rush headfirst into the stress that the first news had the potential to create in our hearts!
Five people from Palestine were walking with us on the pilgrimage. For many years, the combination of Israelis and Palestinians in the PRV-ME group has been an important element in the model of peace that we have created. But in the last years a change occurred, and at this time there is an attempt to create parallel models: a Palestinian and an Israeli Peace Research Village. This happened as a consequence of personal needs as well as a political reality that tries to limit our needs and dreams.
One of of the Palestinians who walked with us, at 23 years old had spent 2 ½ years of his life in prison. When we passed by this prison, he shared with us the feelings that came up for him. With the urging of the group, he composed a letter to his fellow inmates who are still in prison:
As I write this letter to you, I am only a few kilometers distant from you, on the other side. I am here with a group of peace-seekers from all around the world. We have come together to share a vision, and create a world free from wars, free from oppression, and free from deceit. My friends, Our land is still full with red ripe pomegranates, vineyards, and apples. My main focus is to learn to turn pain into hope; to take all the suffering, injustice, and hatred that I witnessed in my story, and try to transform it into hope, love, and grace. I hope, for us all, that the day will come when we can witness the sunrise and the sunset in freedom… a day where we can embrace the soil of our homeland with love and care. All I wish in this moment is that you could be here with us now. I know what powerful and faithful people you are. You would be a great gift, to support the creation of a world without violence, repression, or injustice.
I want to express my frustration about a system that imprisons people without reason. I want to share my own experience in prison – sitting for 10 days for refusing to pay a fine for a demonstration I took part in many years ago; a demonstration against violence towards women.
I really enjoyed discovering the depths of community spirit in the prison, the wisdom of supporting each other, and also the talks that evolved through sharing the reason for my being in prison (quite unique compared to thieves, murderers and rapists who were sitting with me).
But, above all, I wish to express my determination in holding the vision of bringing these 2 villages together: from Palestine and from Israel. I don't see a deeper step of healing for my soul as a carrier of a colonialist identity as breaking down the walls by learning to live together with different cultures, beyond identities – but rather with all the difficulties that arise from the past and present 'injustice' system. I can serve peace by sitting in prison and refusing the current system. I can also devote my life energies to building a new system. In the new system, the borders, cultures and national identities will play a new role. It will take time, as the desert and its huge curving formations were shaped by many waves and years.