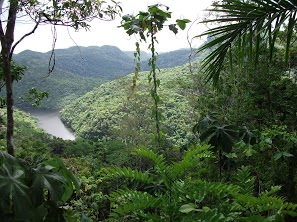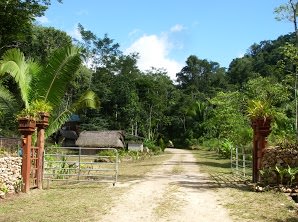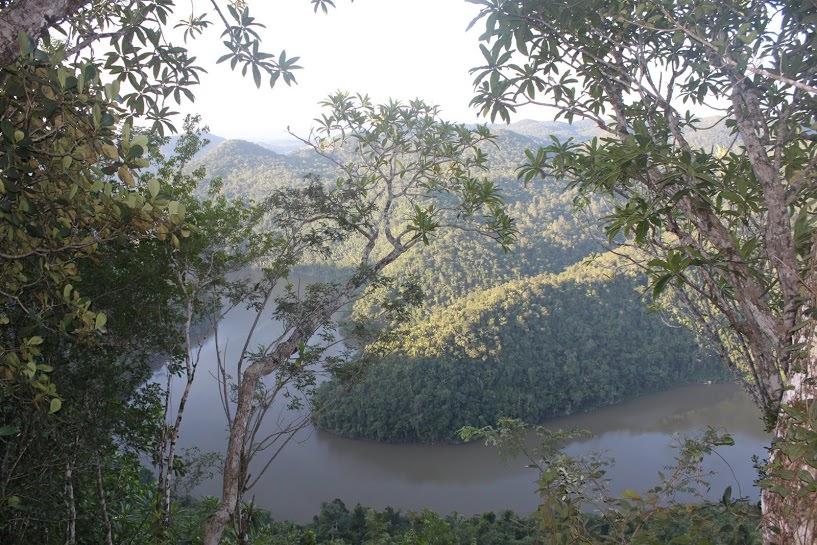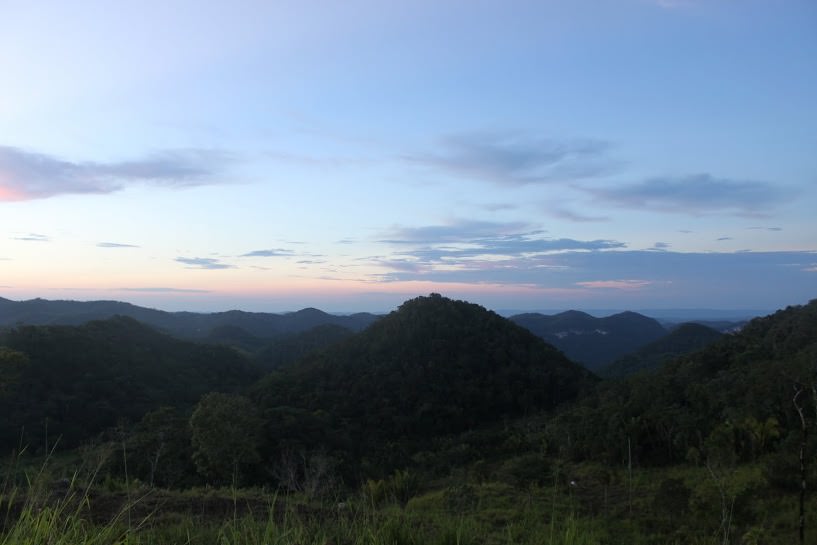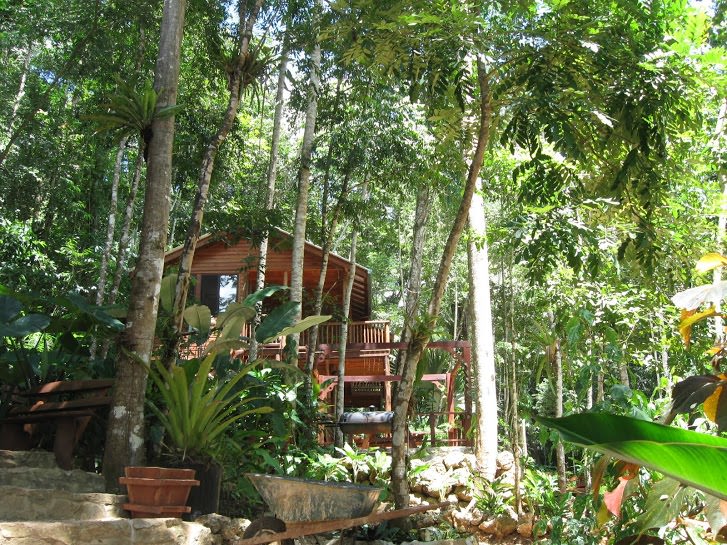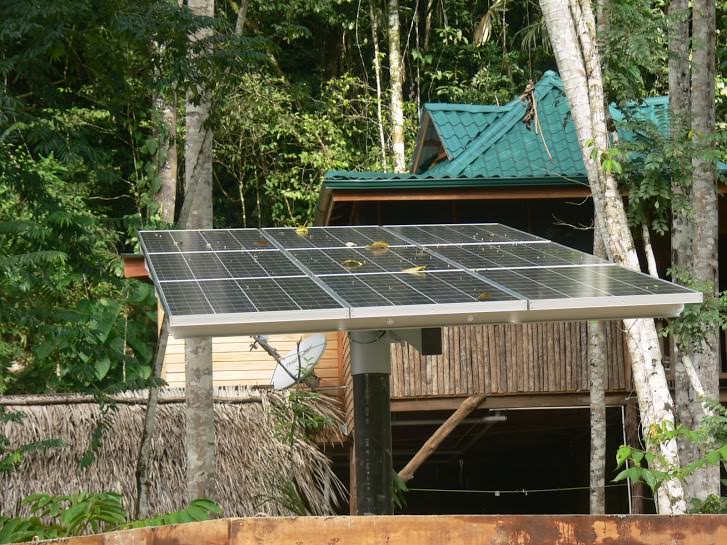 Where?
Better In Belize Eco-Village is situated on 130 acres of Rainforest in the Cayo District. Our community enjoys the natural beauty of the Maya Mountains and shares a stretch of the pristine Macal River with Pine Ridge Mountain Reserve; Belize's largest protected area. Our location offers a unique mixture of seclusion and connectedness. On one hand the unspoiled rainforest we reside in provides a peaceful, private, and quiet (with the exception of a few noisy howler monkeys) existence. While on the other hand we are only a short, scenic drive away from the town of San Ignacio, and only 2.5 hours away from both the Caribbean Coast and Belize City's International Airport.
Our Way of Life
Here at Better In Belize sustainability is at the core of how we live. We strive to live in harmony with nature and limit our environmental footprint. Our community is entirely off-grid; we use solar panels for our electricity needs and rainwater catchment for our water.
In order to meet some of our food needs we have two organically minded gardens or "milpas" where we grow different fruits, vegetables, herbs, and spices! In our gardens you will find a mix of your usual North American fruits and vegetables with more exotic, delicious local fruits like guava, slipper mango, custard apple, and star fruit.
There are also eco-building guidelines established by Better In Belize's Environmental Advisory Board to ensure environmentally responsible development of the homes in our community.
Why?
Whether you are looking for a place to retire and relax, to escape the cold in the winter months, or just a simpler, healthier, and happier alternative to the rat race, Better In Belize may just be the place for you. The beauty of the mountainous landscape and the abundance of wildlife here in the Mayan rainforests are second to none.
Aside from the beauty, the country itself also offers many financial benefits; Belize's real estate and cost of living are both very low! Property taxes are often less than $100 US annually. Belize also boasts one of the best residency and retirement packages in the world.
For the adventurous, there are a vast array of activities in our area; Bird Watching; Canoeing; Caving; Hiking; Horseback Riding; Kayaking; Mountain Biking; Mountain Trekking; River-Rafting; Swimming; Tree-Climbing; Tubing; Visits to Mayan Ruins and Waterfalls; and Zip lining. There are 125+ fun and interesting attractions and things to do close to us.
Here, at Better in Belize Eco-Village, we offer the opportunity for a sustainable, healthy lifestyle change. We offer a true community feel that has been lost in many North American communities; we are providing the opportunity to socialize and connect with like-minded people from many different places and walks of life.
Joining the Fun
Only 20 of our original 128 lots are left! Better in Belize comprises a small-scale development of 98 single-family homes, 14 small, multi-residential homes and one commercial lot. A US$500 fully refundable deposit secures your lot for 30 days. We offer 100% certified title (just like in America or Canada). In other words – ownership of land is free hold and title is absolute. Lot sizes range from ¼ acre to 1.7 acres, starting at US$24,000. Prices reflect size, view and lot features. Our selection of lots includes Rainforest; Ridge View; Hilltop; Waterfront; Mayan Circle; Multi-Unit and Commercial.
There's lots of fun stuff to do in our neck of the rainforest!
Mosey across the road from Better in Belize and visit our neighbors who make homemade cheese and cashew wine, a sweet wine that tastes somewhat like port or sherry. You may go nuts for this beverage!
A couple miles down the road from Better in Belize, right beside Che Chem Ha caves, you can take a dam tour. Our eco-village is downriver from the Mollejon Dam and upriver from the Vaca Dam site. Vibrant Vaca Lake spans the dams, giving us the most incredible water playground in Belize.
Into art? Head to the Caracol Arts School in Arenal, 8 miles from us. They offer classes in art/photography/dance performance, etc. Just 8 ½ miles from us, you'll discover an extraordinary sculpture park in the jungle, the Pousitania Land Art Park. We won't provide any spoiler alerts except to say that this may well be the most unusual outdoor art exhibit on the planet.
If you're an adventure junkie and into 4-wheeling, wheel over to Camp Six along the Mollejon Road which is ideal for 4-wheeling and offers a shortcut to the Caracol Mayan ruins.
There are underground springs, pyramids and caves along the route from Benque Viejo to Better in Belize. Hint: Keep your eyes peeled around Mile 5 and Mile 6 along the Mollejon Road!
If you're hungry, stop by El Mirador Restaurant (3 ½ miles from Better in Belize) which is open "by chance". Better food if "the mother" is cooking. "The son" is not as good a cook, but the view is consistently great!
Discover some of Belize's most interesting attractions in the Cayo District. Make sure you book a visit to Better in Belize, our awesome eco-village.
Location Highlights: "We're far from ordinary and close to San Ignacio!"
a) Tucked into a 132-acre tropical rainforest paradise;
b) Sheltered by the foothills of the Maya Mountains (with our own micro-climate – 8 to 10 degrees cooler than other lower lying regions in Belize and far less "buggy");
c) Situated on prime waterfront property with a green dam one mile above us and a green dam 4 miles below us creating the beautiful and serene Vaca Lake, with its source in the Maya Mountains. There are no developments above Better in Belize;
d) Set in a dynamic landscape, in the District of Cayo, far and away the most interesting and diverse district of Belize;
e) Close to the quaint village of Benque Viejo del Carmen and its amenities (banks, markets, grocery stores, clinic, restaurants, library, etc.), a village of approximately 9,000 people located only 16.89811km/10.5miles away;
e) Conveniently located close to the thriving and bustling towns of San Ignacio/Santa Elena, combined population of 25,000 people, with their daily market, restaurants, Internet cafes, eco-tour companies, spas, hotels, restaurants, hospitals, hardware stores, bars, banks, clinics, bakeries, etc. Located only 29.77286km; 18.5 miles away;
f) Strategically located close enough to the Caribbean Coast for beach excursions, yet far enough away to escape the wrath of hurricanes. The Caribbean Coast is 160.934km; 100 miles distant, however there are 3 to 6 daily flights to the coastal island of Ambergris Caye offered by Belize's Tropic Air flying from the Maya Flats Airstrip just 20.1168km; 12.5 miles distant;
g) Flying into Belize? The International Airport ((BZE) is 160.934km; 100 miles distant;
h) Get the scoop on 125+ Cool and Unusual Attractions close to our community;
i) Discover other location highlights on our website.
If you want to learn more, please visit our Website, Facebook page or give us a call at 1-877-836-2756 (toll-free from North America) or 519-954-7244 (from anywhere else in the world). Better yet, come visit us! Nothing beats experiencing the beauty of Better In Belize first hand. We love having guests!