The Ecovillage at Currumbin is a modern international award-winning sustainable community located in south-east Queensland, Australia. The site is set the hinterland, 7 minutes from beautiful Currumbin Beach, on the Gold Coast. The Ecovillage has won over 33 accolades for its design and leadership in sustainability, making it the most awarded residential estate in Australia. The community contains 147 lots over 270 acres of land, but only impacted 20% of the site.
The Ecovillage in Currumbin is a living community that was conceived by a passionate group of friends in the late 1990s. The first home was completed in 2006. Today it is home to extensive wildlife, about 350 adults and 120 children, 65+ kangaroos and several small businesses. The active community enjoys events together in its community hall in the centre of the village. These include yoga, pilates, dancing, craft beer tasting and many other events for residents, managed and run by residents. Many residents report being now part of a large 'extended' family which comes with many unexpected and non-tangible benefits. Currumbin Ecovillage provides many insights into how a community can be more sustainable. It has been studied by universities and toured by over 5,000.
To build a house in the ecovillage requires owners and builders to meet specific building codes that encourage sustainable building practices which improve quality of life for occupants. Most residents have little or no electricity bills.
The ecovillage is not a religious, arts or organisation based community. It developed organically with people from all walks of life choosing to live in the estate for a range of different reasons. The demographic is widely spread with some young families, older families, singles and retirees all enjoying the best the village has to offer. For more information you can tour the site etc via theecovillage.com.au or learn about its body corporate at www.villagehub.com.au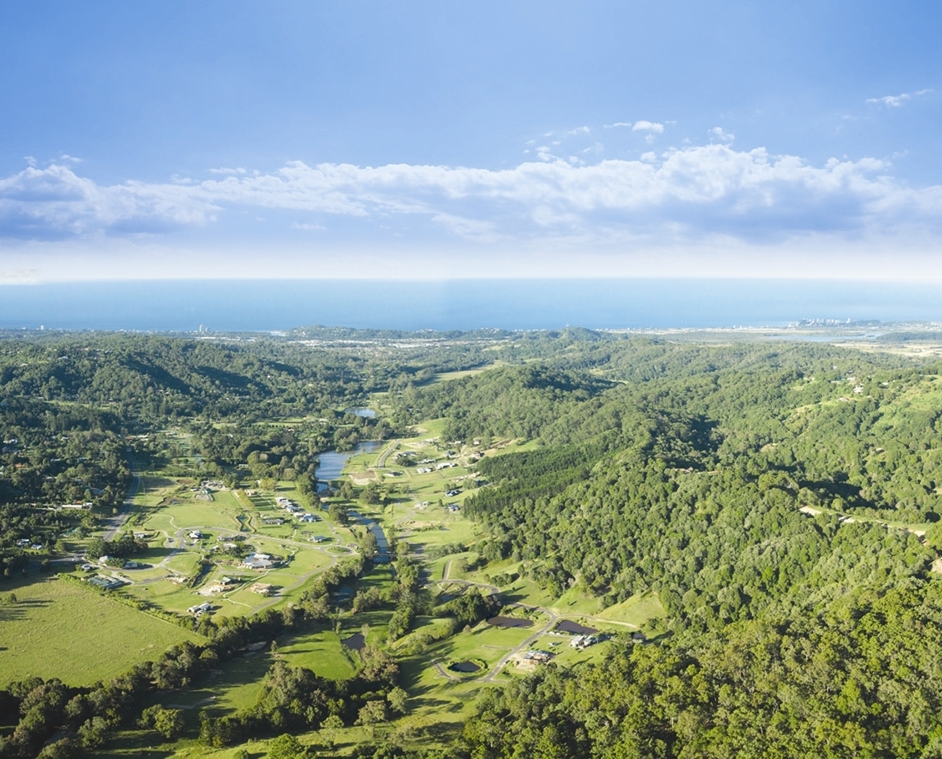 Membership & Visitors
Current members: 470
Open to new members
Open to visitors
The general public can visit the Village Centre and café etc 7 days a week. Most of the roads are open but to respect the privacy of residents please do not drive around the Ecovillage. Walking tours are available via https://theecovillage.com.au/tours/ and a recommended for those people looking to buy or rent. The ecovillage hall is only bookable for resident-focused events. See http://www.villagehub.com.au/about-us
Anyone can buy a house in Currumbin Ecovillage, if they can find one for sale. About 25% of the homes are rented out to non-owners. House prices range from about AUD$500,000 to AUD$1,300,00. There is no formal filtering or vetting of potential residents however those considering it are advised to read the ecovillage codes about living and building in the village, or talk to a resident about its features. Most residents are passionate about one or more aspects of sustainable living. Residents are encouraged to reduce, reuse and recycle waste, treat the wastewater system kindly and minimise noise and energy use. The range of resident involvement in community activities varies greatly. Often a forum called Coffee Connect is held on the third Sunday of each month and guest can express interest in attending to hear about current activities and from a guest speaker. The ecovillage residents enjoy over 25 different community facilities and during the day it is generally quite and peaceful.
Images & Video