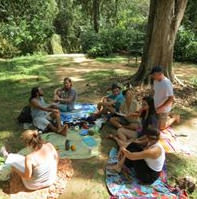 We are joining a group of people REALLY INTERESTED AND UNITED BY A HIGHER PURPOSE, create a self-sustaining community, ecovillage or whatever you want to call with the concepts of harmony, permaculture, nonviolence and others to rescue the knowledge that has been lost in the current urban model life.
We will create the Community in Brazil and we propose more specific in Rio de Janeiro state, at surround area and inside of what remains of Atlantic Forest.
At the moment we are trying to bring people together to be the Founding Members that will acquire the land to enable the physical creation of the community. Also are welcome people from other cities, states and countries that will help in other ways. Help to build this new community with these concepts.
We already have a Collective Agreement and many other files available. We have weekly meeting like video conference, sometimes personal meetings to know each other better and talk about the project. Eventually we are organizing special meetings in countryside area to know more about nature, propose to the members work together, how to grow food and to get used to in life inside of nature.
This are the basics. To know more, join the group, meet the active members, check out the information available, participate and solve your doubts. WE ARE NOT ONLY A VIRTUAL GROUP.
Our Collective Agreement: http://goo.gl/AVyWO4
We are here:
https://www.facebook.com/groups/fazendaorganica/
http://goo.gl/sgVTHD
Main Contact: Lucio Lambert
EMAIL: [email protected]
TELEPHONE: +55 21 98644-7000 (Brazil – Rio de Janeiro)