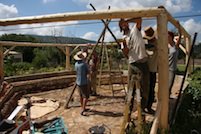 Tzivon is a small young kibbutz with an ecological vision located in the upper Galilee half way between the Mediterranean coast and the sea of the Galilee. The kibbutz is situated in the heart of an oak forest and is surrounded by nature reserves. Tzivon has among other things, an organic vineyard, dairy goat herd, traditional crafts workshop, a vegetable garden and and alternative eduction system.
This place is about:
Diversity – Diverse people that chose to live in a rural kibbutz on the fringe of Israel in order to create something new and different.
Community – ranging from being good neighbours to actively researching co-operating and sharing in our daily life.
Sustainability – striving to fulfil our needs locally, from food production to education.
Volunteering:
Currently volunteering is in the warm season only (May until September). To volunteer in Tzivon, you need to be motivated to learn by doing. You will work with us, sometimes on communal projects, sometimes on personal projects.
You give: work from 8:00-12:00 and then from 14:00-18:00 (but more laid back) from Sunday until Thursday.
You get:
Food – ingredients to make your own breakfast & supper & a warm lunch each work day.
Amenities – a spot in a beautiful forest to put a tent (please BYO tent), a warm shower, a kitchen, electricity, wifi.
Nature – The kibbutz is situated in the heart of an oak forest and is surrounded by nature reserves.
Fridays – Saturdays free.
But more than anything an opportunity to learn and practice life skills whilst spending time with nice people. 🙂
Membership & Visitors
Non-working Guests welcome, Work Exchange welcome, Volunteers welcome,