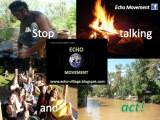 About us:
We aim to inform you of our proposal related to the development of sustainable communities in the South American region.
With the help of members from different countries, the mission of Echo Movement is to encourage the exchange of experiences of volunteers from around the world. These volunteers are mostly academics, who, by taking part in our different programs, share the experience of creating sustainable communities that function as centers of permacultural education.
Echo Movement Argentina, invites foundations and NGOs, related to environmentalism, social work and sustainable development, to be part of this movement by helping us to find and register interested volunteers and by introducing our proposal to universities and institutions that may be interested in supporting the Movement. We will organize and host informative talks and presentations to share our goal and vision.
Echo Movement Argentina: "Lets Make The Change"
Who we are:
The Echo Movement Argentina was created in 2008 as a reaction to the world's deepening environmental crisis. It started from a plot of land on an island in the Tigre delta, just north of Buenos Aires in Argentina, and grew into a self-sustaining ecovillage.
Currently the Echo Movement Argentina is self-supported, unassociated with any company or governmental organization. Everything is developed through our own means. All our resources come from the founders and from the goodwill of the volunteers who work on the project.
Our name reinforces our beliefs. "Echo" describes the effect we hope to have: one with a continually spreading impact. "Movement" describes the force that drives us: one of independent travelers and volunteering backpackers who learn as they travel and spread the idea of the Echo Movement Argentina as they venture out into the world.
Mission statement:
To develop more self-sufficient and sustainable eco-villages, initially in South America and then globally.
To create an environmental politic that integrates.
To facilitate cultural interchange, cultivate a sense of collective responsibility and raise awareness of environmental issues both in our volunteers and the general public.
To educate and share knowledge on sustainability both with volunteers and local communities.
Volunteers can develop their University projects with us. We welcome any opportunity to better understand the world around us and develop more effective methods.
By 2020 we aim to be able to teach a University-recognized qualification in sustainable living and all this encompasses, on location in a fully functional eco-village.
To promote physical and mental wellbeing through working with the natural environment.
Location of Rama Negra echo-village:
Island of the River Rama Negra in the Humedal of the Delta Paraná River- Bs As- Argentina. 40km from BS As city plus 40min trip by boat within the islands.
More information search:
http://www.echo-village.blogspot.com/
Membership & Visitors
Work Exchange welcome, Volunteers welcome,