Todo inició en el 2015, cuando una pareja de aventureros atraídos por la majestuosidad de la Amazonia, deciden llevar a cabo un festival musical ecológico en medio de la naturaleza, y para ello debieron invertir mucha fuerza de trabajo comunitario para transformar un lodge abandonado, en un decente y atractivo espacio. Lo que ellos no sabían es que en este contexto se enamorarían y que desde ahí empezarían a cumplir su gran misión, el de crear una nueva cultura regenerativa que viva en armonía con la Tierra.
Con está fuerza de atracción y amor, Yoshi y Paulette, fundadores de Collective Wave, empiezan a tener un acercamiento más profundo con los habitantes de la pequeña localidad amazónica, ubicada en la parroquia Canelos en la provincia de Pastaza- Ecuador. Y en mayo del 2018, uniendo los sueños de un grupo de familias Kichwa Canelos y el colectivo de creativos visionarios, se establece Sikuanga Ecoaldea.
Este vínculo de compromiso, tiene el propósito de regenerar la Selva Amazónica, recuperar la memoria ancestral, tener autosustentabilidad a través de la permacultura y crear una humanidad libre y consciente que siga protegiendo la naturaleza.
La etapa inicial de Sikuanga Wasi, se ha logrado a través de la producción de Festival Seeds, otro de los proyectos de Collective Wave, que año tras año bioconstruye y equipa la ecoaldea. Además Seeds brinda la experiencia temporal de lo que es vivir en comunidad, con hábitos saludables y relaciones armónicas, lo que ha enlazado a personas comprometidas a formar parte de Sikuanga.
Los principios que orientan a Sikuanga Ecoaldea, como también al resto de proyectos de Collective Wave son:
Interculturalidad y sintropía
Salud energética
Autosuficiencia radical
Empatía y respeto por todos los seres
Minga y cooperativismo
Comunicación asertiva
Cuidado mutuo y responsabilidad civil
Autoexpresión radical
Basura cero
Ayni y economía sagrada
Autoregulación y retroalimentación
Iniciativa y confianza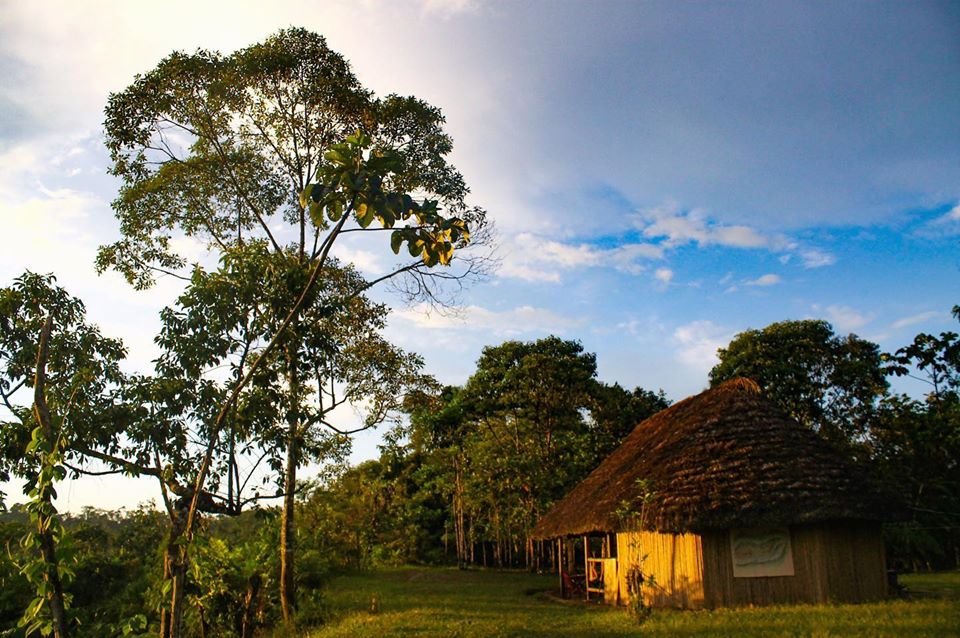 Membership & Visitors
Current members: 12
Open to new members
Open to visitors
Las personas que sientan el llamado de la Selva con su exuberante biodiversidad, para aprender de la vida orgánica con hábitos de cultura regenerativa, y quieran vivir una experiencia intercultural con saberes ancestrales kichwas, estaremos muy entusiasmados de recibirte.
Para ello es importante que conozcan nuestros principios de convivencia y si los aceptas, firmarás también un acuerdo y carta de descargo.
Necesitas prepararte con tiempo, pues la Selva amazónica demanda cuidados:
-Botas altas de caucho
- Chaqueta para lluvia
- Ropa ligera de manga larga para cubrirse de los mosquitos
- Sombrero o gorra
- Linterna y otros elementos de supervivencia
- Ropa de baño
- Cosmética biodegradable, incluido el repelente (radical)
- snacks saludables
- Bajilla personal y taza
- Mat de yoga
- Algo para participar de la economía del regalar: Ej: un libro, artesanía, un poema o un masaje
Por favor, no traigas elementos que hagan basura, ya que en nuestro espacio no existen basureros. Si traes alguna bolsa o botella plástica, te la llevas contigo. Es parte de nuestros principios.
Todos los corazones abiertos son bienvenidos
Escríbenos al whatsaap: +593 98 311 7830
Correo: collectivewave@gmail.com
Quizás nos demoremos un poco en responder, pues en el espacio no tenemos red de internet y hay que salir a 10 minutos de donde estamos, para conectarnos al WIFI.
GRACIAS
Images & Video