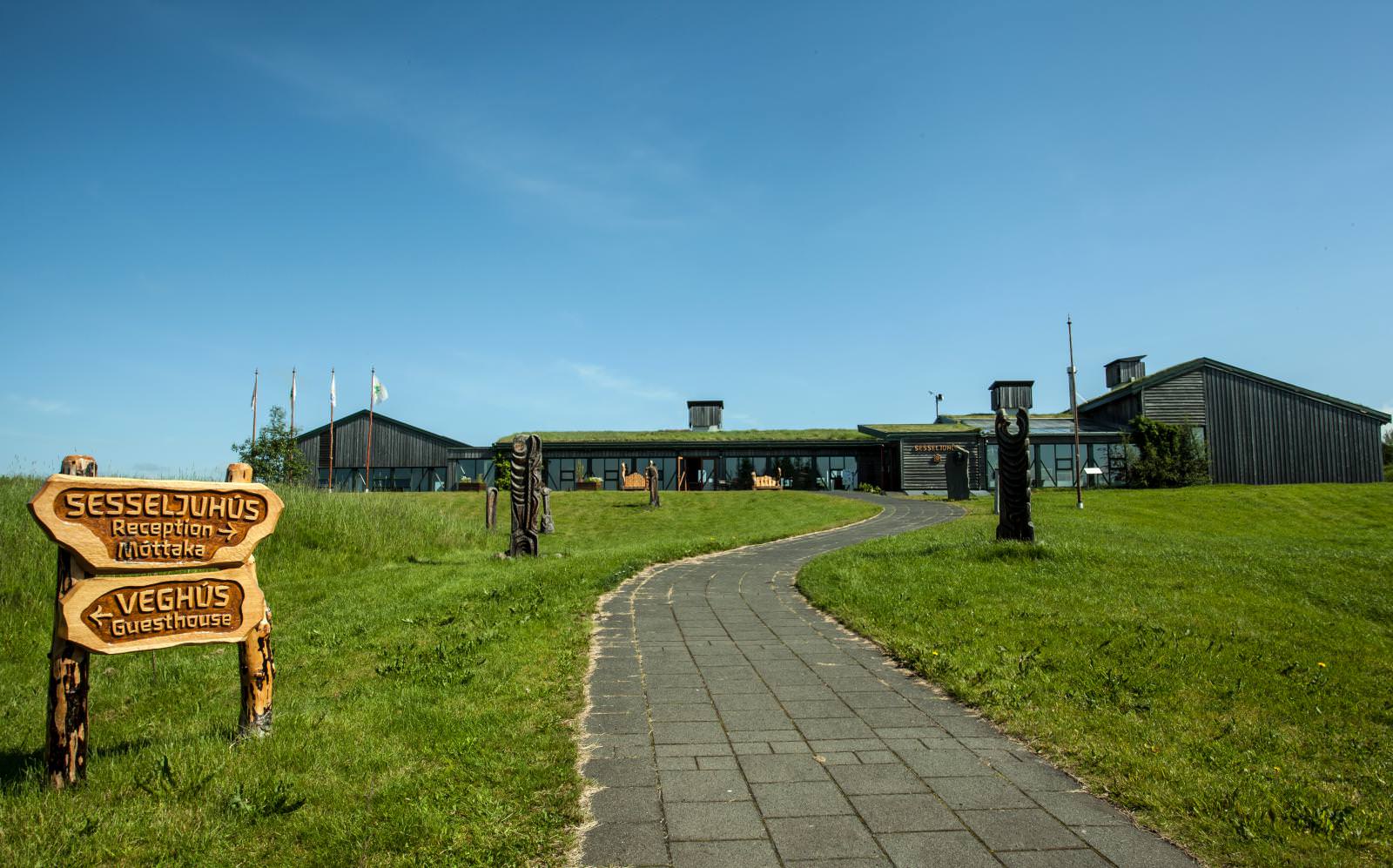 Sólheimar is a village in southern Iceland, located about 80 km from Reykjavík.
Sesselja H. Sigmundsdóttir (1902-1974) founded Sólheimar on the 5th of July 1930. It is the first community of its kind in the world, where so called able and disabled people live and work together. Sólheimar is also the first community in Scandinavia where organic cultivation is practised. Today, Sólheimar is a village with 100 inhabitants, 40 of whom are disable. The grounds are about 250 hectares.
Sólheimar pride itself with varied cultural, social and sport activities. The premises include swimming pool, Jacuzzi, convenience store, gallery and
gymnasium. A theatre group, founded in 1932, is also active along with a choir, sports club and Scout troop.
Solheimar has developed a broad-based range of industries and activities, and include the following:
Olur Reforestation Center, the only organic reforestation center in Iceland,
Sunna Organic Cultivation Center, specialising in organic vegetables and products derived from them, Vala Super market & Art gallery, a general grocery store and art gallery focusing on manufactured items as well as handicrafts and art pieces created in our different ateliers.
Brekkukot Guest house, the first guesthouse in Iceland that received official certification as "sustainable travel service".
The Cafe Graena Kannan, which specialises organic food and beverages.
Jurtagull Soap factory and herb work shop, which produces soaps and shampoos from Icelandic plants.
Candle factory, which production is entirely handmade from beeswax and recycled candles.
Weaving Workshop, specialising in handmade woven items such as mats, carpets and tablecloths.
Art Workshop, specialising in varied hand craft such as hand painted silk, post and gift cards, paintings. Carpentry and Music instruments Workshop, Hand-crafted articles, children toys, sculptures and musical instruments made from wood.
Animal husbandry with calves and chicken.
The focus will certainly be on Solheimar the summer 2002 because of the opening of Sesselia house Eco Center that is built in honour of the founder of Solheimar. The building, constructed in an environmentally friendly manner using ecologically sound materials and construction practices, will be taken into use on July 5th, 2002 in commemoration of Sesselia's 100 year birthday.
We welcome and enjoy visitors. Our guesthouse is open all year.
Membership & Visitors
Current members: 100
Open to new members
Guests are welcome to visit. Accommodation can be booked in guesthouses. Culture festival runs in the summer.