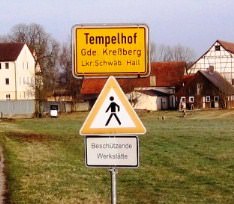 TEMPELHOF
In December 2010, after three years of community building and inner preparations, a group of about 80 (mostly German) have purchased a small abandonned castle with surrounding buildings and farmland, altogether 31 hectares, in Baden-Württemberg, Germany.
TEMPELHOF NEWS
Forty Tempelhofians have moved on site in April & May 2011. A second group plans to move here in Fall 2011. Somewhat renovated buildings will serve as temporary quarters until sustainable structures are erected.
The Agriculture Workgroup (AG Landwirtschaft und Gartenbau) has planted our first crops for 2011. One field is already planted with sunflowers for the bees. Goats are here and we already have goat milk and cheese.
Groups have formed to bring heating, electrical power, water, sewer, economy and human culture all into sustainability.
TEMPELHOF LEGAL STRUCTURE
Stiftung Tempelhof (Foundation)
Genossenschaft Tempelhof eG (Cooperative)
Tempelhof e.V. (Association)
TEMPELHOF CULTURE
A culture of trust, clarity, transparency and "not knowing".
SIX SHARED VALUES OF TEMPELHOF
Community
Diversity
All-Leader
Relationship- and Communications-Culture
Personal Development
Economic Transformation
We look forward to meeting you! (Please call us to arrange your visit!)
Membership & Visitors
Work Exchange welcome, Volunteers welcome,