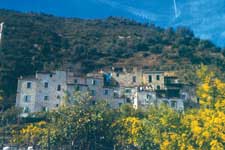 The medieval village of Torri Superiore (14th Century) is a jewel of popular architecture, built entirely in stone in the Ligurian hinterland near Ventimiglia (Imperia), a few km. from the Mediterranean sea and the French border. It is a single building containing 162 rooms on different levels, connected by narrow passageways and staircases that create a magical labyrinth of rooms and terraces.
The origins of Torri Superiore can be placed around the XIV century. The village is quite remarkable for its height (five levels from the foundations to the flat roofs) and its length (about 100 mt. long from North to South). The last towers were probably built around the end of the XVIII century, in the period of maximum density in the settlement, when it housed up to 200 inhabitants. Over the past 100 years it has been left to degenerate, owing to economic, social and practical reasons.
The Associazione Culturale "Torri Superiore" was founded in 1989 to preserve the entire village and make it an eco-village, home of a resident community. The Association owns half of the hamlet and operates through a Co-operative company as a cultural centre permanently open to the public. The other half is owned by the members and sub-divided into 20 apartments, 9 of which have been entirely restored. The 15 residents, partly Italian and partly German, share all meals and take care of cultural and social activities, organic agriculture programs, following the "work-in- progress" on the buildings.
The Association (30 members) is based on principles of sustainability and co-operation, with no dogmatic religious or political stand. All main decisions are made with the majority rule by the General Assembly which meets twice a year. The Administration Council usually meets every three months; daily decision-making is the function of the resident community which meets every Monday night and uses consensus.
Programs:
International volunteer work-camps: since 1992 Torri has hosted over 400 youth from all over the world. Every year one or two camps are held in the summer months.
Summer 2004: Facilitation & Consensus, B. Briggs & L. Borio (July 2 /8 ); Renewable Energies & Solar panels, M. Roos & F. Jarach (July 24/31); Ecovillage Creation, L. Borio & M. Candela (August 2/8); Permaculture Design, R. Wade & M. Candela; (August 22/31 ), Advanced Permaculture, R. Wade (September 1 / 5).
Guest stays and holidays: Torri is open year round to visitors.
Membership & Visitors
Non-working Guests welcome, Volunteers welcome,