Ecovillage White Carpathians (Vrbovce) is research experimental project founded spontaneously in 2010 by Petr Skořepa. The Project Ecovillage White Carpathians is located at the border of Slovakia and Czechia and is divided to Ecomuseum and Ecovillage which are about 5 km away from each other. Ecovillage Vrbovce aims at restoring traditional crafts and shows possibilities of more free lifestyle without installments, banks, mortgages and electricity bills.
The idea is that everyone deserves free living without dependences. Here you could have opportunity to see healthy independent buildings built from 5 000€ to 20 000€ of which some are self-suffiencient, with own clean and warm water, electricity and with use of modern technologies which makes work easier – all with respect to the environment. White Carpathians is focused on sustainability and evolution of villages. Besides, you can find here:
Cheap natural houses built with an effective approach from straw, clay, wood, hemp, reed, wool…with a long life evolution (Jurta, Sauna,…)
School and Workshops of Natural Architecture
Ecomuseum of crafts with shop where you can find homemade bio-sustainable products made through workshops or created by locals or experts
Workshops led by the experienced founder Petr Skořepa – in Ecovillage, Prague or Bratislava (in Czech or Slovak) where you can learn more about Rising-house, Bio architecture, Sustainable cities and flats, Self-suffiencient mobile house, transformation old windows to insulating windows or triple glass-windows, use of wastewater for toilet, clay plaster for 80 years, Composting toilets…
Volunteers working in Ecovillage thanks to Erasmus+, The European Union, European Voluntary Service and Iuventa, led by supervisor Petr Skořepa
Slavonic tradition (clothes, crafts, rituals) and spirituality have a place here too but most of time is devoted to practical work and life, courses and spreading vision: The path of self-sufficiency and sustainable future.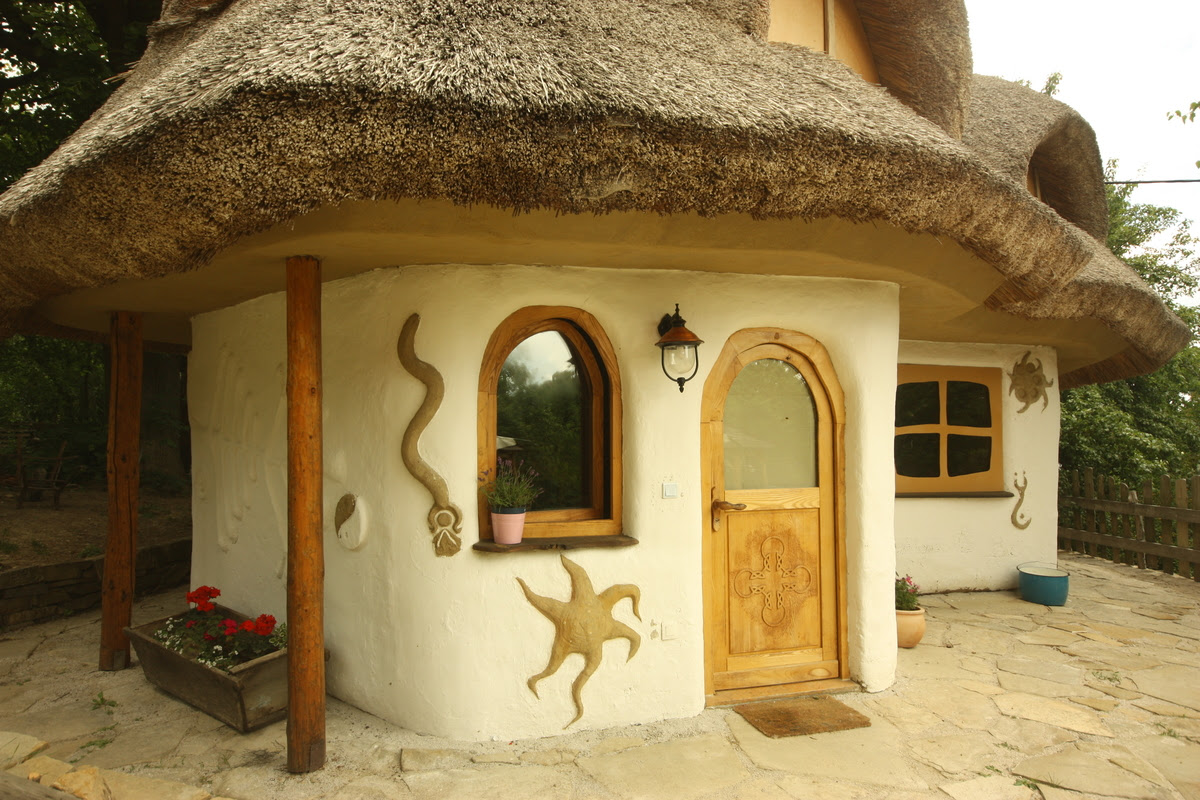 Membership & Visitors
Current members: 10
Not currently open to new members, but might be in the future
Not open to visitors
Because we had too many visitors and guests, to develop community and vision we had to limit time for people from outside. If you want to learn more or visit us, work in ecovillage or live in natural buildings, for first take a look on our websites for events and possibilities. (http://ekovesnice.cz/kontakty, Iuventa, European Voluntary Service, Erasmus+)
Images & Video