Located 30 min from Canoa beach, Rio Muchacho was the first ecotourism project conceived and developed as a sustainability education model in Manabí and Ecuador. It was endorsed by National Geographic for this unique concept and chosen as one of it' s 8 favorite places to stay in Ecuador. This social enterprise is now evolving and transforming into an ecovillage! There are 8 membership spaces in total, and 4 are still available.
Nicola Mears and Darío Proaño, have blended tourism, agriculture and education in a unique and special way. They have designed and implemented, agroecology, permaculture, eco housing and agroforestry, facilitating the regeneration and reforestation of this beautiful farm. The property of 10 hectares is located in the Rio Muchacho Community, nearby a coastal town with endless excellent swimming beaches and a growing tourist industry. This rural zone is privileged with its unique cuisine, landscapes, forests, wildlife and local culture.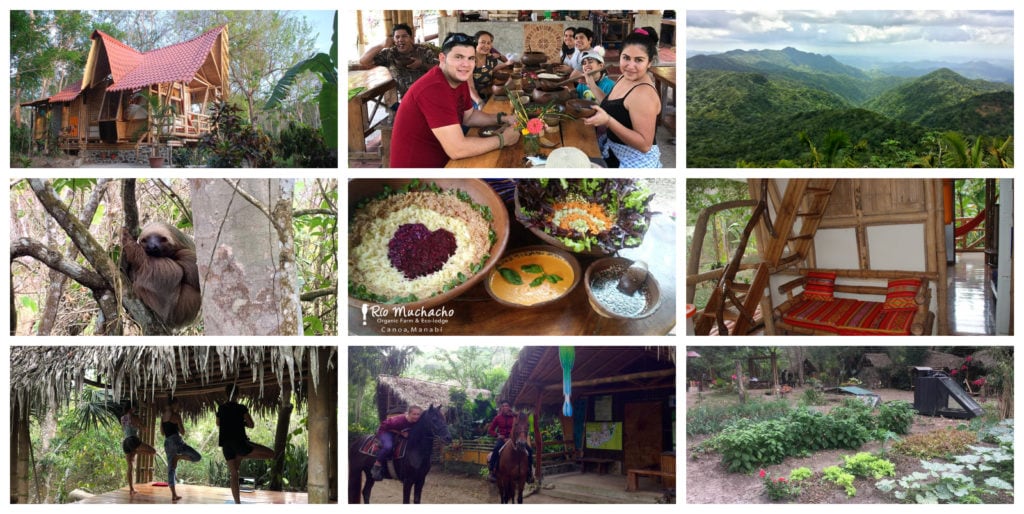 The established and well positioned farm offers multiple programmes and is a key example of sustainable tourism attracting international and local visitors alike. The farm also functions as a training center for all nature of wellness retreats and permaculture courses, internships, and volunteer programmes, as well as a venue for external courses. The founders were fundamental in environmental work in the wider and local community, even creating a community environmental primary school which educated the children and youth of the area for more than 20 years.
The essence of this work has been condensed in the farm in the creation of an ecofarm park which features a self- guided tour with 30 information stations. This is a fantastic tool for education and attracts many university and school groups, as well as being a tourist attraction in itself. The park aspect also provides a more passive income for the farm because it allows people to learn and explore by themselves.
There is accommodation for 38 people in creatively built cabins, farm to table organic gardens and restaurant, yoga platform, learning spaces, handcraft workshop, interpretational walking trails, children's park, interactive agro-play area, community fair trade store, river etc. Water systems are self-sustaining, all bathrooms are composting, and there are water harvesting systems in place on the land and on buildings. There is electricity as well as solar panels and wifi.
In terms of livelihoods, opportunities are diverse: between land based, tourism, education or remote working in a beautiful setting. Facilities are in place for people to develop in their given fields. The main crops are turmeric, coffee, cacao, vegetables and value added products, and there is opportunity to specialize in some other super food crops like medicinal Marijuana, sacha inchi and moringa.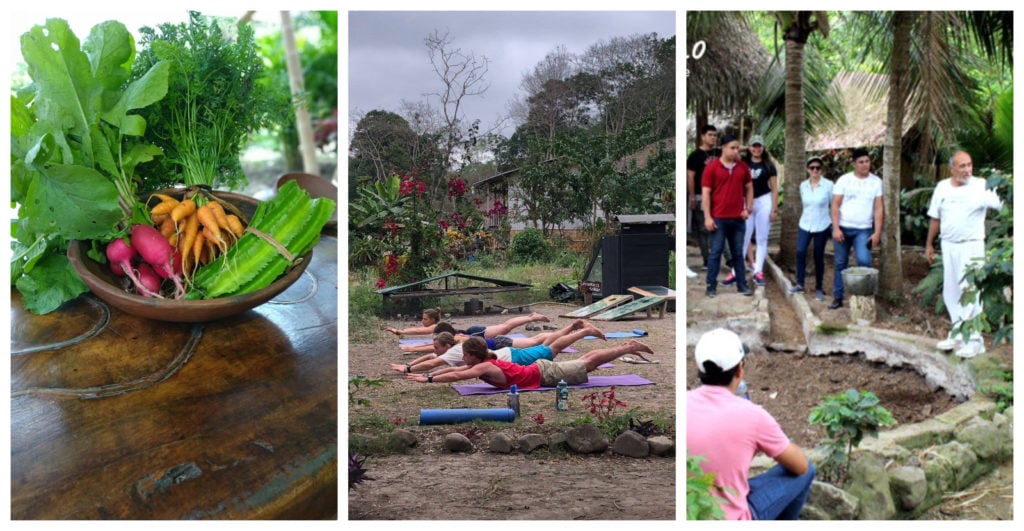 As Nicola and Darìo return to New Zealand to share with their family there, they dream to hand the project over to someone/a team inspired to continue the legacy – and create their own! – of regeneration and nature care while enjoying a wonderful quality of life in this multi-faceted project. They will still be associated as the elders to share the wisdom and essence of their experience. The project also opens to 8 families to start a new rural life in a healthy, abundant environment and in community, to create resilient and cooperative livelihoods between humans and nature with the benefit of trained long term staff.
The price is $US 400,000, with eight families invited to invest 50,000 each which contemplates an individual area for each member. The legal structure for the purchase and all other processes is based on the Ecovillage Aldea Feliz model, with tools developed by GEN. The vision is to integrate the ecovillage with its collective process to the ecotourism and productive farm. The purchase process has started, and there are four memberships still available.
They search for families or people with the vision of wellness and practice of love and care for nature as well as skills in agroecology, permaculture, architecture, alternative technologies, education, tourism, hospitality, marketing, crafts, value added food preparation, wellness, arts, administration, enterpreneurs, etc.
If you feel aligned with this, complete this APPLICATION FORM and send to [email protected] who will contact you.