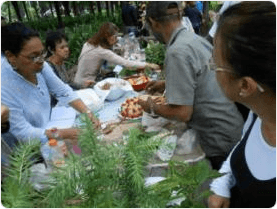 Public parks, abandoned lots, pavements and even churches: in São Paulo every piece of land has the potential of turning into a community garden. After all, where food is planted citizenship grows! Henny Freitas reports.
Imagine an avenue where over 1.5 million people transit every day, and where more than 4,200 cars and 200 buses go by per hour at peak times. What you have just imagined is the main financial road of São Paulo: Avenida Paulista. Now imagine a community garden in the midst of its 2.8 km long. Thanks to the so called "Urban Gardeners", this is a possible reality.
The Cyclists Garden, or 'Horta dos Ciclistas', as it was named, was born out of the idea of citizens being interested in urban farming, while circling around the area. The garden is located in a small plaza that houses a monument at its centre – an ideal place to be 'occupied' by a mandala type arrangement of edible plants.
The first of a series of 'foodstuffs public spaces' of São Paulo, the Owls' Garden, located in the West of the capital area, is an experimental community garden that hosts an unusual scene in the city. One can observe, on a daily basis, someone planting chives, harvesting basil and other herbs, and watering vegetables in a public square.
As an initiative to facilitate the dialogue between citizens, public space and local councillors, and enable the creation of new green areas in the city, the Urban Gardeners are organized to make collective interventions in order to grow food. They add to the growing number of squatters from Sao Paulo who question the equitable use of public space collaboratively, and horizontally.
To maintain the care of the gardens, the groups make joint efforts for pruning, harvesting and planting. They also take turns in watering the cultivation areas. Spaces are open and anyone can help. The foods are organically distributed with the intention of sharing the cultivation and respecting those who have planted them.
In addition, Urban Gardeners from all over the city gather at least once each season to exchange cuttings and seeds, techniques and knowledge. Some of this knowledge includes principles of agroecology and permaculture, self-organized processes, and facilitation of participatory processes, ecological restoration of urban areas and agroforestry, community mobilization and articulation.
These meetings take place in public parks and while practicing bartering, one always enjoy a delicious picnic, where much of what it is eaten comes from urban community gardens!
Henny Freitas
EarthCode Project
http://www.earthcode.org
The EarthCode Project began in December 2008 and ever since it has documented the experiences of adventurers in search of an intentionally sustainable future whilst residing or visiting settlements, eco-villages and communities alike. It reports on sustainable aspects of life – be it for intentional or survival reasons – and documents the efforts of individuals who contribute to the global awareness of positive life-valuing local expressions of emotion through artistic mediums.
Link to GEN´s article on the EarthCode Project: https://civi.gen-europe.org/node/6