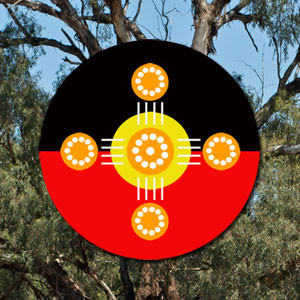 The Original Sovereign peoples of Australia are traditionally highly-skilled designers and builders of both permanent and temporary living and working structures and spaces. Remains of homes, middens, sacred ritual spaces, and technologies such as fish traps, have been scientifically dated to at least sixty thousand years ago, revealing a highly developed continuous society and culture.
As a role model for sustainable living, traditional Original society demonstrates a highly complex and refined system of cooperation across the dimensions of cultural, ecological, social, spiritual, and economic agency. Original Sovereign peoples are the custodians and teachers of an ageless wisdom gathered from the close observation of life in all its forms and expressions over the millennia. Original Culture is as relevant and dynamically active today as it was in the Dreamtime Creation.
Original society is traditionally embedded in Ancestral Law – an existential intelligence founded upon the universal principles and laws of physics (and the other sciences), metaphysics, biology, philosophy, and ecologia – known as 'Culture'.
Colonization and the Survival of Culture
Prior to the invasion of European settlers in 1788, Aboriginal peoples consistently utilised a diversity of spaces and shelters on their Ancestral lands (known as Country).
Constructed using a wide range of technologies and local natural resources, the homes and shelters assisted Aboriginal peoples to live and work in the often harsh environments and climatic conditions. However, the shelters usually held less significance to the users in comparison with their Country: "the central focus of Aboriginal dwelling was relationship with Ancestral lands, upholding kinship, social cohesion, and maintaining cultural systems."
The colonization of Original Australians' lands by a variety of European nationals over the last 225 years has perpetrated a succession of genocidal and assimilatory policies upon the People. They have been driven away from their traditional lands and livelihoods, institutionalized on government reserves, missionized, murdered, and had successive generations stolen from their birth families to be assimilated within orphanages or adoptive settler families. Generations of Aboriginal people struggle to recover and heal from the trauma of colonialism.
Original peoples were excluded from the democratic process until 1968, enduring nearly two hundred years of being denied a voice in 'democratic' settler society. The 1970's understandably saw the intensification of political activism in recognition of human rights, land rights, and the movement to return to their Ancestral Country.
The rejection of conventional government housing and settlement structures and services in favour of independence and access to Ancestral lands, saw Aboriginal Peoples returning to traditional small community living, in the Homeland or Outstation Movement: "the impetus for this movement was Aboriginal people's desire to look after their Country, gain some level of independence, fulfill ceremonial obligations, and escape the stress and social problems prevalent in larger communities".
In resistance, Aboriginal peoples recreated their own living environments away from settler buildings and services, using local natural resources, and incorporating recycled building materials into the traditional designs. Fringe dwellings in towns, farms, and mining camps gradually developed into more permanent shelters: self-built 'humpies', using scavenged materials such as tin, corrugated iron and canvas.
Humpies became symbols of independence and resistance to the dominant and coercive housing paradigm and regulation building practices. They are often constructed using skill and labour-sharing with relatives. The design, location, and spacing are planned using customary cultural principles governing social interactions, relationships, and protocols. Residents use locally available natural and recycled materials. The humpy does not comply with any building regulations, and the owners do not pay rent or rates. The majority have no connections to mains electricity, water, or sewerage.
Susan Gilbey, from Christie Walk Ecovillage in Adelaide, South Australia , describes however, that "the reality is that the humpy was pretty much all there was…people's choices in terms of accommodation were completely removed", in reaction to the Aboriginal positive resistance movement.
Housing policies have been deliberately directed towards separating families and communities from their Country and each other, in order to weaken kinship ties, social cohesion, and Ancestral cultural obligations and responsibilities to care for Country.
The Homeland/Outstation Movement as Decolonization Response
The decolonization process in Australia has been described as having three phases: resistance, persistence, and renewal.
Susan Gilbey describes the 2009 Ampilatwatja 'walk-off' in protest against the Northern Territory (NT) Intervention, as a classic example of persistence: "Those people had been complaining about their shocking housing conditions for a long time, to no avail. They had raw sewage everywhere, and people were getting sick from the unsanitary conditions. They decided enough was enough. Led by Alyawarre elder, Richard Downs, a group of people, some of them quite elderly, decided to tell Centrelink 'we don't want your money', and they 'went bush', with the intention of living on their land sustainably with support from all over Australia (YouTube.com/watch?v=8nJKE19as9Q). Their actions proved really important things to the government. Aboriginal people could mobilize, resist, and garner support from across Australia. People recognized that the NT Intervention was a huge breach of human rights. Living on Ancestral land was more important than the Centrelink pittance that was paid. And the sewerage system did get fixed."
While government Housing and other associated bodies resisted the people's movement towards independence and self-determination by penalizing those who 'rejected' assistance and services, the people moved anyway, re-establishing Ancestral and Elder-led communities based on Original Sovereign Law in their Ancestral Country.
It is important not to romanticize or glamorize an ongoing situation whereby many Aboriginal Australians are still subsisting in Fourth World conditions in a First World country.
The conditions of overcrowding, homelessness, poor living standards and housing shortages in remote Original communities are still continuing. The majority of Original Australians are shut out of home ownership, with many still locked in legal battles, struggling to retain or regain their Ancestral lands.
Self build as renewal
The return of the People to their lands is slowly bringing about a radical cultural renaissance and healing of the deep wounds of colonization. Improvised self-built living spaces now represent 'a resistance to, or rejection of, settler lifestyle, as well as a positive affirmation of values, and social and spatial needs'.
The Homeland/Outstation movement is a decolonization response, generating small, 'grassroots' communities (often in very remote locations), that are predominantly self-governing, self-determining, and focused on sustainable living. The reintroduction of traditional 'bush' foods and medicines into the diet is helping to balance rampant diabetes and other health problems associated with a highly processed Western diet.
One way of bypassing a deadlock with governmental bureaucracy is through the self build approach, with the added benefit of mobilizing spare and social capacity within Original communities. The motivations of security, provision of safe housing for future generations, self esteem, privacy, and affordability, make self build housing an attractive and achievable option.
Design, management and construction processes are all under the control of the community and directed by appropriate ('proper') cultural Law and protocol. The investment of time, skills, and resources (including the use of natural materials such as mud bricks, thatching and wood), all reduce construction costs. Designs that favour functional outdoor living spaces emphasize the return to Country and reconnection with Ancestral social and cultural responsibilities to the land.
Owners build on land that is culturally, spiritually, and physically 'theirs', fostering a sense of self esteem, belonging, social responsibility, intergenerational transmission and transferral of knowledge and skills, mobilization of the local economy, and self determination.
For further information on the the Sovereign Union of First Nations & People's in Australia see www.nationalunitygovernment.org or www.sovereignunion.mobi .
i This article is based on a 2011 report by the Indigenous Centre for Appropriate Technology (ICAT) (www.icat.org.au), entitled "Self-build: Alternative Housing Procurement in Remote Indigenous Communities" by Sonja Peter and Javier Ayora. ICAT is the Australian national indigenous science and technology organization, based at the Desert Peoples Centre, Alice Springs, Australia.
ii Susan Gilbey is convenor of 'Urban Ecology Australia Inc.' (UEA), based in Christie Walk urban ecovillage in the CBD of Adelaide, South Australia. UEA's vision is "the transformation of conventional cities into Ecological Cities (EcoCities) – vibrant, equitable, socially supportive, ecologically sustaining and economically viable communities. (www.urbanecology.org.au). Sue's family connections are the Alyawarre desert people of Central Australia.
iii Journalist John Pilger's recent documentary 'Utopia' is a harrowing exposure of what he terms the 'Australian apartheid' (www.theguardian.com/commentisfree/2013/nov/05/Australia-apartheid-alive).