We are so excited to announce that registration is now open for Sociocracy for All's second annual Sociocracy in Intentional Communities conference! This year's conference is on November 19th. We'd love to see you there!

This year's conference will have presentations from several communitarians and sociocrats immersed in intentional community including Crystal Byrd Farmer, Diana Leafe Christian, John Schinnerer, and SoFA co-founders Jerry Koch-Gonzalez and Ted Rau.

Here is a little sneak peek at some of this year's presentation topics:
❇️ Implementation stories from sociocratic intentional communities in the UK,
Canada, Austria, and the Pacific Northwest region of the United States.
❇️ Sociocracy and non-violent communication
❇️ Welcoming feelings as creative forces in sociocracy
❇️ How to handle objections and disagreements from inside and outside of a circle
❇️ An easy way to create effective proposals
❇️ Community safety and accountability
❇️ A French language meetup, and much more!

Check out the full program and get your tickets by clicking the button below!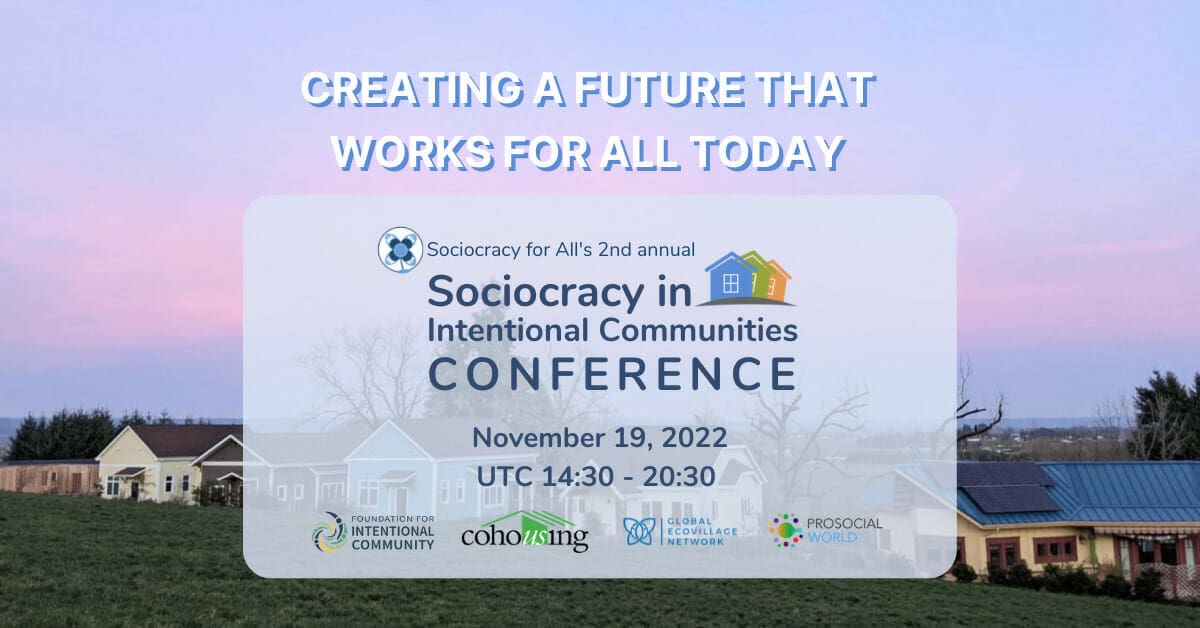 Many communities count on Sociocracy as a governance model that takes care of the distribution of power and decision-making, as well as the efficiency of the organization.⁠ ⁠ Ecovillages around the world, such as ALDEAFELIZ (CASA Latina), ALTERRA BIZIMODU (GEN Europe) and EARTHEAVEN (US), utilize the participatory leadership and governance model as a way to combine social harmony and productivity based on collective intelligence that helps their projects to flourish 🌻⁠ ⁠
The Sociocratic method is based on many principles, such as:⁠ ⁠
❇️ transparency: it allows the group to access data, understand, and learn. This principle also levels the playing field because it gives everyone the same access to information. Power dynamics are not played out over access to information.⁠ ⁠
❇️ equivalency: no one ignored. The essential principle underlying sociocracy. Trying to consider everyone affected in everything it is done; no individual or group is disregarded.⁠ ⁠
❇️ effectiveness: to know that what they are doing works, is useful, and matters.⁠ ⁠
And by applying the Sociocratic design tools, such as:⁠ ⁠
✴️ decision-making by consent⁠ ⁠
✴️ circle organization⁠ ⁠
✴️ double-linking⁠ ⁠
✴️ elections without a candidate⁠ ⁠
The Ecovillages are working towards the fulfillment of their goals and missions while generating community collaboration and social well-being.⁠