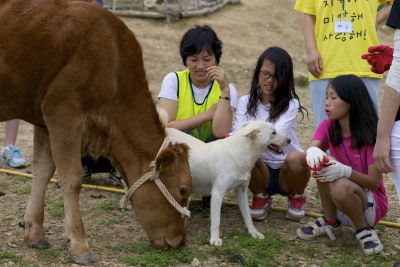 Korea is known as a highly populated and industrialized country with a strong dependence on economical values. However, increasingly, Koreans are looking for a more sustainable lifestyle. Seonaeville is Korean and means: a village of people who love the good. By Kaitlynn Min
The Ecovillage Seonaeville was founded in 2010 by people who were ready to leave the convenience of the city life. The founders believe that living in an Ecovillage is the only hope for the wounded Earth. For the self-sufficiency of the village, many do farming for the first time in their lives, and live once a week without electricity. Seonaeville is running several programs to promote its ecological and social life-style, and this year it was presented in a major TV program.
Two places of Seonaeville – Gidaeri and Seonae (the alternative school) – were introduced in one of the famous environmental documentary programs of EBS (Korea Educational Broadcasting System) 'Only One Earth'. The camera crew and producer stayed in Seonaeville for twenty days in March, 2013. The producers wanted to show 'Sustainable Life' where people live together with nature and, in times of economic crisis, create alternatives to modern society or to destruction of the environment. It was an instruction through the life of the ecovillage.
Under the title The Condition of Happiness, they gave some interesting facts:
The monthly cost of living for 30~50 people is only 5 Million KRW ($4,470 USD)
The food waste is zero.
Using the eco-toilets saved 1.8 Billion KRW ($1.6 Million USD) in the years since they started.
There are no private television sets, nor refrigerators.
As the title suggests, the ecological life of Seonaeville and the community life of Seonae school was described as calm and happy. Since the program's broadcasting, many interested people have contacted Seonaeville to ask how to visit and get to know more about Seonaeville life. For this, the villagers created an on-line cafe (http://cafe.naver.com/seonaeville) as an introduction.
Starting last year, Seonaeville offers two programs that got a certification from Ecotourism Korea. The first is the Eco-Stay Program, which gives people the chance to experience eco-life in Seonaeville. Those who take part can learn to be friendly with nature, away from the polluted city circumstances, by staying for twenty four hours with community members of Seonaeville in ecological life conditions. During that time participants can see, learn, and experience the ecological cycles.
This program covers on-the-spot tours of eco-toilets, eco-compost, green farming, and rainwater tanks. It includes Earthing (Bare-foot Walking), Healing Meditations, a Detoxification program, a 5-minute meditation for the Earth, and various lectures about art, meditation, self-healing, conscious dying, and so on. Bicycle tours and trekking are also provided.
The other program offers Happiness Days with the No Electricity Program. It gives the experience of living for twenty four hours with no electricity in the ecovillage. Living without electricity offers people the possibility to meet nature and understand nature's mind. The program includes a tour of the ecovillage, making handicrafts, an evening meditation with a candle, forest walking, meditation and acquaintance with plants in nature, and cooking by using wood.
Ecovillage Seonaeville members try to get involved in voluntary service to facilitate the relationship with the larger local community. Through these activities, ecovillage members become more intimate with the local community and local people recognize us as their neighbors and members of their society.
One of the activities is to participate in local environmental improvement. Another activity is medical service, where a medical team and other community members voluntarily give medical service to local people, especially senior citizens. Medical service includes acupuncture, moxa, massage, health exercises, and so on through consultation with medical professionals.
Since senior citizens in rural areas are suffering from many kinds of diseases and live away from hospitals located in city areas, this kind of medical service is very appreciated around the ecovillage area. This activity has been continued, since March 2010, by our members. The highlight of this activity is to have food together, after the medical service, which is prepared by local people. They are like our parents and give food from their hearts.

Video: http://www.youtube.com/watch?feature=player_embedded&v=R9ydk2RTP0M
Contact details: [email protected]