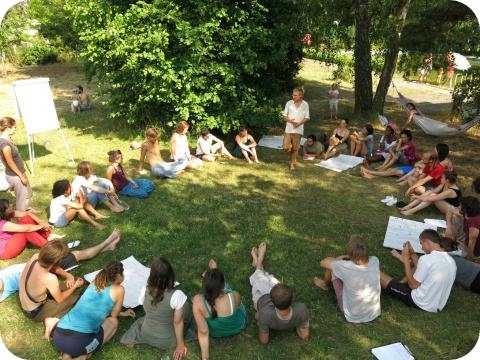 For the past several years, a group of empowered young people have been creating an inspiring movement within the existing ecovillage network. NextGEN is a youth-focused and youth-directed part of the Global Ecovillage Network. NextGEN is building youth-oriented projects in every region of GEN and its members represent a wide diversity of youth from around the world. This article by Ethan Hirsch-Tauber will share some of the different voices, in order to give a window into what NextGEN is, and why it is an important creative space for young people.
NextGEN originally grew out of a youth-initiated effort during the GEN+10 Conference, held in 2005 in the Findhorn Community, Scotland. While initially quite active, the group eventually lost momentum and became dormant. However, in the last years, there has been a beautiful resurgence. This revival gained momentum in 2012, at the annual GEN-Europe Conference, and spread to other regions, generating an even bigger spark in NextGENOA (Asia, Oceania, and Australia), and expanding to NextGENNA (North America), NextGEN Africa, and now CASA Jovenes (Latin America). NextGEN is a creative space to get involved, work with other youth from around the world, and develop skills for building sustainable intentional communities.
Regional Activities
NextGEN Europe has been continually reshaping itself, but finally seems to be gaining stability and a strong leading group. In 2014, the core team created multiple new projects. NextGEN Europe is developing agreements with different ecovillages to offer opportunities for young people. A NextGEN mentorship program offers a range of different mentors to young people looking for guidance as they step into leadership. The NextGEN Europe Education program is planning a range of leadership trainings for NextGEN members, including Sociocracy, Dragon Dreaming, Possibility Management, and a youth-based Ecovillage Design Education. The new GEN-Europe office in Spain will also be a base for NextGEN Europe to offer internships.
For several years, NextGEN organizers in Asia have been creating exciting projects, ranging from workshops on climate change in Thai schools, to tree-planting camps, and empowerment workshops throughout Asia (the Spirit of Asia Tour), which have led to NextGEN groups springing up in India, Sri Lanka, Nepal, Bangladesh, and South Korea.
NextGEN Africa appears to be the most diverse organizationally, and is only now starting to bring together its many projects. A large number of GEN Africa's members are younger than 35, and many of them are already working with projects to bring positive social and environmental change to Africa, taking leadership on issues ranging from climate change to women's rights. Just as a small sample of the array of existing projects: NextGEN Africa is working with ecovillage building and environmental awareness in Cameroon and Gambia, permaculture education in Ethiopia, Kenya and Zimbabwe, youth empowerment in Sudan, and doing art therapy with street children in Kinshasa, DR Congo.
NextGENNA's current work is described quite clearly in the description by Cynthia (see below), and CASA Jovenes is only just now starting to organize, as, until recently, the youth of CASA did not differentiate themselves from the continued emergence of CASA. The CASA Jovenes is now building a strategy for youth in Latin America.
In July 2013, during the annual GEN-Europe Conference in Schweibenalp, Switzerland, NextGEN was deeply honored to receive the Gaia Excellence Award for the most inspiring project of the year. This achievement was primarily due to dynamic presentations from youth-based projects around the world. The award, granted by the General Assembly of Ecovillages, showed a sign of faith and support from the entire GEN community, and redoubled NextGEN's commitment to create a strong youth movement, while keeping the clear connection to GEN
Voices of NextGEN
The remainder of the article shares the words of some of the organization's members, and let their voices speak for themselves. These short descriptions are meant to give a sense of the diversity of the organization, and the individual meaning that its members find in it.
Lara Kastelic, Slovenia – NextGEN Representative – GEN International Board
Lara comes from a village south of Ljubljana, Slovenia. From 2012 to 2013 she served as a volunteer in the GEN-Europe office in Sieben Linden, Germany. This is where she first learned about NextGEN, and then helped to organize the NextGEN meeting in Schweibenalp in 2013. Since that meeting she has been one of three NextGEN International Representatives serving on the GEN International Board. She is enthusiastic to bring the participatory-democratic process of Sociocracy into NextGEN's organizational structure, and she is also involved in the project "Youth-led Societal Innovation for Resilience."
In her own words: "On the international level, NextGEN is still building coherence and integration between the NextGEN regions. It has not been even two years and we already have NextGEN representatives in every region of GEN! Each NextGEN region is so different and on-the-ground situations vary greatly, so I'm looking forward to seeing what will emerge in the coming years."
Sonita Mbah, 21, Cameroon – Regional Representative – NextGEN Africa
"I have been empowered by Better World Cameroon and NextGEN to establish myself as a youth leader and change maker in my country. Now I am able to put all my determination into building a personal journey to empower other young Cameroonians and create a true community-based movement for social change. Through my work in reconnecting the youth back to the land, I share the philosophy that young people cannot "be developed" but can only "develop themselves".
In NextGEN, I am learning new knowledge in Regenerative Education which enables me to create an alternative, integrated socio-economic system that is accessible, owned and controlled by youth.
Since its creation in 2006, Better World Students Nature Club (the carrier of NextGEN's work in Cameroon, and of which I am President), has successfully created an integrated locally-controlled network to facilitate and coordinate youth collaboration in Cameroon under the Ndanifor Permaculture Eco Village Demonstration Centre's activities. It has effectively demonstrated interconnected youth exchange through organizing and facilitating "Together for a Better World" International Summer camps since 2011. With over 50 nature clubs in schools, environmental education and water sanitation and hygiene programs, NextGEN in Cameroon has provided BSNC and young Cameroonians with the networking framework for expansion and youth harmonization.
I was happy to share our experiences with other young people from over 30 countries around the world at the first Global Ecovillage Summit in Dakar, Senegal in December 2014. I came out of this summit with an important role: as an elected NextGEN representative in the GEN-Africa council, I will discuss and design strategies to link and coordinate the diverse on-the-ground projects happening all over Africa. With your support, I am confident we will make Africa and the world a better place!"
Cynthia Tina, USA – Regional Representative – NextGENNA
"I began my journey with NextGEN when I attended the GEN Conference at Schweibenalp, in Switzerland, in the summer of 2013. When I left that inspirational gathering as one of two elected NextGEN Representatives for North America, I was extremely excited and eager to take action, but also entirely unsure about what exactly to do next. Luckily, I found a community of support when I returned to the U.S., from my friends at Sirius Community, the ecovillage where I live, and from my fellow Canadian NextGEN representative, Nebesna Fortin. Uncertainties dissipated as I learned that one doesn't need to have all the answers, just a good amount of passion and a team of people who believe in the possibilities. The second step is becoming clear about what you want to stand for. After careful forethought, our team in North America came up with an answer: we are young adults empowered by the ecovillage model and committed to building the interconnected world of our generation, through the teaching of integrated sustainability and offering of immersive experiences.
As we enter our second year of establishing a strong team in North America, NextGEN is thriving. We have created an online presence through our website (www.nextgenna.org), and received grant funding from Goddard College for our educational programs, which are now certified as "Inspired by Gaia Education." We have built a growing network of Ecovillage Ambassadors, passionate youth living in intentional communities across North America. We are thrilled to be collaborating with like-minded individuals and organizations in our region, including the Fellowship for Intentional Community, the Ecovillage Network of the Americas and Canada, the Valhalla Movement, Generation Waking Up, and more!
One of our most noted accomplishments: in the spring of 2014 we hosted the first-ever "Youth Ecovillage Summit" in North America. This was a multi-day gathering of close to forty young people, hosted at Sirius Community. Since then we have hosted and presented at dozens of gatherings throughout North America. In the coming year, we hope to continue these outreach efforts by holding more Summits and the first-ever Ecovillage Design Education Course taught in French, at La Cite Ecologique in Canada. Using young energy and creative minds we are pioneering ways to invigorate the ecovillage movement as well as bring sustainability education to youth!"
Jake Jay-Lewin, 22, Scotland – Regional Representative – NextGEN Europe
Jake Jay-Lewin grew up in Findhorn, Scotland. He first joined NextGEN during the 2013 GEN Conference in Schweibenalp and has served as a representative on the GEN Europe Council since that time. He also took part in the 2013 GEN Africa conference in Kenya, where he acted as a NextGEN liason to the group in Europe. He has since been focusing his energy on NextGEN Europe, to help create the structure of the young organization.
Jake observes that: "Wherever I look within European society I see a lot of pain, anger and sadness towards our current social, economic, ecological and spiritual situations. It seems that one of the easiest responses to these challenges is blame, frequently pointed towards either the youth or the elders in our society. NextGEN gives us the possibility to use the un-tainted imagination and potential energy of our younger generation to move beyond these old stories of blame and into a new story of radical responsibility. Doing this hand-in-hand with an organisation such as GEN, which carries the knowledge and wisdom of our elders, is something truly significant."
Aldo Ferré, 25, Uruguay – Regional Representative – NextGEN CASA
"For me, NextGEN is a fractal network where we can exchange experiences that connect us to our true inner nature, from each of our countries, to the continent and the whole world. NextGEN helps us to make proposals, to share and expand diverse artistic expressions, educational projects to empower the youth, and above all to create integration in a very marginalized part of society, the young people.
In Uruguay a few sustainable projects are emerging in different parts of the country: Since 2013 I'm working in Montevideo with some groups of people, mostly young, who are looking for alternative activities to replan their lives. In the Permacultura Urbana Montevideo (PUM), an Urban Permaculture group, we are generating some courses, local and national permaculture gatherings, sustainable film seasons, and a lot of different proposals for anybody who wants to participate. Now the energy is also in the formation of CASA Uruguay and the NextGEN network here in Latin America, in order to help the projects connect with international efforts make our lives better."
Ryan Luckey, 27, – Latin American Nomad – NextGEN CASA
Ryan, originally from Oakland, California, is co-founder of the Común Tierra Project, and has spent the last five years travelling through Latin America documenting sustainable communities and projects. He began working with the CASA and GEN networks in 2012 and got involved with NextGEN in 2014.
"NextGEN is a space for young people to get empowered, to build skills and knowledge about living in community and sustainability, and to be part of a global community growing together and taking local actions. Holding the vision that we are part of this global network, we take that inspiration into our projects and then share what is happening in our region with other's around the world.
One of the most important aspects of working in a network has to be making our work more fun. If it's not fun, it's not sustainable. Working together, supporting each other, being part of a team, these are experiences that make our lives better and more enjoyable.
"The potential of NextGEN in Latin America is just beginning to be tapped. The EcoVillage and Permaculture movements in Latin America are attracting a lot of young people who are disillusioned with capitalism and tired of bearing the brunt of the exploitation caused by the "development" of the industrialized world. They are taking leadership roles in projects in Mexico, Colombia, Argentina, Brasil, Chile, Uruguay and throughout the continent, responding creatively to challenging economic, social and environmental conditions. Many young people choose to form nomadic sustainable projects, called EcoCaravans, as a way to learn, study, document, gain work experience, and travel.
Next GEN in Latin America, called CASA Jóvenes (CASA Youth), is creating a network to support all of these youth-driven initiatives, and for more young people to get empowered, to build skills and knowledge about sustainability, and to be part of a global community growing together and taking action."