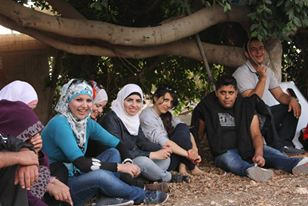 Tulkarem, Palestine: International peace activists from the initiative "Global Campus", together with around 30 Palestinians, have supported a farm in Palestine to become a place for education in decentralized energy systems and permaculture. The internationals served as keepers and protecters of a knowledge exchange between Palestinian farmers, experts and students under occupation. Aida Shibli, GEN Ambassador for Palestine, reports.
Tulkarem is a city of about 60 000 people in the Westbank, located one hour north of Jerusalem. The separation wall directly touches the city. The situation of Fayez Altaneeb´s farm is a symbol for keeping hope while, all around, the conditions turn more and more insane.
The small farm is squeezed in between the wall on one side, with vegetables growing up the barbed wire, and an Israeli chemical factory – built on Palestinian land – on the other side. This factory is only allowed to work when the wind blows from the west to the east, that means over Palestinian land. Fayez is not only a farmer, he is a visionary and political activist. He and his family are totally committed to non-violence.
About 30 Palestinian participants had come, most of them students, but also some farmers. We started with a walk on the land. Waste here is all over. The farm looked like a junkyard, a lot of plastic and metal pieces, rotten wood and other stuff … the first impression of this site is very sad. So we decided to start with a cleanup action.
During our time we would work together with local experts to set up a small biogas system and a solar dryer to benefit the income of the family – and to teach sustainable technologies. The interest for organic food in Palestine is still small, but growing. It is obvious that a Palestinian farmer who is in control of his own water, food needs, cooking fuel, wastewater facilities, etc. can survive (and even thrive) with much less fear than one who is dependent for these needs on the good graces of his Israeli 'neighbors'.
The role of the Internationals
"I refuse to be part of any western aid organisation trying to teach people in developing countries how to use new technology …. I'll pack my bag and leave early morning."
This was the raging cry of a mature woman in our team. After five days only of being constantly next to the separation wall and the Israeli chemical factories, she had reached her personal borders. She had been in Africa before to help in poor countries, as many other westerners have.
In this frame, some of them discovered that they had been misled by companies and organizations who knew little about sustainability, and who just saw these countries as a possible market. These organizations are simply the other face of the system that created the problem in the first place. It is, in the end, the same old colonialist thinking that sees another country only as a resource. Later the organizations came to make things look a bit nicer and a bit more human, but all of them maintained the same line of separation: us and them.
It is colonialism that created a space where some people – having knowledge and resources – gave others the illusion that they were primitive and needed education. Through my years of peace training in Tamera I got to know peace workers who think on an global level while acting locally. Peace workers who know that the Western model cannot be a solution, and that they have to develop to become part of the solution.
Our wish as a small group of Palestinians was to create a space where Palestinian experts working in the areas of food sustainability, water and Permaculture, can meet young Palestinians seeking education, to open a space of exchange and education. In order to do this we invited experienced people to build a biogas system, a solar dryer and Permaculture beds in a farm in the Westbank.
The internationals had mainly the task to support and hold a human space that allowed the participants to remember their original knowledge and skills that were practiced until some decades ago. We also needed the presence of internationals to protect the students from the Israeli army.
Not understanding the local language or the culture, feeling the political pressure every day, not able to cope with the speed at which things were moving, the internationals started to feel separated. Feelings of disconnection were rising. But when the lady shared about her fears of being an fashion organisation that supported the system that originally created the problem – she was actually thanked by the Palestinian students.
Our host Fayez could calm and encourage her: "Your presence as internationals is essential for us. Thanks to you we can remember that the situation we live in under the occupation is not normality – it is a bad dream of fear and separation. You are privileged. You are able to move and to express your thoughts. Please use this privilege to help us to come together and remember who we as human beings are."
In his farm Fayez has suffered much pain. But he still is able to comfort the hearts of Western people. His words gave me hope and determination that a new global consciousness is growing, including forgiveness and reaching out hands to each other. Healing is possible.
In the last 13 years Fayez´ farm was destroyed 3 times. And each time he build it again with the help of his family and friends. Among others fruit he grows organic strawberries. The first ripe strawberries in the year he always shares with the Israeli soldiers – regardless of how they look down at him from the other side of the separation wall and threaten his farm.
We know also that at any moment they can get the order to destroy all that we have been building in the last two weeks. Yet I deeply learned the lesson that I take in my long political resistance: "We Palestinians do not have the privilege of losing hope."
Our group accomplished our mission after two, long intensive weeks. Since then we hear that the group of Palestinians have already met three times after we left. As the local TV covered the workshop well, the farm had 300 visitors in the week after our workshop. The wish to continue the training and to build more and more bases for a sustainable Palestine is strong.
I am thankful for this experience and for all the internationals who joined us. I know that they are not acting out of shame and guilt but motivated by responsibility and global consciousness. We know: Planet Earth has no passengers, we are all family.
Towards a green and free Palestine
and green and free planet Earth!