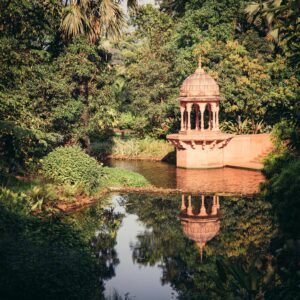 Starting with an appreciation for the diverse cultural background and geographic contexts of the partners, these twins relied on open communication and a shared vision for better-engaged communities along with ecological and financial sustainability. Through community profiling, they shared a learning journey to understand the different approaches to community processes, decision making, and strategic planning.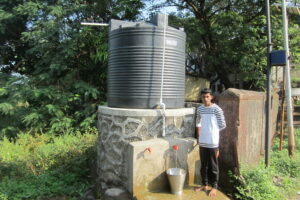 The long-term plan they created together takes into account the benefits of rainwater harvesting, green canopies, natural ponds, and water conservation with the additional benefits of addressing soil erosion. Govardhan has already created a 10 million liters water pond with rainwater harvesting and another 10 million liters are recycled. For Kibbutz Gezer the water sustainability is determined by the Israeli government though they still feel the necessity to take steps towards water security within legal boundaries. An added inspiration came from a national water expert who called for such models of water circularity to be showcased during policy discussions and adopted nationally for water sustainability.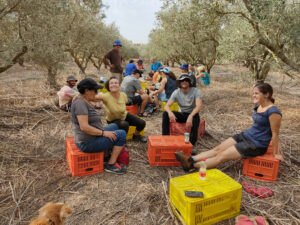 Their twinning project made them reflect and think deeply about their focus areas, challenges they are facing and possible solutions. For example, they figured out that eco-communities are often busy doing different things while not recording their impact. The impact recording seems necessary as a part of their collection of learning and advocacy strategies. Also, they realized that Eco-communities as Kibbutz Gezer already have successfully completed 40 years post establishment and that these communities can serve as role models guiding how inter-generational sustainability vision transplantation can happen. Beyond the practical work, learning, and exchanges, the twins formed a strong bond and friendship and intend to continue to support each other into the future.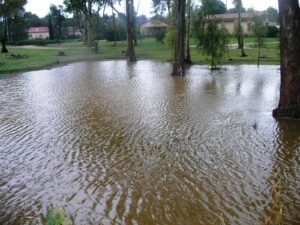 – Kibbutz Gezer is a kibbutz, or cooperative settlement, located in Central Israel. Originally founded in 1945, the kibbutz disbanded in 1963 and reestablished by a group of young Americans in 1973. . While members are economically independent, Gezer has several commonly owned businesses, including a large dairy, farmland, olives, daycare and after school care (from infants to high school), second-hand shop, library, and grocery store. They support religious freedom, with a reform synagogue open to all who wish to attend.
– Govardhan spreads in 100+ acres of land in Palghar, India. It is home to 350+ diverse residents as families, students, volunteers & monks. With the foundational principle 'Simple living and high thinking' the community strives to live in harmony with the divine, self, nature, community members & neighboring communities. Immersive activities blend philosophy, music, tours, yoga, ayurveda, sustainability, permaculture, animal care, mindful leadership, philanthropy leaving hearts transformed. Thus, catalyzing social transformation of rural India.
Twinning
For Ecovillages, eco-projects, regional and national ecovillage networks
For years there has been the practice of "twinning" within GEN, where ecovillages, eco-projects, and ecovillage networks form special friendships and support each other. Over time, these friendships solidify and evolve into mutually beneficial relationships. We now have wonderful examples of twinning relationships in GEN and are excited to streamline the twinning so more projects are able to find and support each other.
GEN is now supporting twinning relationships in a more systematic way, as a 'dating agency'. When possible, we try to provide modest funds to support collaborative projects. Know more in the Twinning page.
Become a Friend of GEN and support the ecovillages on the ground build the new normal!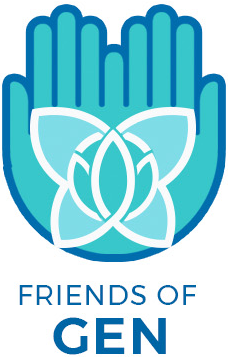 As a Friend of GEN, you become a sustaining contributor to the work of the Global Ecovillage Network. Together we can continue to implement sustainable solutions and help catalyze the power of community for a regenerative future.
By becoming a Friend of GEN you will receive exclusive benefits to bring you closer to GEN's work on the ground and connect with communities worldwide. Friends of GEN sustain the work of the Global Ecovillage Network through creating a grassroots community of supporters for ecovillage solutions and collaboration. Learn about the levels of giving below and find the one that is right for you.