Work Scholar Residential Immersion Program
In 2019, Aletheia Springs has launched a new residential Work Scholar program. This immersion is for those who are interested in coming to live/work at the Springs for anywhere from 1-3+ months between March-October. Work Scholars participate alongside the year-round Aletheia Community Stewards in the daily operations of the Springs as well as the embodied community research and practice of restoring and actualizing a healed village.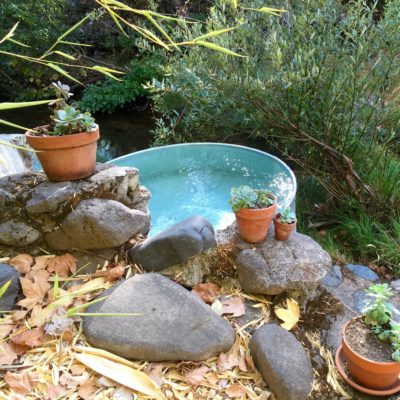 We are part of a global knowing that we ARE NATURE
longing to heal and awaken to true purpose.
Self-Care By Nature: Aletheia Springs is a multigenerational community of stewards restoring the land and mineral waters of a 20-acre warm/hot springs in the Sonoma Valley of Northern California. Our community's primary service offering stems from a natural geothermal mineral springs with pools, creek side picnic areas, heritage oak woodlands and open meadows, known locally as Morton's Warm Springs. We intend to bridge its current culture from a 1950's-style summer recreation business toward that of a family-oriented sanctuary for self-care, complete with the elemental offerings of saunas, hot tubs, cold plunges, and warm pools set within a deeply enriched natural ecosystem. We will establish a cafe and gardens that support residents and visitors alike with healthy and vibrant food, direct from sun and soil. We wish to maintain and enhance the geothermal springs as a culturally inclusive and accessible source of health and wellbeing for Sonoma County and the greater San Francisco Bay Area. This is a place where we can all come to heal, relax, gather, and nourish while immersed in the natural beauty and vibrance of Sonoma Creek and these healing mineral springs.
Restoring our Common Source: Our intention is to restore these geothermal springs and foster the emergence of a healing biotope. A biotope is a smaller, place-specific ecology that's inclusive of human life and interconnected within a larger network of ecological belonging. We wish to play our part in restoring the full water cycle within our local watershed, helping to protect the vital commons of Sonoma Valley's aquifers. We also wish to provide broader local access to our health-giving mineral drinking water. Our intention is to move beyond sustainability into a regenerative relationship with our water, woodlands, soil and sunlight so that we may receive their abundant gifts for generations to come. We wish to partner with those leading Sonoma Valley into a future of local food, energy and water resiliency.
A Culture of Trust, Transformation & True Purpose: This place is calling out for a new healing culture based in the transformative power of trust. Aletheia Springs community is a practice ground for this new culture. In our learning laboratory we are focused on the creative process and how dynamic leadership and solidarity can emerge within a collective. By slowing down to discern and clarify the source of our guidance, we are discovering how to be ourselves, give our gifts, and participate in a self-organizing system. We are guided by the following questions:
How can we, as individuals, listen for and unfold our true purpose in service and alignment with the greater whole, of which we are a part?
How do we create the foundations necessary for growing grounded, collaborative and resilient communities with the capacity to engage in the work of cultural transformation and the healing of our planet?
Our aim is to grow this knowledge field in mutual support and cooperation with other learning projects around the globe.
Primary interests: Social (Diversity & Cohesion, Trust & Communication, Health & Healing, Leadership & Governance, Lifelong Education); Culture (Art & Celebration, Vision & Purpose, Mindfulness & Self Reflection, Nature Connection, Defend & Protect); Integral Design (Whole Systems Thinking, Intervention & Transformation, Stakeholder Engagement, Contextualised Design); Ecology (Water Cycles, Ecosystem Restoration, Renewable Energy & Transport, Seeds, Food & Soil); Economy (Banking & Exchange, Sharing & Collaboration, Planetary Boundaries, Social Entrepreneurship)