Transpersonal Psychologist, Magister in Systemic Therapy, Facilitator of Biodanza and Meditation, Groups Therapist.
On a national scale, Anahí is an active member of the "Chilean Institute of Permaculture and Transition". At a Latin-American scale, Anahí is starting a new journey from Chile to Mexico with the "Caravan for Peace and Mother Earth Restoration" sharing, giving and receiving, regenerative tools with local communities.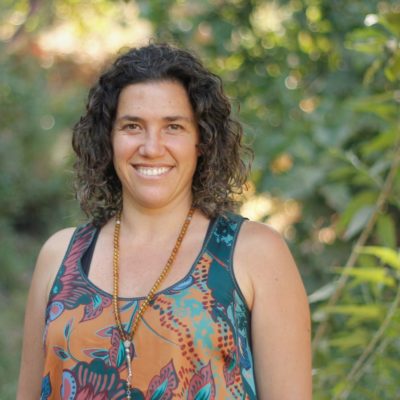 At the age of 16 Anahí began her journey of personal and spiritual development, which became both her passion and profession. Some years ago, after realizing the role of humanity within the systemic crisis of our planet, she felt that meditating, doing therapy and biodanza was not enough. Therefore, with her 20 years of experience as a Transpersonal Psychologist she brings into service awakening Socially Engaged Spirituality and Ecological Consciousness.
She is working towards an Eco-Systemic Transition, a new Holistic and Cooperative way of viewing and living life, to bring about change in our behavior and the way we relate to others, our beloved Earth and ourselves.
Primary interests: Social (Lifelong Education, Diversity & Cohesion, Health & Healing); Culture (Defend & Protect, Vision & Purpose, Nature Connection, Mindfulness & Self Reflection); Integral Design (Whole Systems Thinking); Economy (Sharing & Collaboration)
Events & Trainings held by Anahí Beatriz Pacheco Araneda
Caravan for Peace and Mother Earth Restoration Family meeting through GEN SUMMIT!! … Read more
Site content by Anahí Beatriz Pacheco Araneda
Ecovillages
Region: CASA
Languages: Spanish, English, French, Portuguese
Our village is sustained and oriented towards: social regeneration, integral education, the promotion of personal development and spirituality, the expression of arts, bio-construction, organic agriculture, the practices of healthy life, the reduction and recycling of waste, the organization of meetings and ceremonies, ecotourism, the creation of innovative and responsible products and services. … Read more