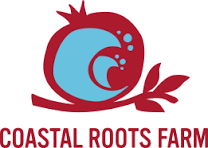 Coastal Roots Farm is a nonprofit community farm and education center where we nourish connections—to ourselves, our neighbors, and the land.
Inspired by Jewish wisdom and centuries-old agricultural traditions, we practice sustainable farming and share our harvest with communities that lack access to healthy food.
Our goal is to become a model for community farming and creative Jewish expression, both at home in Encinitas, California, and around the world.
Our Vision:
We envision a world in which every community comes together to grow and share healthy food, care for the land, help their neighbors, and strengthen the connections they have with each other.
Our Mission:
At Coastal Roots Farm, we seed, we grow, and we share. We seed new ideas around sustainable farming and Jewish life; we grow healthy food; and we share the harvest with our local community.
Primary interests: Social; Culture; Integral Design; Ecology; Economy
Site content by Coastal Roots Farm
Ecovillages
Region: GENNA
Language: English
Coastal Roots Farm is a nonprofit community farm and education center where we nourish connections—to ourselves, our neighbors, and the land. Inspired by Jewish wisdom and centuries-old agricultural traditions, we practice sustainable farming and share our harvest with communities that lack access to healthy food. Our goal is to become a model for community farming and creative Jewish expression, both at home in Encinitas, California, and around the world. … Read more