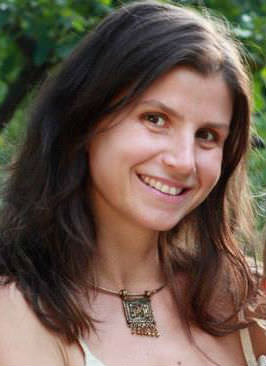 My name is Diana and my mission is to help bring us closer to a peaceful co-existence with all life on our beautiful planet. I aspire to empower people to take responsibility for their own well-being and that of our children - by taking health, birth, learning and the care for our environment into our own hands and restoring our connection with Mother Earth.
I took part in the Ecovillage Design program at Findhorn (EDE) in 2009 and got my permaculture design certificate in 2011 from Treeyo Permaculture (Doug Crouch). I've been dreaming about helping create a multicultural, environmentally friendly community here in Bulgaria since 2006, and in the summer of 2013 we finally found a suitable place, which we were able to purchase before year's end. We are in the process of renovating the house and are hoping to move there permanently this Autumn.
We would love it if like-minded families and individuals join us! We have many ideas for developing the place in environmentally and financially sustainable ways, and we want more kids in the community to play and learn with ours.
A little more about me. I went to a very international university in the USA with people from over 80 countries and I thrived in this global environment. I would love to have a small part of it here in our community. I've lived in California and Connecticut for 10 years, and in Australia for 2 years. I did my three Bachelor's degrees in CT, majoring in Marketing; Mass Communications (with a concentration in PR and Advertising); and International Political Economy and Diplomacy. After graduating, I worked in an advertising agency for three years as an account manager, but got tired of this profit-thirsty industry and became a volunteer for an international non-profit called Service For Peace (SFP) that I found on VolunteerMatch. After a few months volunteering, in 2005 I got offered a job at SFP as an International Communications Director and stayed with SFP for 7 years until I went on a long maternity leave, in the process moving back to my home country Bulgaria in 2006. I am now about to graduate now with a master's degree in Environmental Engineering and working on interesting project for implementing permaculture and sustainable principles in the management of our parks.
In 2007 I became very involved with the natural birth movement in Bulgaria. I became certified as a birth preparation facilitator by ENCA, received training as a doula by DONA International and I am also a BOLD birth facilitator helping women prepare for birth. I gave birth to both my kids at home. I started leading yoga for Mums and babies until my second child turned 1. I occasionally lead yoga for pregnant women as well and I am open to leading yoga classes at the ecovillage if there are interested individuals.
Lately, I've been taking care of my kids (2 and 4 years old) and developing skills in energetic healing. I started my interest in healing when I became certified Reiki Master in 2005. That same year, I had an amazing effect from a BodyTalk demo session and decided to get trained in it at some point in the future. In 2006, I got training in EFT. After a big pause of 10 years, this year, I read the Emotion Code book, got certified as a BodyTalk Technician and became a Body Code owner, so I've been passionately doing sessions on my friends and relatives in the last few months and exploring the idea of doing this professionally from the comfort of my own home in the eco village.
Site content by Diana Vasileva
Ecovillages
Region: GEN Europe
Languages: Bulgarian, English, Russian, Spanish
We are 3 families (with a total of 8 kids) based in Bulgaria, an hour South-West of Sofia, in a neighborhood of a village, suitable for populating to form an environmentally-friendly community within the same physical area. We have an extended network of other families that have chosen a life in nature in the surrounding area (20 km radius) that we meet with and support each other. … Read more